I recently had a chance to try out a pair of No Scope gaming glasses.  In the picture above I have a pair of the "Gemini"  Professional gaming glasses. This comes with a soft carrying case and a microfiber cleaning cloth. I also have an additional hard carrying case that makes sure they stay safe from the little people running around my house.  When shipped everything was very well packaged  to make sure it all arrived safely in one piece.
I must admit I didn't see how a pair of yellow tinted glasses was going to make any difference in what my game looked like other than make everything yellow.   I game in my basement which is a bit dark at times during the day and very dark at night. I was very surprised to see the difference these glasses made.
I really only play 1 game (Call of Duty)  and with the glasses on I could see further in some maps which made sniping people with an assault rifle very easy. I could see finer detail on maps as well as maps that were very bright and gave off glare seemed to be more clear as well.
My eyes also didn't feel as tired as they normally do. The Gemini Gaming Glasses work by filtering out the blue light emitted by computer monitors, TVs, and other devices. This allows your eyes to focus easier, reduce eye strain and fatigue, and improve clarity.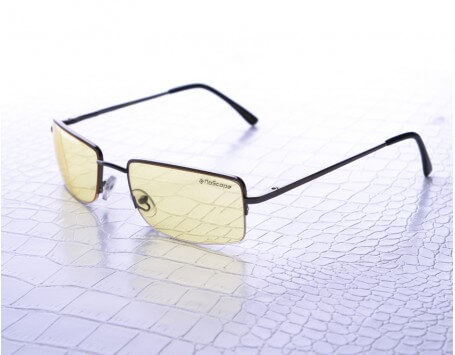 The Gemini glasses are lightweight, and have resin-coated lenses making them scratch resistant. It has adjustable nose pads and flat arms. This makes it perfect for use with headphones.
Dimensions
Bridge Width: 20mm (0.79″)

Lens Width: 58mm (2.28″)

Frame Width (temple to temple): 135mm (5.31″)

Lens Height: 35mm (1.38″)

Arm Length: 130mm (5.19″)