We are influencers and brand affiliates.  This post contains affiliate links, most which go to Amazon and are Geo-Affiliate links to nearest Amazon store.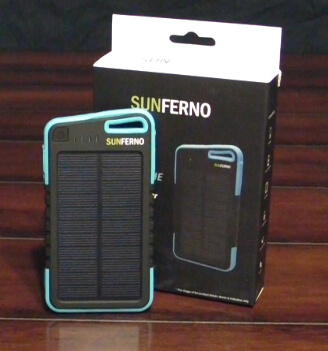 The Sunferno Flintstone Solar Charger is a useful device, especially for those who like to go camping, backpacking, and even the long drives. It is also handy for those who travel and cannot find that electrical outlet in their favorite airport (or find that everyone is already using them).
The device can be brought to its full charge in two different ways. One way is to set it in the sunshine and let the direct sunlight charge the panel. The other way is to plug it into your computer, with a USB cable. In this way, you are not limited if you are not blessed to live in a sunny area. And, this is particularly helpful if you want to charge the panel overnight in a hotel room, before going out on your excursion the next day.
The charging doesn't actually add charge, but it brings the solar panel to its full charge, so it is ready for use. Then, once it is fully charged, it is ready to handle charging your USB devices, whether that is your smart phone, your tablet, headphones, or any other device that has a USB.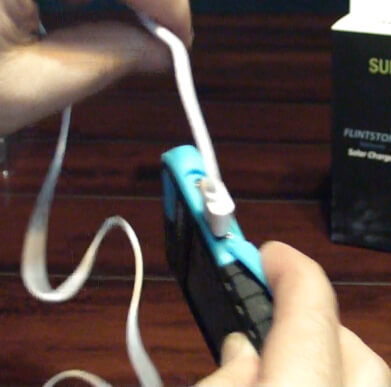 The panel also comes with a hook and cables. The hook is convenient for hooking to your backpack or even the purse so that the panel is easy to find and harder to lose. The panel is black, but has a nice swag of color (blue), also assisting in finding it in the bag if the hook is not used.
Holding the button down for 10 seconds will enable the flashlight. The documentation may say two seconds, but one of our devices takes four seconds and the other takes 10 seconds, so just hold the button down until the flashlight comes on fully. This is another feature that is handy in camping and backpacking.
The lights tell you when the device is charged. Similar to your cell phone, indicating cell coverage, the lights will indicate how much the solar panel is charged. The more lights, the more it is charged. There is also a slightly green light in the first light (to the left) that lets you gauge the success of the sunlight charging process. If that does not come on, it is not properly charging in the sunlight.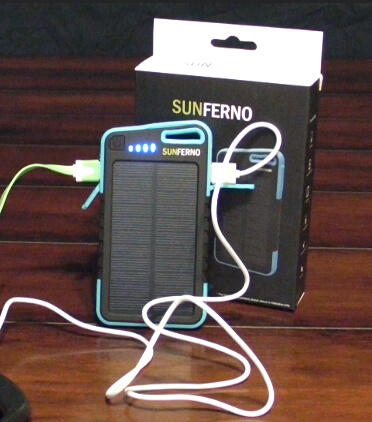 The only drawback that was found was that it doesn't have a capability to add to the charge, but then that is not the purpose of the panel. It is a solar panel, able to be brought to full charge with the sunshine (or plugging into a computer), so that wouldn't be the purpose of this device. It may be that when the panel has lost its ability to recharge, that a new one needs to be purchased. But, then, we replace our cars, too, so this is not an unusual expectation, especially for such a useful device that sells less than $40 on amazon.
These panels are very handy and convenient enough to put a couple in the bag, for the trip. They are even small enough to fit in an evening bag, if you are concerned that you will run out of cell phone battery charge for that long night out and want to be able to give your phone a quick charge or an emergency charge.
We are influencers and brand affiliates.  This post contains affiliate links, most which go to Amazon and are Geo-Affiliate links to nearest Amazon store.
Deborah wears many hats, from professional sound engineer, to marrying a professional sound engineer and recording a Jazz album that put her and kept her on the RN Jazz charts in Los Angeles, for a year. From that experience, she learned how to make it work with social media marketing. She traded in her position as Chief Technology Officer in the financial industry to help small businesses to realize their success online.