As the owner of over 30 lightsabers, I can tell you that choosing the right brand is essential. There are many lightsaber companies out there. Sometimes, narrowing down your options can be daunting. But fear not! Whether you're an experienced saber connoisseur or a novice, NSabers has got you covered.
I love Mandalorian culture with my entire soul. Any other Star Wars fan might think of the Darksaber if you were to mention a "Mandalorian lightsaber". Though I could never forget the Darksaber, now, my mind thinks "NSabers Mandalorian". I recently got to review and experience the silver and black versions of the RGB saber. I was nothing but impressed. There are so many different things to like about this amazing saber. The materials used to make it, the soundboard, the colors and design are of the utmost quality. And not only is this saber impressive on its own, but it is also a very budget friendly option. You get all the awesomeness of Mandalorians and lightsabers without breaking your bank.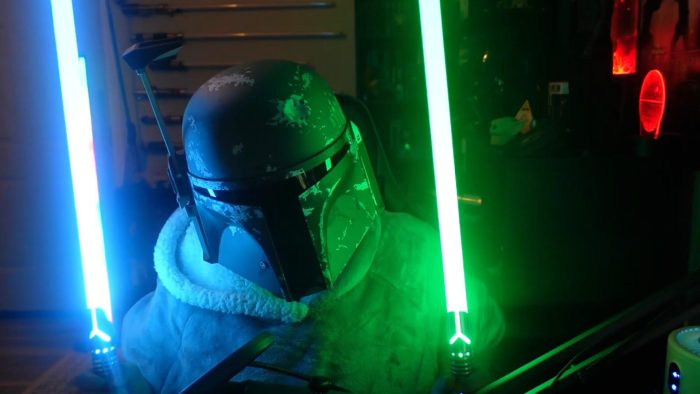 First, let's talk about the materials. The saber hilt is made of T6 aluminum and covered with an injection-molded shell. It is sturdy, smooth and has a great weight to it. That makes it perfect for dueling! Speaking of dueling, the 32" polycarbonate blade is rated for heavy dueling. Feel free to swing this Nsabers Mandalorian saber until your heart's content! I go all out with my saber when I duel and I've never run into a single problem.
Next, let me tell you about the soundboard. A soundboard can truly make or break a saber; Nsabers' soundboard is definitely a cut above the rest. The smooth swing experience is unmatched and the motion sensors are top notch. The Nsabers Mandalorian blows any Black Series saber out of the water and is half the price. The saber also comes with 10 preloaded sound fonts. You're surely to find one from a Star Wars character that you know and love. When I found the sound font with the infamous "General Kenobi!" quote from General Grievous, I fell in love.
If that doesn't impress you, wait, there's more. Not only can you choose one of 12 colors, but they are some of the most vibrant and bright colors I have ever seen. Every saber in the same class as the Nsabers Mandalorian pales in comparison. The saber also has a very amazing flash on clash effect. It also has a very smooth blaster-bolt deflection effect when pressing the button. You can even put your blade into a saber lock mode. The entire blade will flash as if it's locked in battle against another saber!
Last, but not least, let's talk about the design. When thinking of a Mandalorian lightsaber, Nsabers is the first thing that comes to my mind. The business end of the hilt resembles the T-shaped visor synonymous with Mandalorians. The rest of the hilt resembles Beskar steel. Beskar is the metal that is native to the planet Mandalore, home world of the Mandalorians. You can tell that a lot of thought went into the design of this saber. It makes me so happy to have added this Nsabers lightsaber to my collection.
Watch my Video Showcase of Nsabers Mandalorian RGB Lightsaber
All in all, you can't go wrong choosing the Nsabers Mandalorian if you're a Star Wars fan. Even more so if you're a fan of Mandos like I am! Every time I get to use this saber, my heart leaps with joy. The design, lighting, sounds and pricing form an amazing and cost-efficient saber. Jatnese be te jatnese, vode.
Get 7% off when you use coupon code dragon7 at checkout right now from Nsabers Direct Store.
My name's NKDA (NA-KAY-DA, like cicada, or you can just call me NK) and I'm here to write about some gadgets, vidya games and make some memes.