We are influencers and brand affiliates.  This post contains affiliate links, most which go to Amazon and are Geo-Affiliate links to nearest Amazon store.
Having software related troubles with your iOS device? Apple charging too much to fix a simple bug? What if I tell you that you can probably fix your problems at home with the help of just one software? Well, in this article, we will be introducing you to a tiny but powerful software called AnyFix that will help you fix your iOS device in minutes. AnyFix is a one-stop solution for fixing tons of iOS/iPadOS/tvOS/iTunes issues by following just a few simple steps. Let's have a look at exactly what AnyFix can do.
AnyFix Features
System Repair
System Repair helps you fix 130+ system issues of iPhone/iPad/iPod Touch/Apple TV easily. System Repair fixes all of the common problems that iOS users get such as device not turning on, charging issues, stuck on Apple logo, etc. System Repair can fix 50+ iPhone problems, 40+ iPad problems, 20+ iPod Touch problems, and 20+ Apple TV problems. Let's get you through fixing your device with AnyFix.
Click on System Repair. Then connect your iOS device to the computer and select your device from the list.  Then click on Start Now.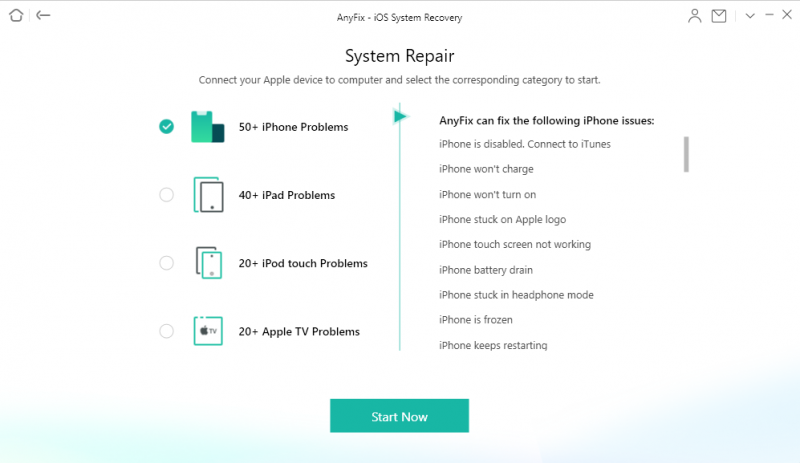 AnyFix will then ask you to select a mode to repair the device. There is Standard Repair that fixes common system issues and there is no data loss. Next is the Advanced Repair that fixes complex system issues. Choosing this method will erase all the data on the device. The final method is Ultimate Repair which is the most time consuming as it supports the most comprehensive system issues. This mode will also erase all data on the device.  Select the repair mode according to your requirements and click on Repair.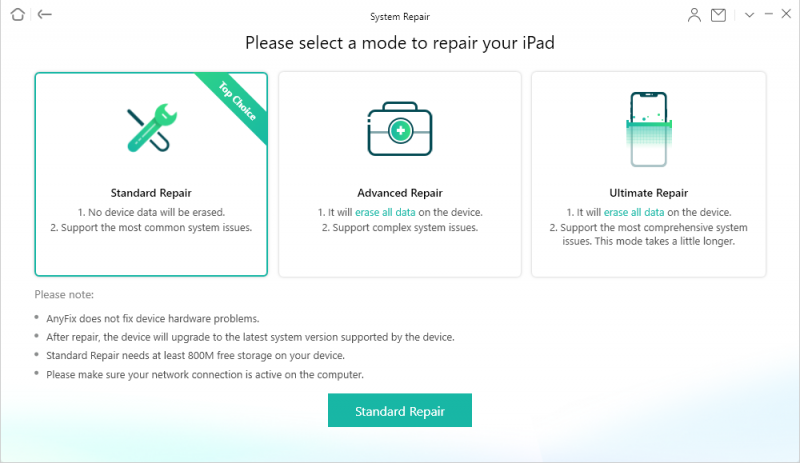 You will then be asked to download the appropriate firmware for your iOS device. Click on Download to download the file.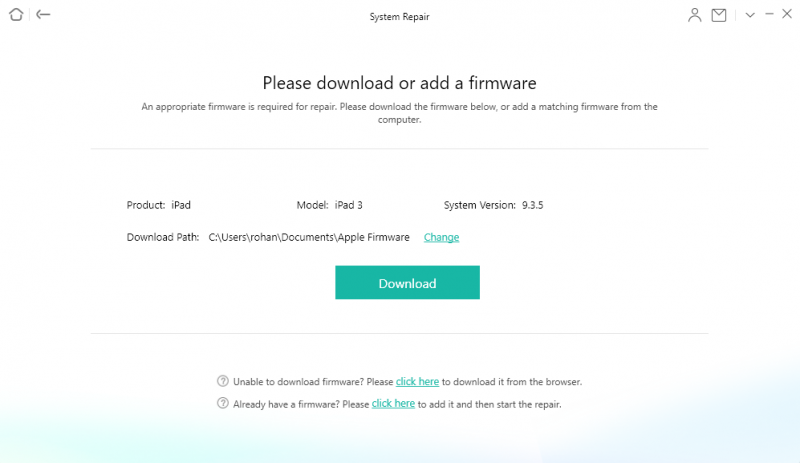 Once that is done, click on Fix Now. AnyFix will start the repair process and attempt to fix the system issues.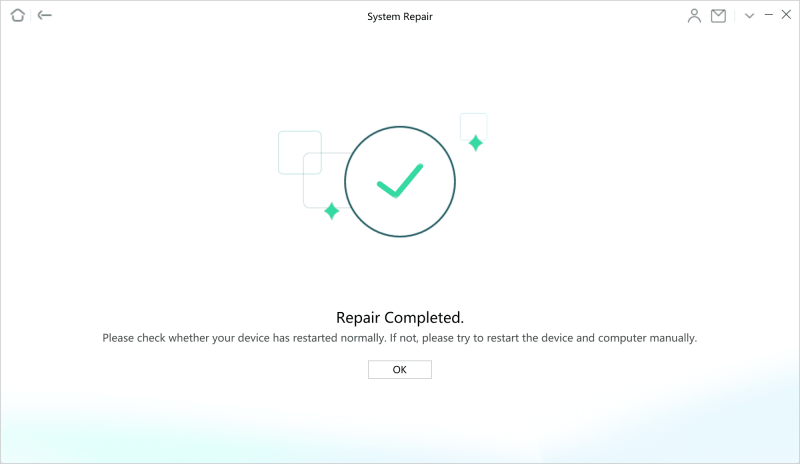 iTunes Repair
If you are having any issues with iTunes, such as having trouble installing it, sync/connection errors, or any other errors, AnyFix has your back. AnyFix can fix over 200+  iTunes errors. Let's see how it is done.
Click on iTunes Repair. AnyFix has divided all of the common issues into 4 different categories. Select the category that fits your issue description and click on Scan Now.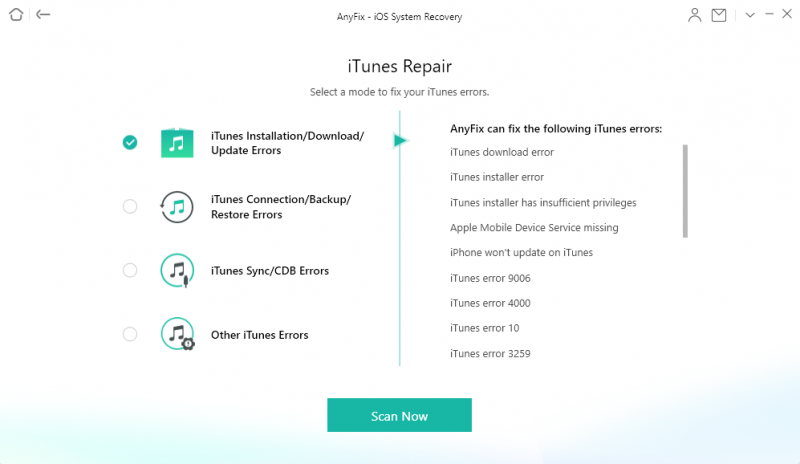 AnyFix will start analyzing the issues and will list all of the problems that it finds. Click on Fix Now and let the software do its magic.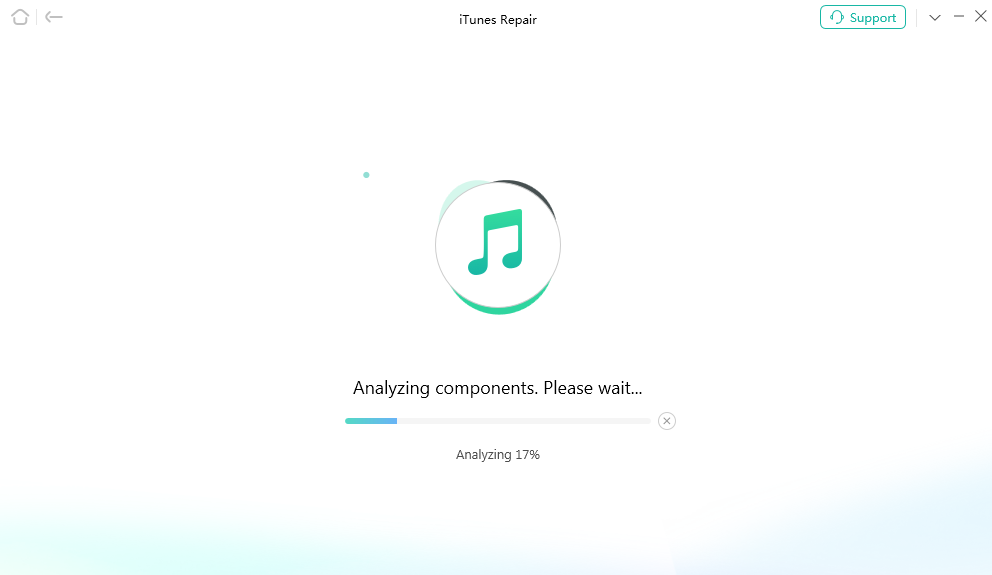 Enter/Exit Recovery Mode
If for some reason you want to enter or exit the recovery mode on your iOS device but are unable to, you can easily do it with the help of AnyFix. Click on Enter/Exit Recovery Mode. Then select the Enter/Exit Recovery Mode depending on your need and click on Enter. It's as simple as that.
Upgrade/Downgrade iOS
Many of us have once rushed in to upgrade to the latest software update as soon as it came out only to realize that it's full of bugs. In situations like these, you are stuck with annoying bugs and have to wait for the bug fix update. With AnyFix, you can easily upgrade or downgrade your iOS device with one click. To upgrade/downgrade your device, click on Upgrade/Downgrade iOS. Then select either upgrade or downgrade and click on Start Now.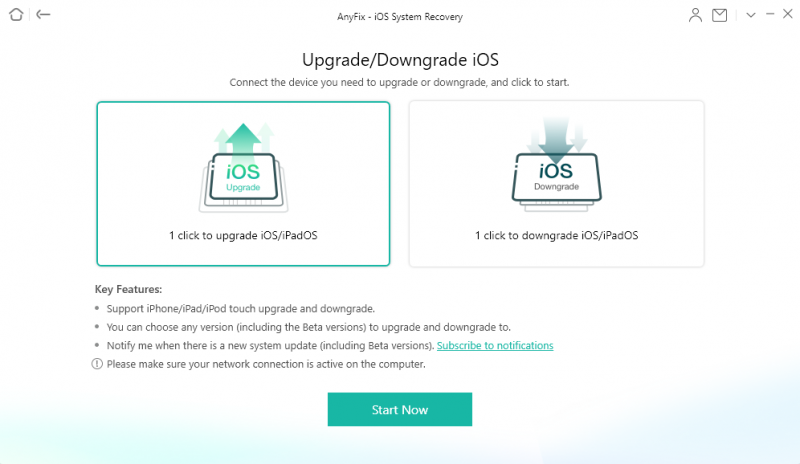 AnyFix will then list all of the available upgrade/downgrade versions available for the connected device. Download the desired firmware update and then click on Upgrade/Downgrade.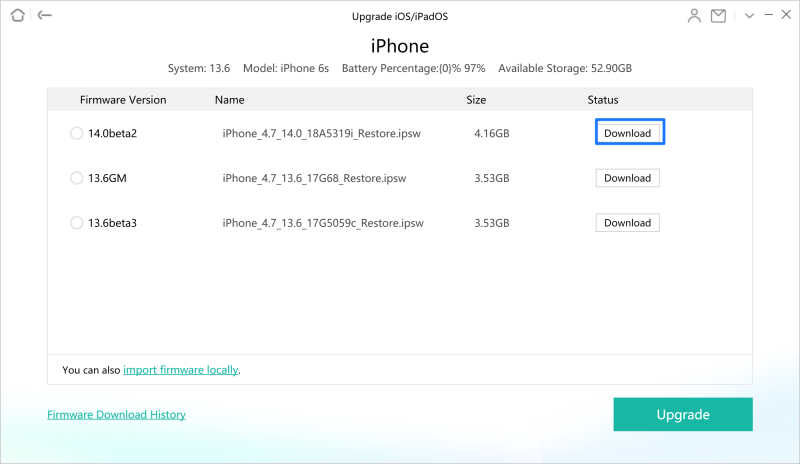 The software will start downloading the update and will then update your iOS device.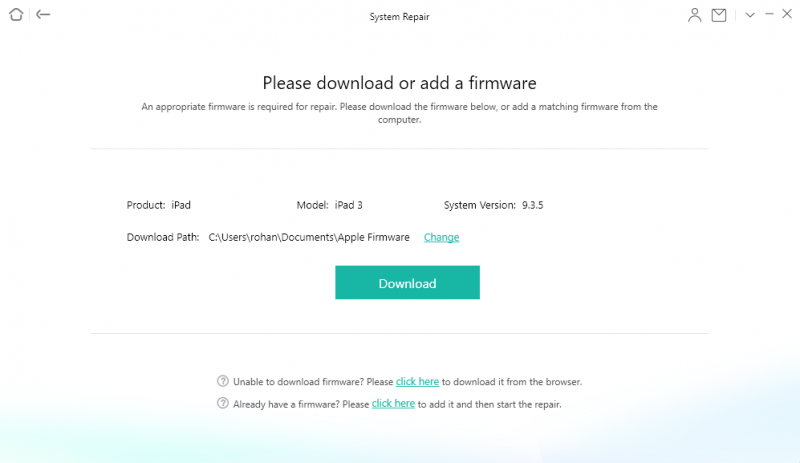 Reset Device
If you have forgotten the password of your iOS device or if you are planning to sell your iOS device or if you are lending it to someone, it is better to format the device. You can reset your device easily with AnyFix. Here's how:
Click on Reset Device. AnyFix provides us with two ways to reset the device; Hard Reset and 1-Click Reset. 1-Click Reset can be used if you are able to unlock your device.  Simply select 1-Click Reset and click on Reset Now to erase all data from your iOS device. Hard Reset is recommended if you have forgotten the password of your device. This method will take some time but it will get the job done.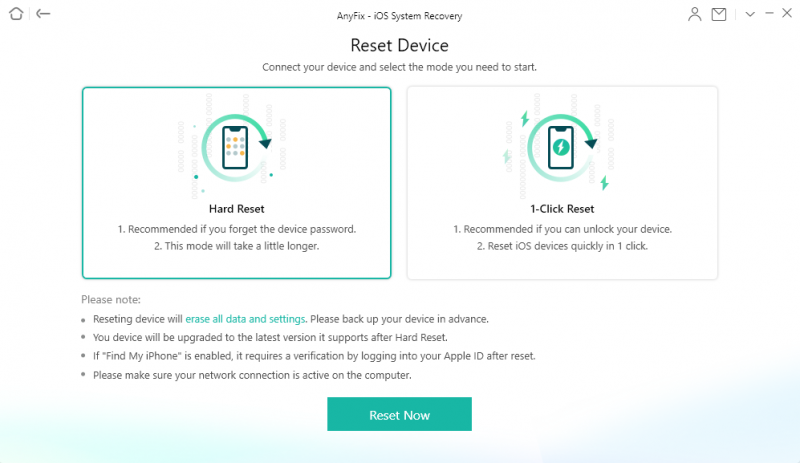 Check out this informational guide provided by AnyFix for further help.
Conclusion
AnyFix is an excellent software that helps the user fix over 130+ system issues for iPhone/iPad/iPod Touch and Apple TV. It can also fix over 200+ iTunes errors to get it working again. With only a few clicks, you can fix the most common iOS problems easily. The software is available for both Windows and Mac and will cost you $39.99 for a 1-year plan while the lifetime plan costs just $60 on sale which is in my opinion a very good deal. I highly recommend iOS users give this software a try if you are having system-related issues with your device.
We are influencers and brand affiliates.  This post contains affiliate links, most which go to Amazon and are Geo-Affiliate links to nearest Amazon store.
Hi my name is Rohan Jadhav. I am a guy who loves to play games and a tech lover. I like to be updated on all the tech stuff. I enjoy watching movies and I am currently doing a specialization course in VFX.