We are influencers and brand affiliates.  This post contains affiliate links, most which go to Amazon and are Geo-Affiliate links to nearest Amazon store.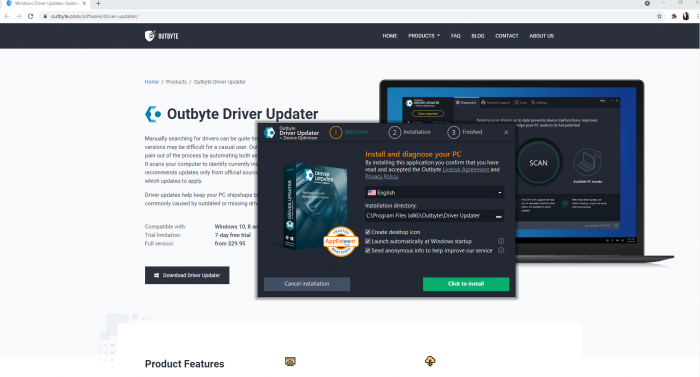 The Outbyte Driver Updater was simple to download and provided quick results to optimize my gaming computer. As an allen wrench system, I ask a lot out of my computer. From teaching remotely to streaming, it can be really easy to lose track of outdated drivers. Unfortunately, when drivers are not updated, technical difficulty and glitches can occur during the most vital moments of anyone's workflow. From audio loss to programs that no longer will function when clicked on, there is a lot that can put a halt on your PC process. With this driver updater, I was able to quickly scan my computer and locate any outdated driver and system performance enhancer with a simple click!
To get started I simply downloaded the program and followed the program prompts. From there it added a shortcut button on my desktop screen and with my permission began to scan. After completing the initial scan, I was able to purchase or enter the license key into the window. Once the payment was processed it began to work on the more heavy duty system cleaning. It evaluated my computer's speed, memory, Memory, disk speed, and available space. From there it provided a list of outdated drivers and recommended tweaks for me to optimize my computer. As my computer was updating, some of the screens went black and I began to get nervous. However, not long after they lit back up and the programs continued to be updated. Once the diagnostic scan completed, I had 21 device drivers that were updated and 7 tweak(s) applied to my computer. To complete the process I had to restart my computer. Downloading the software, updating my computer, restarting it, and following back up with the program took my computer less than 15 minutes to fully complete. Which most of the time just required me to wait and doodle around for a bit. I liked how the devices were broken down into categories and accompanied by a colored graphic. Along with this, an easy to read bar compared my computer to the average computer within each driver category.
Aside from the initial diagnostic, the program also allows you to set a scan scheduler and customize it to ignore some of the unwanted features. Setting a schedule will help insure everything is updated regularly and will take less time with regular scans. The driver updates only recommend official drivers for your system devices and come directly from the developers of those devices. The scan will review the following: system performance, video performance, audio performance, monitor & display, Internet performance, Bluetooth devices, printer & scanner, keyboard & mouse, memory, battery, and other. I knew I was due for an update, however 21 devices is more than I had anticipated! There is no way with my current teaching schedule that I would have been able to search for all of those updates individually. Along with that, being a Twitch streamer and World of Warcraft gamer, having things optimized to maximize the performance output is essential. With the backup and restore feature, it gave me peace of mind that I could revert any unwanted changes. The company also provides all day every day phone call customer support for those who live in Canada and the US. Along with live chat support for any issues you may run into.
The user interface was really easy to navigate and you can tell that the developers do want their clients to have a good experience and are not troubled when a user needs direct assistance. I really enjoyed using Outbyte Driver for the first time and I look forward to my automated scheduled scans to keep my PC performing at its best!
You can pick up Outbyte Driver Updater now and keep your PC Optimized, it gets a thumbs up from me. Outbyte also makes their PC Repair software which scans and repairs problems found with your Windows OS, it will optimize and repair your OS install which can improve performance and make your system run better.
We are influencers and brand affiliates.  This post contains affiliate links, most which go to Amazon and are Geo-Affiliate links to nearest Amazon store.
My name is Aster and I'm a 28 year old World of Warcraft gamer on the West Coast! I partake in RBGs, Arenas, and other WoW related activities.
Occasionally my sister Troll Slayer and I band together to integrate Gaming and Art! To keep up with the Weirdleness you can also stay in touch with me on Twitch, Twitter, Discord, and Instagram!