We are influencers and brand affiliates.  This post contains affiliate links, most which go to Amazon and are Geo-Affiliate links to nearest Amazon store.
Good day folks, and welcome back to the tech-tacular world of Dragonblogger, where we often take you on journeys through all walks of the tech industry. From GPUs to iPad Minis, from smart phones to smart TVs, we're always looking for grand new adventures to take you on. Today's journey is a brief, yet informative one, the subject at hand being the very-soon-to-be-released iNew V8 Android phablet.
For those out of the know, the word "phablet" is an amalgamation of the words "phone" and "tablet", meaning that this device is the size of an enlarged touch-screen cellular telephone, yet is designed to operate as – and is the physical size of – a small tablet computer. This beasty little device sports a generous 5.5″ HD IPS-panel capacitive screen, a MTK6591T 1.5Ghz Cortex-A7 Hexa Core CPU (that's 6 CPU processing cores, for those who don't know), 13MP F2.0 camera (oh, and it rotates too, by the way), 1GB of RAM and 16GB of ROM space (where the OS is stored and all of your files would also be stored, unless saving them in the cloud or on a TF/MicroSD card – up to 32GB supported for this option), Mali-400 MP GPU chip that provides a crisp and clean 1280×720 (720p) resolution.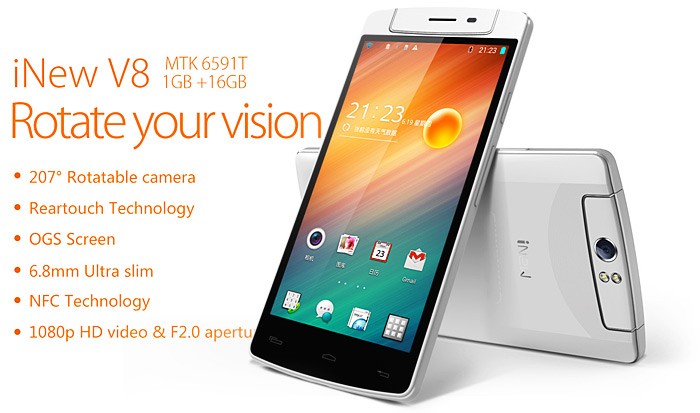 Just like as with an ideal mate, there should always be more to the package than just some pretty features, of which this V8 Phablet presents many. There are loads of file formats supported for playback, including (but not limited to) GIF, BMP, PNG, JPEG, 3GP, AVI, MP4, PPT, Word, Excel and even PDF. Of course, what would a phablet such as this be without the standards of Bluetooth 4.0, Proximity Sensing, GPS, NFC, OTG, 3G, Gravity Sensing, Wi-Fi and even Light Sensing, right (well, the majority of those are standards anyway, the rest are likely to quickly become such)? Of course this one has those features too. The phone even ships unlocked, and ready to be used on nearly any and all networks worldwide, and also supports Dutch, French, Portuguese, Spanish, Russian, German, English and Italian languages (the default is English, however if a different language is required than you can notify them of this when proceeding to purchase, as noted on the website). The V8 also has a Reartouch feature, which enables one to simply just tap the back of the phone to take a quick photo, though one needs to ensure that the phone is unlocked when attempting to use this feature.
Weighing in at a practically-featherlight 0.5 kg, the package you'll receive is stocked in a rather standard manner. You get the usual: 1x phone, 1x Micro-USB cable, 1x AC adapter, 1x 2400mAh battery (don't forget to charge it before messing with anything else, of course), 1x user manual. What's unusual, though a really nice little bonus, is that the V8 also ships with a pair of in-ear earphones. The package isn't all too large either, a mere 19cm x 11cm x 6cm (the phone itself is just a measly 156mm x 77mm x 6.8mm/ 6.1″ x 3″ x 0.3″ and weighs just 0.166 kg).
Though the V8 comes with Android 4.4 OS pre-installed, it's vitally important to note that, according to the GearBest website, upgrading to a newer version or switching to a completely different operating system will void your warranty. The good news for that, is that Android 4.4 is smooth and gorgeous all on it's own, the bad news being that when apps come out that require a later release of the OS, you'll either need to purchase a new phone or simply disregard whether you have any warranty or not on it and just upgrade the OS anyway. Also, it may be of importance for you to know where you can use this phone, should you decide to purchase it. With that in mind, the V8 utilizes 802.11b/g/n WiFi and GSM+WCDMA network accessibility; the GSM frequencies being 850/900/1800/1900MHz and the WCDMA frequencies being 850/1900/2100MHz.
Coming onto the market on July 10th, 2014, and at the price point of $435.20 USD (currently available for pre-order at a 43% discount, bring it down to a tastier Price at $249.98, the iNew V8 is not just another pretty face, it's as fierce as can be, storming the gates of the cellular phone market and poised to strike hard and fast; taking names only after laying waste to the competition. One last thing to note, if you're going to order it, they've a surprise discount code for you as well, just type in/copy-and-paste into the promo code box Anna08.
I don't know about you fine folks, but I'm actually interested in seeing this thing take to the market. Either way, it's time for me to go (for now). Don't forget to drop us a line in the comments section below, we'd all love to hear what your take is on this item. This is Ronald DMNKLR Smith signing off, and don't forget, I want to know what you want to know about. ;)
We are influencers and brand affiliates.  This post contains affiliate links, most which go to Amazon and are Geo-Affiliate links to nearest Amazon store.
This is the Dragon Blogger Guest Bloggers account for author's who want to submit articles and only have credit in the post instead of having to manage their own WordPress profile.