At some point of time, we end up deleting a file from our system either intentionally or absentmindedly. There arises a situation when we need that particular File. In such scenarios, when we simply delete by pressing the Delete option, we can easily recover it by using the Restore button. The reason being these Files are in the Recycle Bin.
However, there are certain scenarios where we delete it using Shift + Delete option, or it has been removed due formatting, files turning corrupt, etc. Under these situations, the recovery seems impossible or challenging. Does this imply that you cannot recover the lost or deleted Files? Or, does it mean these files are permanently deleted? Of Course, No! There are ways to help you recover these files; but before we look into the recovery methods, let us have a quick overview about whether these files are permanently deleted from the Windows OS.
Do Files from System are Ever Permanently Deleted?
When we delete a file using Shift + Delete either due to corrupt/format issue or by unloading the Recycle Bin, the Files are considered as permanently deleted. However, the truth is Windows never removes the file permanently. It is just that indexing for that File is deleted due to which that hard disk space is defined as available space.  Users can use it to change any character in the File table.
Note:  It is always advisable not to use the system after deletion to avoid overwriting.
Possible Ways to Undelete Files from Windows OS
Listed below are some smart ways to Undelete Files from Windows OS —
Approach 1 Use Backup:
One of the easiest and simplest way to get a hold of lost or deleted data. This effective way allows you to access your backup files and restore data from it with ease. However, it only works when you create it.  If you have not setup a backup mode, then it is of no use.
Steps to Restore a File from Backup are as follows:
Go to the Control Panel
Click on System and Maintenance
Select Backup and Restore
Open Backup
Click on Start button
Click on Restore my files
Next, follow the Wizard steps
Approach 2: Use File History
File History is another excellent approach to search the file on the system.
Steps to Undelete File Using File History are as follows:
Click on to Start
Type File History
Click on to the File History folder
Now, under the search bar, type the file name
Click on the Restore option
Approach 3:  Use the Previous Version
This Previous Version is the part of Microsoft Volume Shadow service.  Using this feature, Windows prepares to restore points that help in rolling back changes. It is very easy to use.
Steps to Undelete File Using Previous Version are as follows:
Go to Start
Click on the Computer
Click on the folder that contains the File or Folder that you needs to be recovered
Next, click on Restore previous versions option
List of available Previous Versions will be enlisted
Double-click on the Previous Version of the desired File or Folder to recover
Drag to the specific location where you wish to restore
Approach 4: Use Third-Party Recovery Tool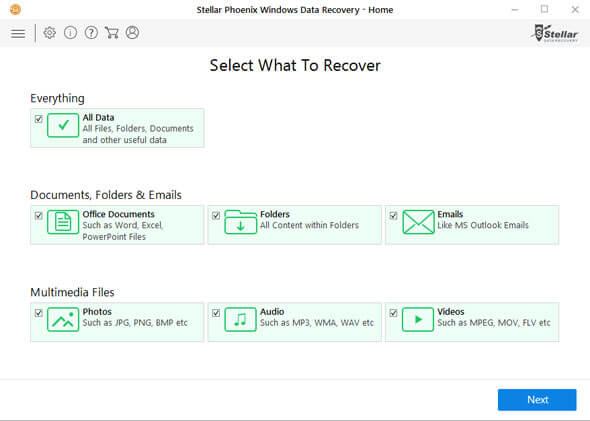 A Third-party tool, as the name suggests, is the use of software solutions to recover the lost file. They are easy to use, fast to process, and efficient in performance. Most importantly, these are free from manual intervention, therefore, have lesser risks associated with them.
In the current scenario of on-command, on-demand environment, there are a number of Data Recovery Software solutions. Selecting the right option as per your needs may seem challenging. Thereby, for added convenience and ease, we have figured out one of the most renowned third-party recovery solution— Stellar Phoenix Windows Data Recovery – Home. This cutting-edge software is acknowledged worldwide for its affordability, availability, quality, and easy functionality.
Stellar Phoenix Windows Data Recovery – Home
It is an all-in-one refined solution to recover Presentations, Audio Files, Spreadsheets, Video Files, Emails, Photos, Word documents, and much more. Feature-packed with high-end Recovery Modules, this professional solution works efficiently in all logical failure scenarios. You can use it effortlessly in case of corrupt files, formatting, virus attack, power surges, outages, or sabotage. This dedicated solution promises uncomplicated recovery from both internal and external drives as well as inaccessible partitions.
Characteristics such as user-friendly interface, fast & efficient scan engine, 2-step recovery process, multiple DPIs support, improved Preview support, enhanced Unicode support, etc. makes this do-it-yourself software stand out of the crowd from its humble competitors. With hands-on this software security and integrity goes hand-in-hand.
Unique Features of Stellar Phoenix Windows Data Recovery – Home
Specific Folder Scan and Recovery support
Better File Search option
Support for Quick as well as Deep Scan
Support for Mobile Phone Recovery
Support for Corrupt Hard disk Data Recovery
File sort option
Support for multiple File system scanning at one go
Windows 10 and previous versions Support
Scanned Tree tabbed view support
Bonus point 
Bottom Line
Losing Data from Windows OS may lead to a feeling of despair. In addition, it may seem unrecoverable as well. Nevertheless, it is essential to know that data is not completely lost until it is overwritten. Therefore, only practice the afore-mentioned approaches to undelete Windows Data.
I am Computer expert and geeks with over 3 years of experience. Share my knowledge and expertise over different media channels from time to time or as soon as find a new one.