How about a Laptop with over 25″ of screen real estate?  This is possible with the Lenovo ThinkPad W701ds laptop with dual screens which has a 17″ LCD screen with a retractable 10″ LCD screen that slides out from the base screen to expand your viewing area to the size of a desktop monitor.


I was just tweeting a few weeks ago about wishing laptops had a way to expand or slide out the screens when I found out about this magnificent creation.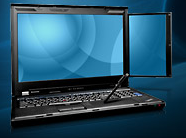 Now the ThinkPad W701ds is not a cheap laptop, this is a serious powerhouse that gears toward media, graphics professionals and gamers, and if you do decide to purchase such a rig you will want this thing customized and fully decked out with the following options:
Options that include an upgraded processor, graphics card, more RAM, HD space like:
2Ghz – Intel Core i7-920XM Processor Extreme Edition
1GB Dedicated RAM – NVIDIA Quadro FX 3800M 128-core CUDA parallel computing processor
8GB PC3-10600 DDR3 SDRAM 1333MHZ SODIMM Memory (2 DIMM)
128GB Solid State Disk (as your primary Windows 7 64 bit OS Drive)
500GB SATA II 7200RP Secondary Drive
Of course this laptop will set you back around $5,000 with all of the options listed above, but this beast will have more power than all but the most hardcore desktop computers.
So I suggest you start looking around for Lenovo coupons and go take a look at the Lenovo ThinkPad W701ds to see just how much is packed into this notebook.
Seriously, with a laptop like this you would be able to do any of your computing needs and never need a desktop again, so might be some savings if I can consolidate the three computers I have just for myself in my house into a single powerful laptop.
Oh and if you need a laptop lcd screen replacement, look no further than www.laptop-lcd-screen.co.uk who sell replacement laptop screens and help people recover damaged laptops by replacing their LCD panels.
-Dragon Blogger