We are influencers and brand affiliates.  This post contains affiliate links, most which go to Amazon and are Geo-Affiliate links to nearest Amazon store.
Trail cams have a variety of uses ranging from hunting, to property protection. Many game animals are typically nocturnal to avoid predators, so a solid trail camera can be the difference between bagging your prey and going home hungry. Solid features most modern trail cams tend to be things along the side of night vision, footage storage, camera panning, and practical features such as waterproofing and general weatherproofing. A good trail camera should be able to take a beating and continue to work, as it'll typically be out for quite some time assuming you get the intended use out of it. They can also be used as a solid form of surveillance for a wide area, and are even employed by the park services department in most national parks. Qnoavve has a fantastic trail cam for us today in the form of their 4K WIFI powered cellular trail cam. Cellular storage over WIFI is certainly a new feature for any surveillance setup but in the scope of trail cams it's practically innovative and likely to give the market a much cheaper entry point, which is always a fantastic thing. So without further ado lemme tell you a bit about why you should by this fantastic product.
Features
Your trail camera is a powerful piece of gear. It uses a a fantastic lens with a wide 120 degree view angle to capture crystal clear 30MP pictures, and 4K HD videos. This sort of lens is impressive on its own, offering twenty four seven observation. It supports up to a 256gb SD card, though this isn't included, so keep that in mind. As it utilizes its storage it'll automatically cycle the oldest video out, ensuring that your card is never full. It uses the bare minimum of power consumption, and comes with an easy to use app available in the play store that gives you full control over the camera.
No monthly cloud storage fees are needed, none of that. Simply stay within range of the camera with your WIFI and leave all the work to your trail camera. It also features No-Glow infrared, which essentially means the traditional bright green night vision of other trail cams is a thing of the past. This is a good feature for night hunting sessions, as well as animal watching in general, as you're far less likely to spook otherwise. It's an absolutely top notch feature that is typical on top of the line trail cams.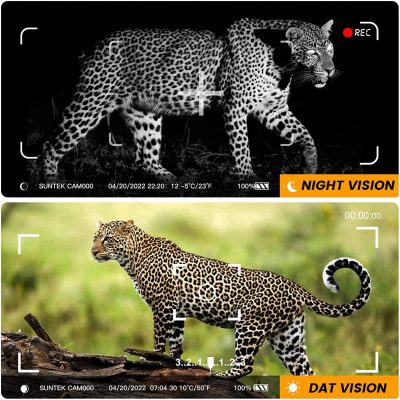 On top of this the trail camera uses a powerful waterproof design, with all the material reaching IP65 grade waterproofing to handle most forms of outdoor weather, and it functions best between -20 to over 70 degrees celcius. Some of its extra features are four capture modes (camera, video, camera AND video, and time lapse, a built in time stamp feature, sound recording, programmable timezone settings, operation hours settings, and it's even password protected to ensure no tampering with your footage. These are all fantastic luxury features that make this camera an absolute value pack.
Final Thoughts
If you're looking for a solid trail camera, this is a top notch choice. Between its extensive luxury features, top of the line lens, innovative cycling technology, and cellular storage Qnoavve has a fantastic trail cam on offer, and it's price point is honestly quite reasonable given what it has on offer. A good, durable trail cam is a valuable asset for many different applications, though personally this one would make a fantastic property cam if I were going to use it. The password protection is a rather unique security feature, and one who I as someone who utilizes several cameras in my home would appreciate. It also seems to be quite a durable camera, IP65 being quite a high grade of weather proofing. I hope I've informed you on the lovely qualities of this product, and I hope you have a fantastic rest of your day. Thanks for reading.
We are influencers and brand affiliates.  This post contains affiliate links, most which go to Amazon and are Geo-Affiliate links to nearest Amazon store.
I am just a 25 year old doofus who enjoys rpgs, sugar rushes, and passing out at odd hours.