We are influencers and brand affiliates.  This post contains affiliate links, most which go to Amazon and are Geo-Affiliate links to nearest Amazon store.
E-Transportation is the truly the future, and nowadays you can find just about every single form of practical transport available, but what about entertainment? Combining the two into one package is a rarity, and Outdoor Master has quite the fantastic offer in store for us today. Electric Skateboards are absolutely fantastic, removing the need to push off, and simply requiring the user to balance, unlike a normal skateboard. They're also one of the most compact forms of transport, even making things like e-scooters look somewhat large in comparison. Outdoor Masters Cruiser model of electric skateboard is quite the incredible piece of gear, packing all the power of a traditional form of e-transport in the cool, fun package of an old school skateboard. It's powerful, sleek, elegant, and will still allow you to make your daily commute if that's how you choose to use it. It's a top notch piece of tech, and I'm gonna tell you all about why you should buy it. Without further ado, lets get started.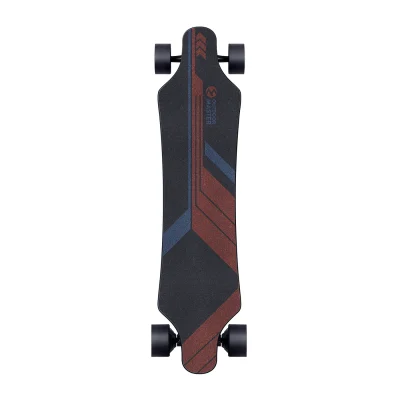 Features
The cruiser was developed to take you from point A to point B. What I mean by this is they wanted to make a board that was as cool, clean, and rad as a normal skateboard, but with all the power to make your daily commute with no hassle. It has a fifteen mile range that'll allow you to cover any urban area with ease, taking you from your front door to your job, and back assuming you give it a fresh charge depending on how far away you are. It's got a pretty cool red, blue, and black finish, and the shape reminds me of the skateboard I had as a kid, which was quite a stable design (I was a very clumsy kid!).
This newer model comes with a big upgrade to battery capacity squeezed into its limited deck space. This is a pretty solid change as the amount of charge also indicates how frequently you'll need to charge a battery which is honestly the only part of electronic vehicles I find somewhat irksome. It utilizes an inbuilt lithium battery with a decent charge. On top of all this it has shock absorbing trucks which is basically a necessity for such a powerful electric vehicle. It uses buffering springs on the front and rear end for a smooth ride with flexible turns. Another big upgrade was the motor. They ditched the belt motor of the old model that was quite loud and usually broke with minimal use and instead incorporated a 2x 450W hub motor with a maximum speed of 40km/h (or 24mph) and a massive climbing angle of 30 degrees. It also has a backwards skating mode and a cruise mode, for a fixed and comfortable ride speed.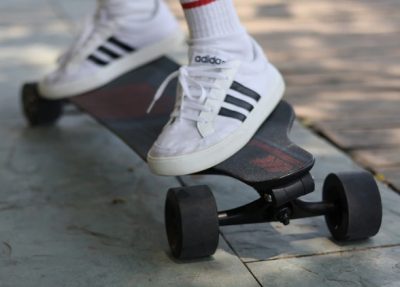 The board is a durable Canadian maple fiber glass composite, with 11 layers of maple and two layers of fiber glass for additional durability. This design makes the board both stable, and makes sure it can take a large amount of wear and tear. The included remote is a fantastic bit of tech, as it displays your speed, total mileage, mileage of a full ride, battery, direction, and your speed gear. That's a pretty solid amount of information for one LED readout. Your board also comes with four speed modes that are a piece of cake to switch between. Between the boards top of the line LY-FOC 7.0 processor, and the energy optimization system that entails, your board balances use and energy consumption extremely well, which as I mentioned before can keep you from having to recharge your board constantly. It detects when you brake, and saves the energy from that instead of using it while you idle.
Final Thoughts
The Cruiser is a sleek and stylish model of board that packs many innovative features into one big package. Between the upgraded motor, and the new shock absorbing springs, Outdoor Master is doing their best to bring innovation to an already innovative field of science. It's slightly off topic, but they also sell all the safety gear you'd need with one of these boards, which I can absolutely appreciate from the viewpoint of an uncle with very rowdy children in my home quite often. It also looks as if the deck is quite wide, I used to skateboard quite a bit in my youth and I never could quite find the perfect deck to accommodate my boat feet but this one looks as if it'd do it. All in all its an awesome board and the range is absolutely huge. If you wanna minimize your carbon footprint while also looking way cooler than anyone else on the road, an E-Skateboard is the way to go, and the Cruiser is your ticket to a fun work commute. I wish you luck in all your future purchases, and thanks for reading!
Get yours at Outdoor Master here!
We are influencers and brand affiliates.  This post contains affiliate links, most which go to Amazon and are Geo-Affiliate links to nearest Amazon store.
I am just a 25 year old doofus who enjoys rpgs, sugar rushes, and passing out at odd hours.