We are influencers and brand affiliates.  This post contains affiliate links, most which go to Amazon and are Geo-Affiliate links to nearest Amazon store.
Taking a break and need some extra stress relief? Work a literal pain in the neck? If you like good deals and bad puns, you've come to the right place. Your neck is one of the most important sections of your body and you've gotta take good care of it, one bad crick and suddenly you're in pain for the rest of the day, or even longer. Not to mention the stress pain like that can cause over the course of your day. So kick up your feet, relax, take a few deep breaths, and let me tell you about QUINEARs neck massager and how it can change your day with just a few simple button presses. Also, at the time of this articles writing, it currently has a 12$ off coupon AND is on sale bringing the price down from $69.98 USD to less than 40$! Talk about some amazing value, so make sure to pick yours up as soon as you can before you miss out on such a fine deal! No more dillydallying, lets get started talking about this fantastic product and why you should get it for yourself today.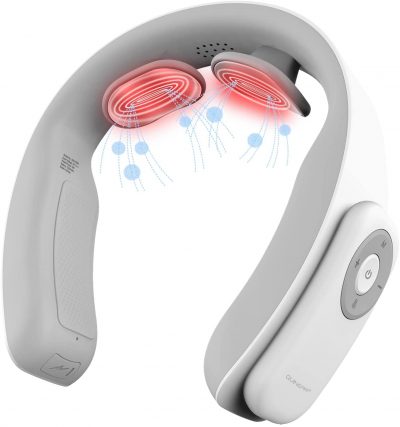 Features and Specs
To start, let me preface this by saying that QUINEAR isn't offering you a neck massager in the traditional sense. Rather than hammer your neck with pulses and prods that might make the pain even worse, this neck massager functions like a TENS unit, using electro-stimulation to cause your muscles to contract and expand on their own, loosening them in a much more natural, direct manner. It features multiple massage modes, all designed to relax the muscles and nerves in your neck. Based off the test video a member of our team shot that I used to gather this information, it's strong enough to even reach the muscles as high as the back of your head! (Thank you and hi Nate!) This makes for a wonderfully powerful relaxation tool on its own, but on top of its portability and unique manner of relaxing you, the pulses it emits to massage you are also heatable! A long press of the power button and a touch of the heat button with the included remote switches between a low heat and high heat mode, bringing warm comfort practically anywhere, from your car during rush hour, wall to wall traffic, to a baseball game where the home team just can't seem to close out the game with a win. QUINEAR is here to relax you!
Speaking of which, lets talk about the size of the unit and how it does its job for a minute. This thing is tiny, lightweight, and made of sturdy plastic and silicone rubber. Two powerful pads positioned on the inside deliver both the electro-stimulation, and the heat, with enough space to easily cover the widest of necks. You simply slip it on the back of your neck like your favorite travel pillow, press the power button (hold it just a bit, gotta remember that!), and after the built in speaker informs you the power is on, you're good to go! The included controller detaches, offering settings for both the intensity of your massage and the heat, right on its face. It's heating system uses a combination of stable infrared therapy which eases your muscle strain and pain, relieving both within 30 minutes of use. You can also use the thermotherapy function on its own if you just need a bit of warmth to soothe inflammation!
QUINEARs massager uses a 1200mAh rechargeable battery pack to ensure that even if you need a deep tissue massage in the most remote of locations, your massager will be ready for you! It's perfectly sized for wherever you wanna use it, be it work, home, or travel, and it makes a fantastic gift for anyone in your family young or old!
Watch Nate's Showcase and Test on the QUINEAR Neck Massager Unit
Final Summary
Whether you just need to relax, want a gift for a friend, or have chronic neck pain, this product is absolutely worth a try and I hope you give it some consideration. Stress is already a big enough problem as it is in today's fast paced, hectic world, and this product can help with that AND relieving those cricks and aches you probably suffer from. Combine that with some other things like changing your sleeping posture, stretching regularly, and generally just taking a few minutes each day to relax, and you could say goodbye to both for an even longer period! Thanks for reading, and again, pick up the neck massager! It's absolutely worth it and you don't wanna miss out on that deal. Check the link below!
Get the QUINEAR neck massager over at Amazon!
We are influencers and brand affiliates.  This post contains affiliate links, most which go to Amazon and are Geo-Affiliate links to nearest Amazon store.
I am just a 25 year old doofus who enjoys rpgs, sugar rushes, and passing out at odd hours.