We are influencers and brand affiliates.  This post contains affiliate links, most which go to Amazon and are Geo-Affiliate links to nearest Amazon store.
With an Amazon storefront jam packed with fantastic microphones of a huge variety, an easy to navigate website that lays out the exact technology behind every single microphone, and a business that puts the customer first it's no wonder TONOR is a leading name in audio fidelity. I'm here today to talk to you about the TONOR TC-777, as well as offer you some tips on tuning it to get that perfect sound for whatever you may be doing, be it streaming, podcasting, or wherever you may need quality audio for what you may be doing. I'll be discussing exactly what the TC-777 covers in terms of a plug and play condenser microphone, as well giving you some personal tips coming directly from a streamer and audio enthusiast. TONOR has a fantastic variety of microphones and the TC-777 stands proud as one of their most value packed microphones at a price point that won't empty your wallet. The tips I've got for you are also absolutely fantastic for beginners and pros alike, and should let you step up your audio recording game significantly!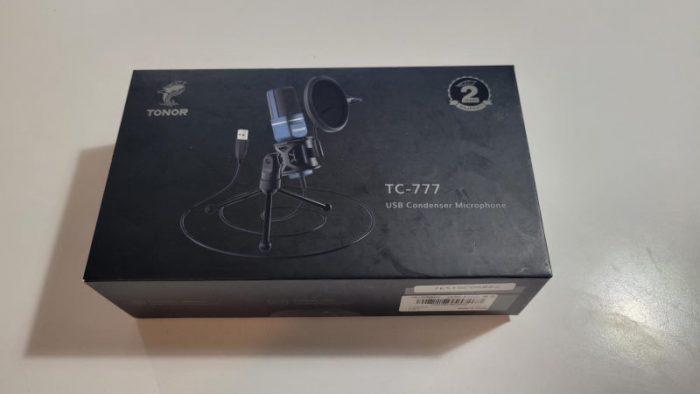 As you can see the TC-777 comes in a lovely standard black box made of sturdy material. Pictured on the front is everything you receive with your kit, and really all you need to start recording quality audio. You get your microphone, a standard USB cable (this is a plug and play cardioid condenser mic), a tripod shock mount, and a pop filter. The last one is a really nice touch, as it lessens peaking as well as the more severe popping letters in words. (P's are a real problem for me at times, causing my mic to peak with each without a filter.) What it doesn't show on the box is the second included filter that only adds to your peak and pop prevention, though depending on what sound you're looking for you may opt to leave that one off!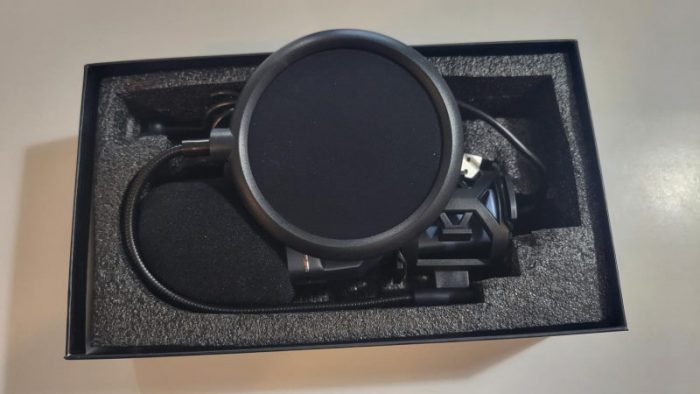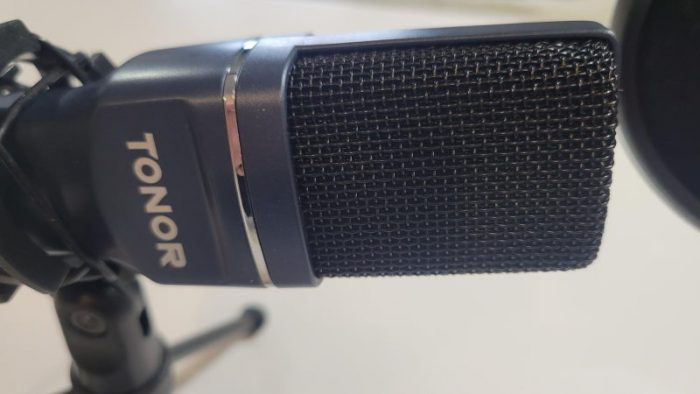 Everything comes packaged in a nice, shipping safe foam and the mic looks absolutely fantastic on a desk, your exterior pop filter slots right into your tripod in the most simple manner possible, and the USB is as simple as plugging and playing, though we'll get into more advanced ways to capture that sound you're looking for more accurately when they're paired with your microphone in just a bit. One thing about this mic is that it doesn't come with built in noise cancellation, but I'll be instructing you on how to set that up for yourself in just a bit. It's compatible with windows, and the shock mount is extremely versatile, and it can actually be unscrewed and remounted on any stand with the 5/8″ threaded insert included in your kit!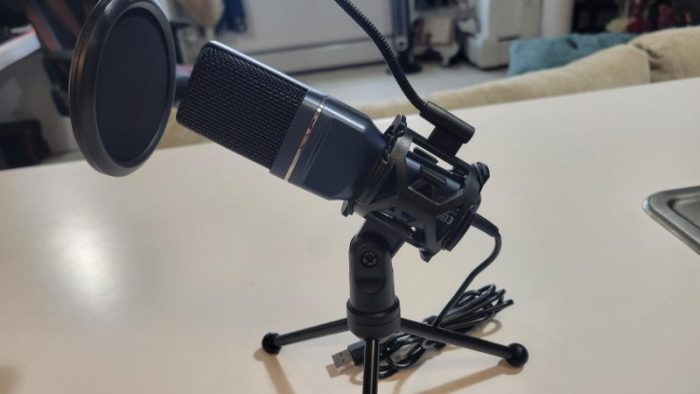 The audio quality is fantastic, though I'd certainly recommend at least one
Tips for using your TONOR TC-777 Microphone!
Lets get into those tips, and really learn how to tune your microphone to it's optimal settings. One of the first big things I see many newer content creators doing is either sitting right up on their microphone for a while video, or too far away! Your microphone should be pointed at you and a comfortable distance away to maintain a consistent speaking voice throughout, as well as prevent peaking and popping, as even with a filter, if you're right up on your mic you'll have issues anyways. There are also a number of free programs I can recommend to set up noise reduction, and generally improve your sound quality, the highest of the free ones in my personal opinion being Reaper, though it's not the most user friendly. Also be sure you perform audio checks before each piece of content you create, you don't want to get into a stream with bad audio and have to stop it to make adjustments. Lets recap and summarize this.
Keep your microphone at a comfortable distance and pointed at you!

Third Party Audio Programs are your friend!

Perform Audio checks and make adjustments before each piece of content you create
Final Thoughts
I hope I've both informed you about a fantastic microphone and many ways you can make it, and any other audio setup even better. Audio is second only to video in terms of popular content, and the best thing you can offer any of your listeners is a fantastic piece of ear candy. I receive compliments on my own voice from quite a few folks on the regular and these tips are a big part of why people enjoy listening to me in the first place. Regardless of what you do, give the TC-777 a shot, it's a fantastic microphone for its price point and you can pick it up both on Amazon, and at TONORs very own website at https://www.tonormic.com which I must say is fantastically well designed and incredibly user friendly. Thank you for reading, and have a fantastic rest of your day.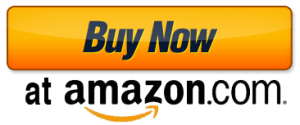 We are influencers and brand affiliates.  This post contains affiliate links, most which go to Amazon and are Geo-Affiliate links to nearest Amazon store.
I am just a 25 year old doofus who enjoys rpgs, sugar rushes, and passing out at odd hours.