Data Recovery software is more abundant and reachable than ever, and even people without IT technical experience have the ability to recover lost data files, so data recovery is not limited to professionals only. Here, we mainly introduce the free data recovery software MiniTool Power Data Recovery Free Edition and how to use this specific free data recovery software to recover some files you may have deleted and want to recover. (Not just send to Recycle Bin, but post Empty of the Recycle Bin)
Main Functions of MiniTool Power Data Recovery Free Edition
Power Data Recovery Free Edition is able to recover deleted files, recover lost data from deleted/lost partitions, recover data from logically damaged partitions or portable storage devices (including formatted/reformatted/inaccessible/raw drive and the drive Windows asks to format), recover digital media files from different kinds of storage devices, and recover data from CD/DVD. Next, we will take recovering deleted data and recovering lost data from a logically damaged drive for example to show users how to use this free data recovery software.
Steps to Recover Deleted Data with MiniTool Power Data Recovery Free Edition
Before attempting to do data recovery, we should confirm the program has been installed (for sake of convenience, create a desktop shortcut during the installation is suggested). Then, double click the shortcut icon to load the app. Note: the data recovery program should not be downloaded and installed to the partition or drive where data loss appears, because any write-in operation may overwrite lost data.
After you load the MiniTool Power Data Recovery software, take the following steps: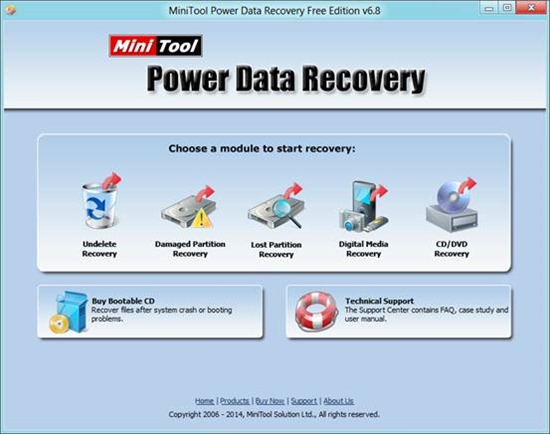 1. Choose the functional module "Undelete Recovery" since it can recover deleted files and folders. Different modules are used under different data loss situations, which can save a lot of time as well as increase success rate.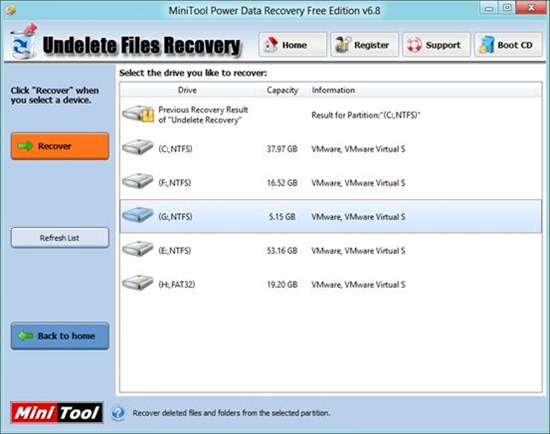 2. Select the partition or drive which is suffering data loss or has deleted data and click on the "Recover" button to scan it. and then just wait for the scanning results.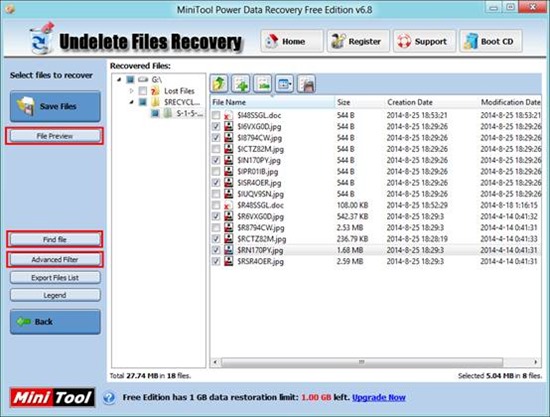 After scanning, all deleted files will be listed as the above interface shows. Here, 3 time-saving features are available.
"File Preview": allow users to preview a single file smaller than 20MB. Just select the target file and click on "File Preview" to preview it. Double clicking on the file can get the same effect.
"Find file": make it possible to locate the target file via file name. Just input file name and click on "Find Next". Nevertheless, it requires users to rememberthe  file name.

"Advanced Filter": filter files by file name/extension, file size, creating time, etc.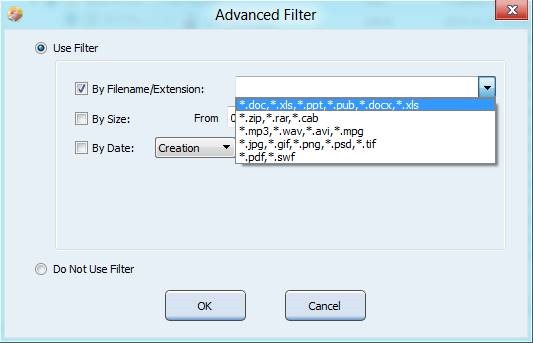 For example, if we just want to recover some jpg files and tif files, we can choose "*jpg, *gif, *png, *psd, *tif" to filter out needless files.
3. Check all needed data and click on "Save Files" to set save path for recovered data.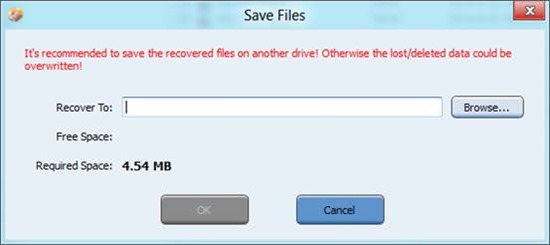 4. Appoint a specified location to save recovered data.
Note: Saving recovered files to the original location will overwrite deleted data, thus making lost data lost forever. So you should use a drive or partition other than the one you are attempting to recover data from.
After save, and OK you are off to inspect your recovered files.
How to Recover Data from Damaged Drive with MiniTool Power Data Recovery Free Edition
To recover data from logically damaged drive, we need to choose the module "Damaged Partition Recovery" in the main interface to get the following window: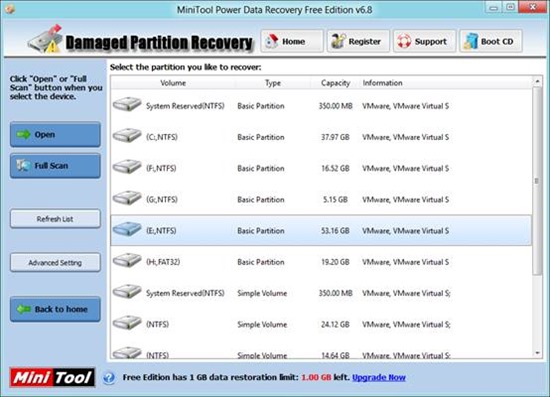 Here, we can see another time-saving feature, namely "Advanced Setting". With it, users can specify file systems and file types to scan.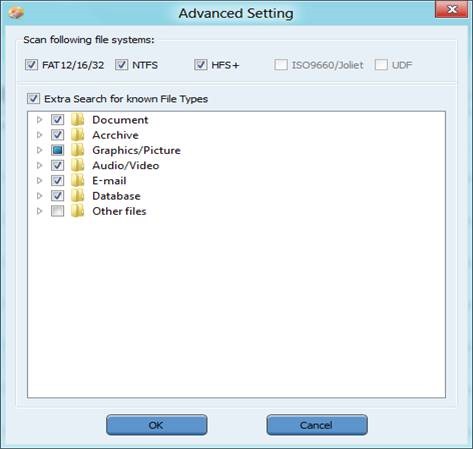 Then, select the damaged partition and click on "Open" or "Full Scan". "Open" feature just opens the selected drive directly, and users may not find needed data. "Full Scan" deep and fully scans the device so as to have the best chance to find lost data, but it will take much more time. So please wait patiently while the operation does a full disk scan. After scanning, the interface below will appear: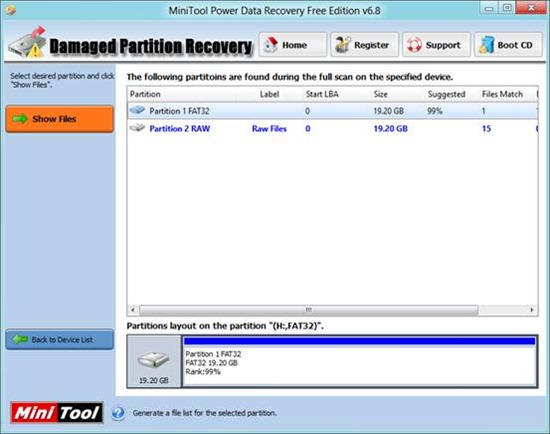 Now, please choose the partition with the most suggested value (in general situations, it is the first partition) and click "Show Files" to display all found files.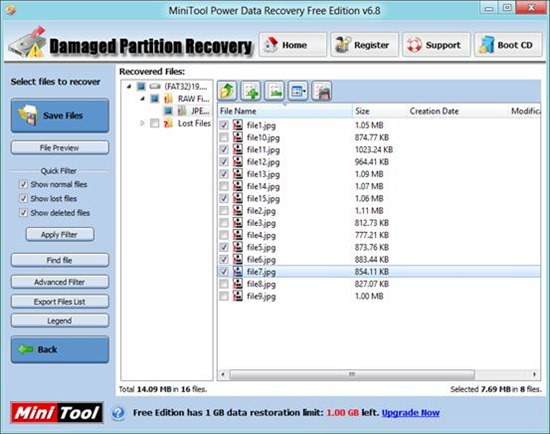 Next, check all needed data and click on "Save Files" to set save path. Note: there are also 3 time-saving features which are the same as those in "Undelete Recovery". Make use of them to save time and enhance success rate.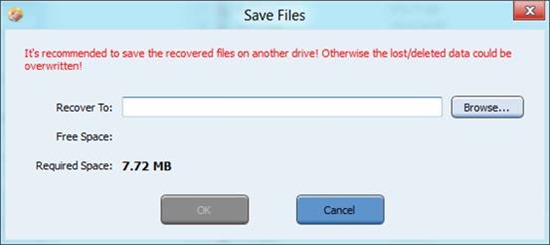 At last, select a safe location to save recovered data remember to not choose a partition or drive where you are trying to recover data.
After these operations to recover data from logically damaged drive is done you should be able to view your recovered files.  Other data recovery functions can also be realized easily, and users can have a try of all features for free with MiniTool Power Data Recovery Free Edition which just has a limit to recover 1GB of data for free, anything over and you need a premium version.
This is the Dragon Blogger Guest Bloggers account for author's who want to submit articles and only have credit in the post instead of having to manage their own WordPress profile.