We are influencers and brand affiliates.  This post contains affiliate links, most which go to Amazon and are Geo-Affiliate links to nearest Amazon store.
Welcome back to the Aukey Quad-Port Car Charger review and unboxing.  Once again we are back looking at a USB charger, this time out of the comfort of your home into your car, your car gets the special treatment now.  This little guy charges up to 4 USB devices at once, let's check out the specifications.
Specifications
4 USB ports at 2.4amps, totaling to 9.6Amps/48Watts
Charge most USB tablets, phones, portable battery chargers, GPS' and many other devices
Very small size, 3.41inches long and 1.77 inches wide.
USB Ports light blue when powered
Overheating, Over Current and Over charging protection with the Texas Instruments microchip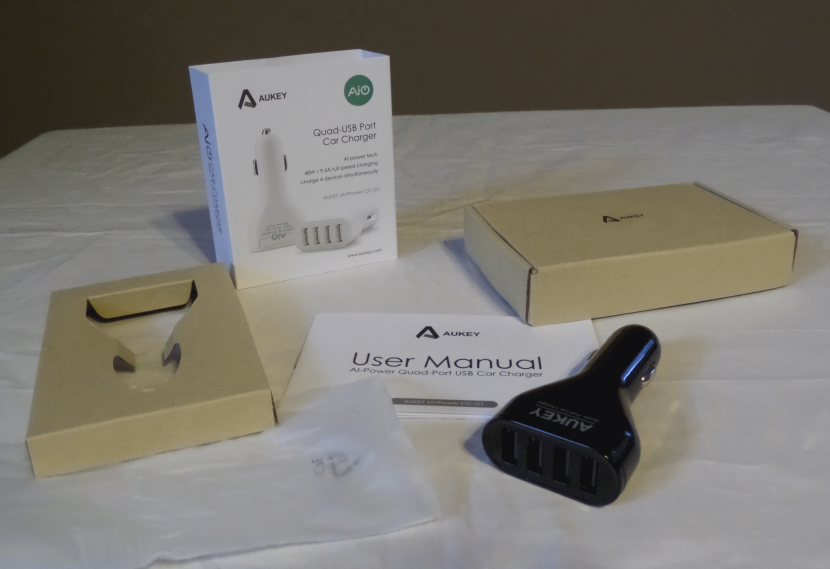 Check out the unboxing video

Plain little box, no frills no thrills, this helps keep the pricing down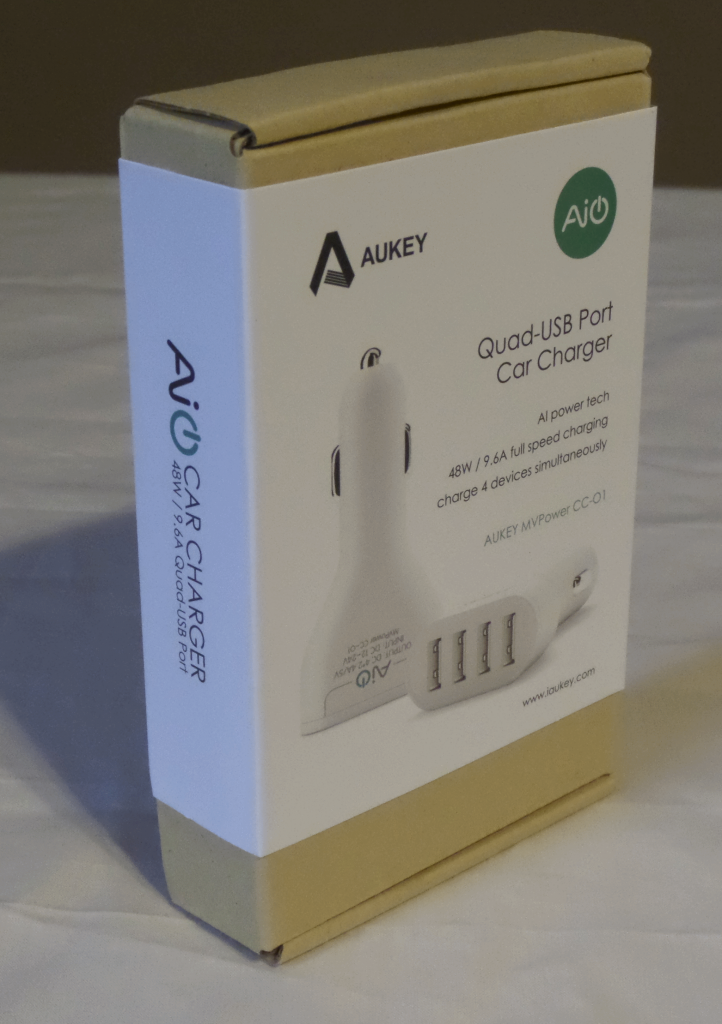 This seems like it might be too good to be true, I get to charge 4 devices while I drive, just about any devices?  Most tablets require 2.1Amps to charge, this will provide you 2.4Amps per port, so this can charge 4 tablets and I did plug in the Asus Nexus 7 (First Gen), EVGA Tegra Note 7, Amazon Kindle Fire HD (First Gen) and the Tablet Express A1 and they all charged, so it does what it says it does.  You don't have to charge 4 tablets though, you can charge 3 tablets and an iPhone, or 2 tablets and 2 iPhone, you can charge just about anything.
I had the chance to go to the beach with my family and with that, I had the chance to test this out.  I tested it with the 2 tablets and 2 iPhones.  1 of the tablets was the EVGA Tegra Note 7 and the other was the Amazon Kindle Fire HD (First Gen) and 2 iPhones (my iPhone is a 4S and my wifes iPhone is a 4) and the charger did its job well.
I invite you to go along a trip with my family
So yeah, it kind of Zombifies them, but it helps keep my sanity, what little I have of it anyway.
The video didn't show you how it looked plugged in with the car on, I was in a hurry to leave but here is a picture of how it looks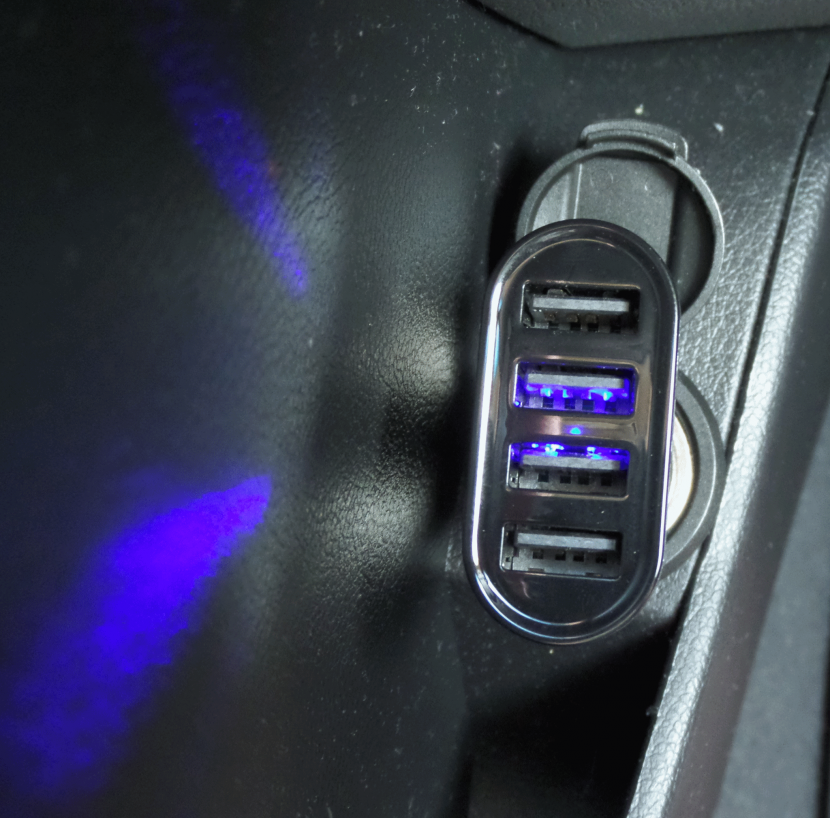 That is what it looks like with power running through it, and here is what it looks like with no power.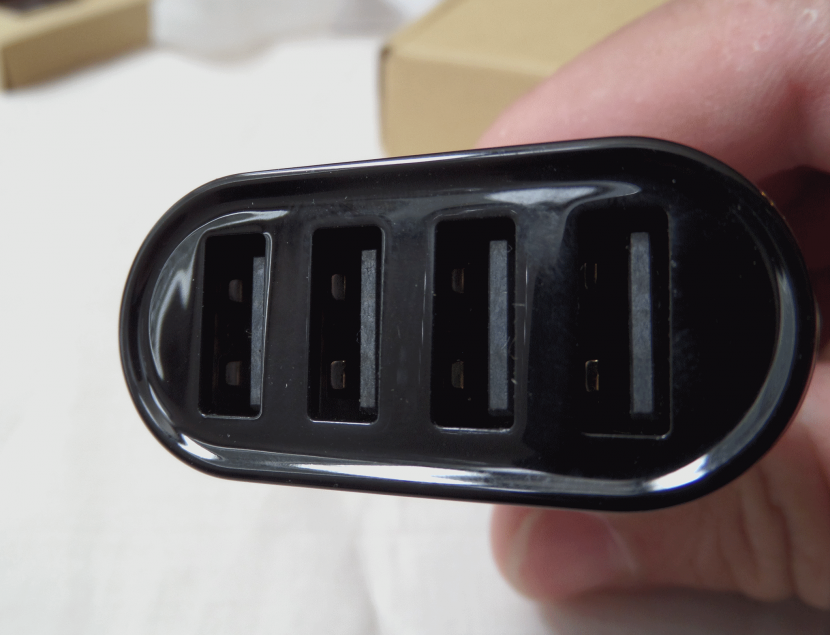 A very tiny device, but it does what it's supposed to do.  They come in Black or White, obviously what I reviewed was in Black, but you have a choice of tones.  Not as important for me, but sometimes you gotta match.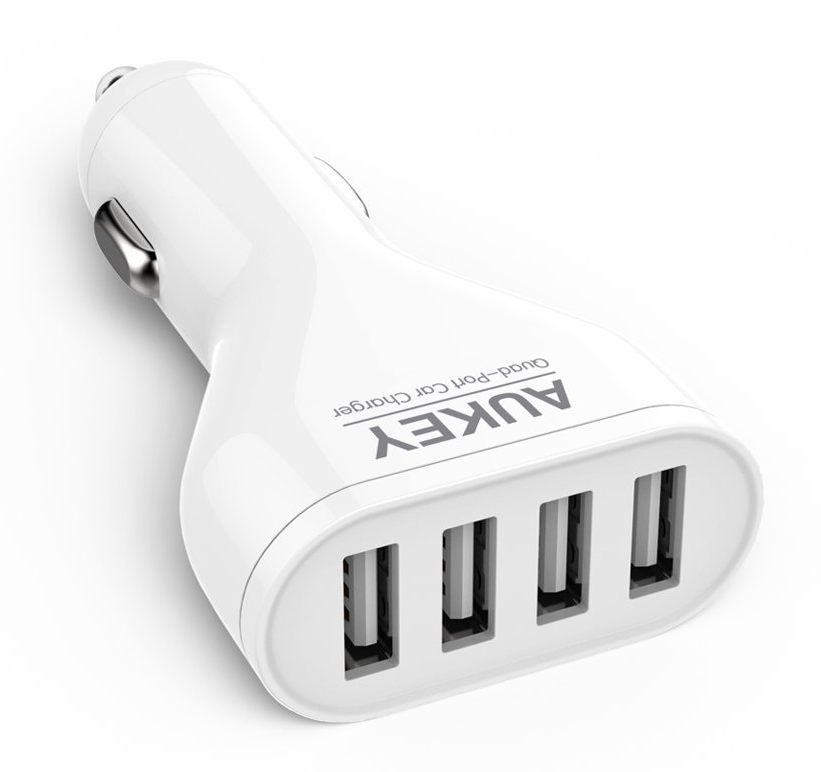 Now, for the geek in me and for some of you readers, their logo on the device is really cool.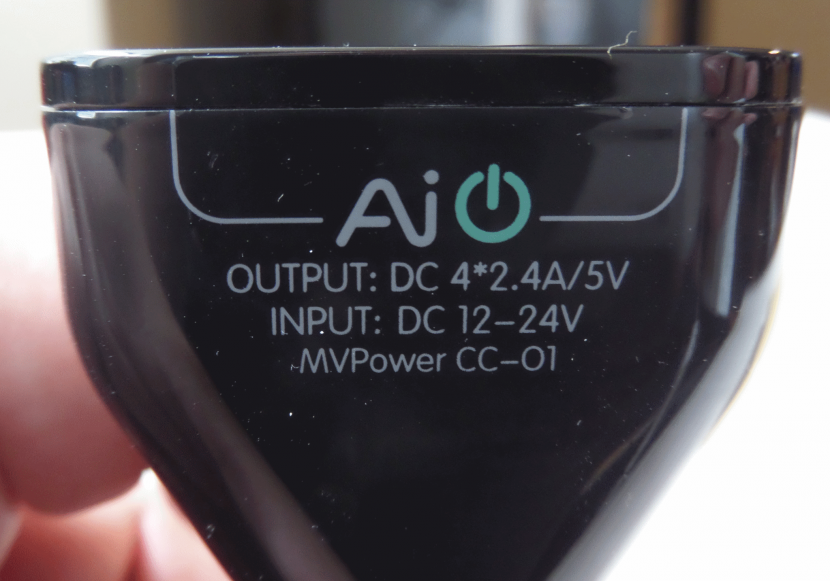 The A and I are pretty basic, but the O is a power button logo, pretty cool.  Also, this portion of the device tells you the Output and Input this device can handle, just in case you forget.
Very short review, but I think it hits home for everyone, it is something we can all relate to.  We spend a lot of time in the car and don't always have enough ways to charge the billions of USB devices we own and we take with us but now you can…. at least 4 of those billion devices at a time at least and on top of it all and a very low price.  At the time of this review it was only $20, it might be cheaper when you check it out, click on the pictures to see the current price on Amazon.  My wife wants one too now, haha.
What do you guys think?
We are influencers and brand affiliates.  This post contains affiliate links, most which go to Amazon and are Geo-Affiliate links to nearest Amazon store.
I have spent many years in the PC boutique name space as Product Development Engineer for Alienware and later Dell through Alienware's acquisition and finally Velocity Micro. During these years I spent my time developing new configurations, products and technologies with companies such as AMD, Asus, Intel, Microsoft, NVIDIA and more. The Arts, Gaming, New & Old technologies drive my interests and passion. Now as my day job, I am an IT Manager but doing reviews on my time and my dime.