We are influencers and brand affiliates.  This post contains affiliate links, most which go to Amazon and are Geo-Affiliate links to nearest Amazon store.
Thanks to the Dell Inspiron 1545 missing the Pause/Break key on the keyboard I had to do some research myself to find out how to work around and remap the break key for Windows 7. Mostly two types of people use the Windows Pause/Break key and these are developers/programmers and gamers. Many games pause with the Pause/Break key and use the same key to unpause the game, for games like Age of Empires III when you load a saved game the game defaults to being paused and you have no way to unpause and play the game without figuring out how to hit the missing Pause/Break key on your keyboard.
This article presents you with 3 solutions to the problem of missing the Pause key on your keyboard and it all depends on how much effort you want to go through and which solution you want to use.
Option 1 – Use On Screen Keyboard to access
Pause / Break Key
This is probably the easiest solution for most people and you just bypass the missing Pause key by using the Microsoft Windows On Screen Keyboard. Yes, Windows comes with OSK or On Screen Keyboard, this cool application popups up and sits on top of any other application and can send signal to other applications as if it were a full keyboard. If you are in a program or a game, just go into windowed or minimize mode, click on your Windows button -> run and type OSK.


Simply load up the OSK and click on the Pause/Break key while accessing the windowed application and it should trigger the Pause/Unpause and allow you to go about your business. This is a quick and effective tip if you only very rarely use the Pause/Break key, but if you use it often (more than a few times per day) then you will probably want something a little more convenient and move on to the second option.
Option 2 – Use SharpKeys To Remap your Pause Key
I have tested and used the SharpKeys Utility to remap the Pause/Break Key (and several other keys) and it works in Windows XP, Windows Vista and Windows 7 without issue, though it will give you a warning and not mention that it works in Windows 7. Note, I did get a warning about this website from Microsoft Security Essentials that it may contain malware, but found none and I scanned the .exe file with Avira AntiVirus and Microsoft Security Essentials before installing and it came up clean. I always scan files for viruses when I download them and I always use 2 antivirus programs.
Once you install the Freeware Utility SharpKeys you run the program and will be presented with a very simple interface:
You will just simply pick which keys you want to remap on the left, and then which keys you want to remap them to on the right.
The Pause/Break Key can sometimes be Special: NUM_LOCK (00_45) or Unknown: 0xE046 (E0_46) (so select one or both of these keys on the left and remap them to something like "Delete" / F10 or some other key on your keyboard.
Updated:
The correct remapping happens when you select the key you want to replace on the left, and choose what you want to map it to on the right.  So in the image below, I am replacing the delete key E0_53 with the Pause/Break key 00_45.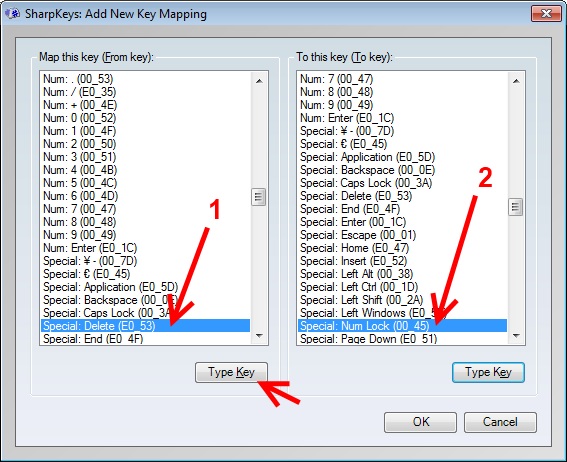 1. You start by clicking on the "type a key" button on the left to choose which key you want to swap out, then a popup will display and capture any key you type and display the code for it.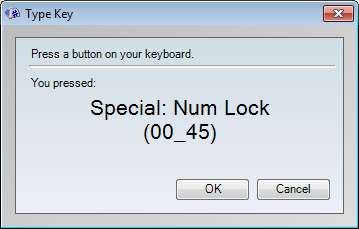 2. Then choose which key you want to replace the key you selected on the left.  If you have a laptop missing a pause/break key, you will likely have to test out finding the 2 codes to see which one works, after you remap the keys the program will write to your Windows Registry (make sure you ran the program as "Administrator" in Windows Vista or Windows 7) or the change may not work. Reboot your machine and the key you mapped Pause/Break to should work properly. I have tested this on Windows XP, Windows Vista and Windows 7 x64 and it worked on all three systems.
Option 3 – Manually Modify the Windows Registry to Remap Pause Key
This option is for those who don't want to install and trust Freeware and would rather do the mapping manually themselves. This information can be found over on an article on Neox.net about keyboard remap pause as delete key and it contains the testing the blogger did to find out exactly how to make this work. This article will walk you through how to find the Windows Registry entries (shows Windows XP but should apply to Windows 7) and even includes a registry file you could download to make the changes automatically. When remapping the Pause key the blogger also noted that the NUM LOCK key got mapped at the same time so the blogger wound up mapping the NUM LOCK key to Null.
Rather than reprint the Windows Registry Entry I want to give credit to Hana and Sarah's Freeware Blog for doing the work and instead will have you visit the above link to see how to modify the Windows registry to remap the Pause key yourself.
Summary
In summary you have a few options on dealing with a missing pause key on your keyboard and all of these options will work, it just depends on which option you want to use. You can also use SharpKeys to disable or remap any other key on your keyboard that you may find annoying as well. Remapping your Pause/Break Key is one solution you may have to implement if you use a compressed keyboard that is missing the pause key or a laptop like the Dell Inspiron 1545 which has no Pause key on the keyboard either.
-Dragon Blogger
We are influencers and brand affiliates.  This post contains affiliate links, most which go to Amazon and are Geo-Affiliate links to nearest Amazon store.
I have been obsessed with computers, tech, gadgets and games since the early 1980's having grown up on the Commodore 64 and Amiga computers.
By day I work in the IT Security Industry and have been in IT for over 20 years. On my spare time I am a Vlogger, Blogger, Streamer, Gadget Reviewer, affiliate marketer, influencer and entertainer. I am also an avid movie fan, TV Show fan, Anime fan, video game fan and fan of trying anything and everything new.