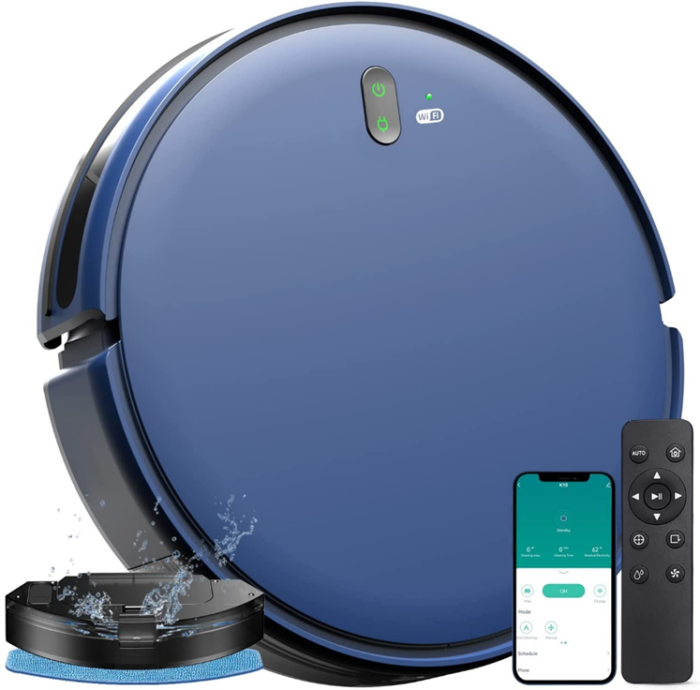 Looking for a robot vacuum cleaner with powerful suction to keep your home dust-free?
If you usually do cleaning in your home you know that many times it is usually boring and it is normal for you to think those, it takes a lot of free time to perform a good cleaning and many people feel tired after a tiring day of work. Luckily technology advances quickly and you can buy some smart products that will help you clean your home in less time and in some cases you will not even have to get your hands dirty. Robot vacuum cleaners are one of the best products to keep dust away from your home.
The robot vacuum cleaners only have one mission, to take care of keeping the floor clean enough so that you do not have to do the hard work, this means that the robot vacuum cleaner can work automatically, so you will only have to configure it to start working. Something to keep in mind is that not all robot vacuum cleaners offer the same performance, and the price may vary, but you should not only look at the price, the suction power is very important if you want your floor to be extremely clean. Robot vacuum cleaners have a long-lasting battery and lots of smart features so you get the best performance.
The XIEBro K10 robot vacuum cleaner is a great option to keep in mind if you are looking to keep your home clean, in addition to avoiding the accumulation of annoying dust that can become a problem for allergy sufferers. It is available at a great price, so do not miss this great opportunity to get a high quality robot vacuum cleaner. Next, discover the most interesting features of this product.
Features of robot vacuum cleaner XIEBro K10
The main feature of the XIEBro K10 robot vacuum cleaner is that it offers a powerful 2000Pa suction, which guarantees that it can easily vacuum the annoying dust of your home. This robot vacuum cleaner can work on different types of floors (tiles, wood, carpets, and more), which prevents it from getting stuck (this is common in cheap robot vacuum cleaners). Not only can it vacuum dirt, but it can also mop the floor thanks to the fact that it has the capacity to store 230ml of water, so the robot vacuum cleaner can also mop your floor while drying it and vacuuming the dust.
Another feature of the XIEBro K10 robot vacuum cleaner is the battery life, with a single charge the robot vacuum cleaner can work for up to 2 hours, which is quite surprising, 120 minutes will be enough to clean most of your home. Another impressive thing is that when the robot vacuum cleaner has a low battery level it will automatically return to the charging station and then return to work when fully recharged. Please note that battery life may vary depending on the type of floor, so the battery may have slightly lower performance.
The XIEBro K10 robot vacuum cleaner is designed so you can learn how to set it up easily. You can set up this robot vacuum cleaner by downloading the free app "Tuya" (available for mobile devices). You can adjust the suction level, cleaning mode, and other aspects so that you can get the best performance according to the type of floor. Please note that you must have a 2.4 GHz Wifi connection to use the app (5GHz is not available). You can also control this robot using your voice with Alexa or Google Assistant. Don't worry if you have pets in the home, the XIEBro K10 is designed to work in homes with pets.
You can buy this item here on Amazon
My name is Joel! I love to read, I go to university like most people my age.
In my free time I usually train boxing, I love music, I also know how to play the guitar and the harmonica.