We are influencers and brand affiliates.  This post contains affiliate links, most which go to Amazon and are Geo-Affiliate links to nearest Amazon store.
I get requests to test and review gaming headsets in all price ranges. Some times the headset does not hold up compared to the price they have on them and sometimes you get a budget headset that amazes. Today we take a look at a lower price range headset for exampl and you may ask will it be worth the money?  This review will let you know and whether I recommend the Enhance GX-HS which was provided to me courtesy of Accessory Power.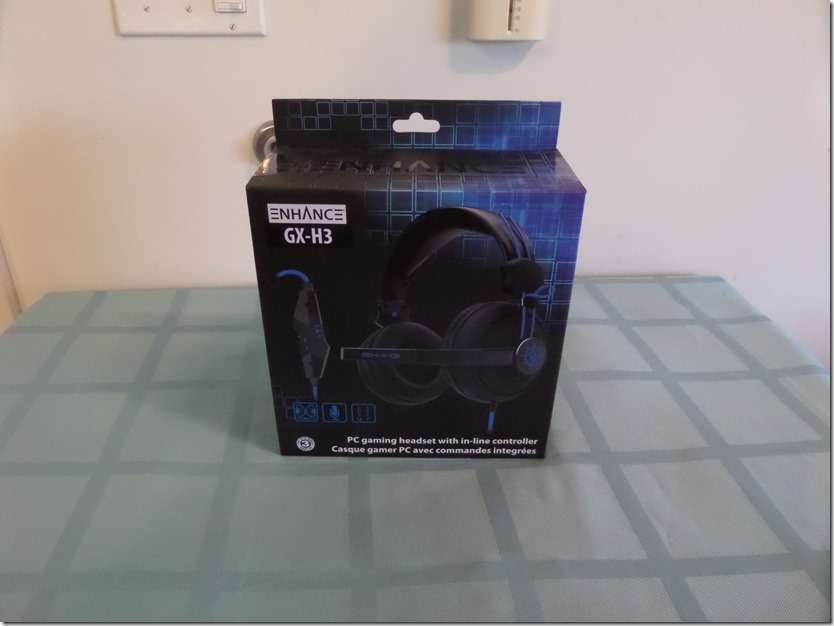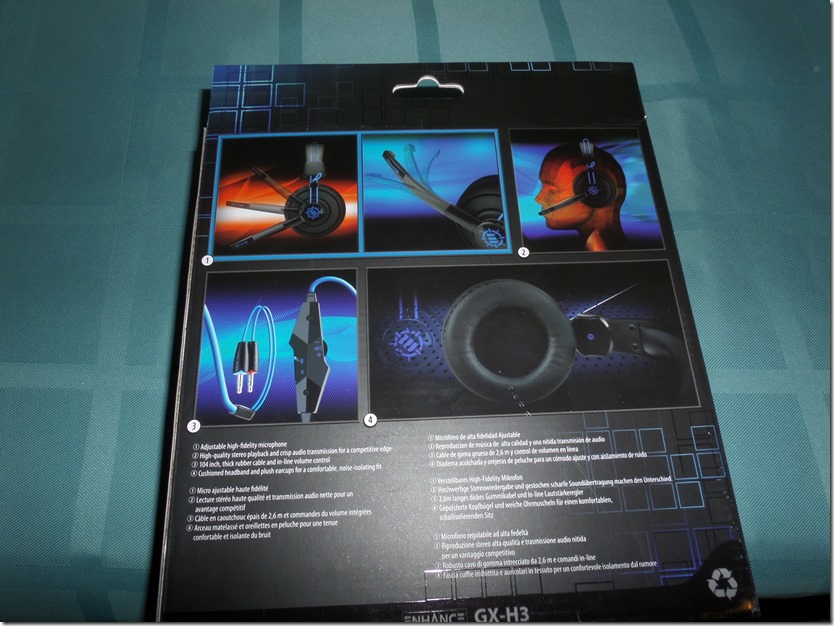 As you can see from the box picture the headset is Blue and Black. They are a dual 3.5 mm jack style plugs so they wont work on your game console unless you have adapter to combine into a single jack.
In the package you get the headset and instruction manual. They are just standard plug and play headphones so no drivers or anything else to worry about.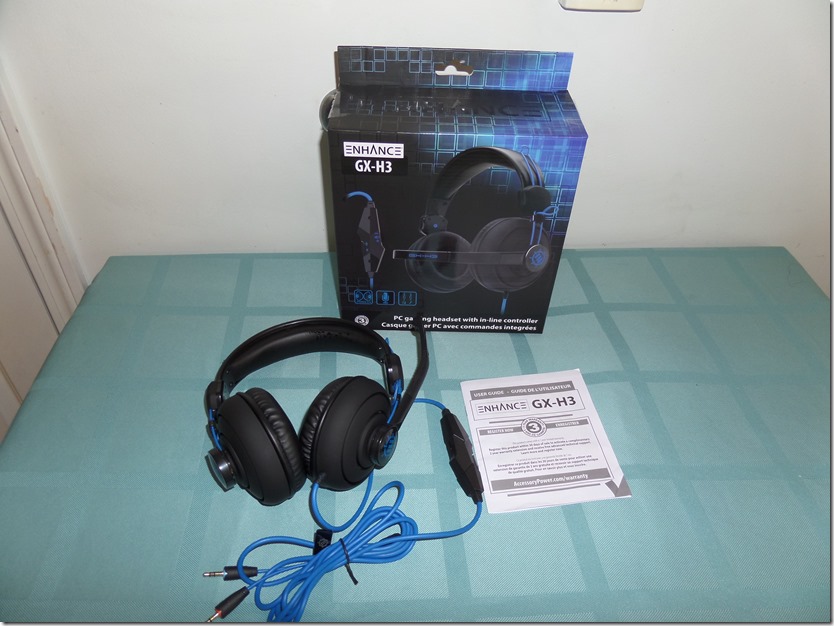 As you can see from the above picture the headset is a bright baby blue and has a nice rubber cord in the same color. The cord is very long and can reach a fair distance. On the headset you can also see that the ear muffs are round. I have tried a few round style headsets previously and they never felt right on my head. The Enhance headset however felt rather good and was very comfortable on my ears and head, I was able to wear them for a long time with no issue.  The cord is different than I have felt before on a headset and this is the rubber coating on the headset cords which makes them feel and look different. So far they hold up well compared to braided or other plastic covered wires, but time will tell if they break open, twist or are prone to tangles.
Check out my unboxing video here!
The fit and feel of the Enhance GX-H3 is on point especially for the price. The earmuffs have a nice foam cover that hug the ears and feel comfortable without strangling your ears or head. The headband also has a comfortable foam that is thick and can be worn for hours on end. The band is nice and flexible adjusting to various head sizes. You actually do have a nice amount of adjustment to them. You can adjust both sides to fit just right on most heads. The microphone is on the left side of the headset and can be adjusted out of the way for when not in use. You have the choice to shut it off on the cord and you can also adjust the volume there as well with the control box that is on the cord.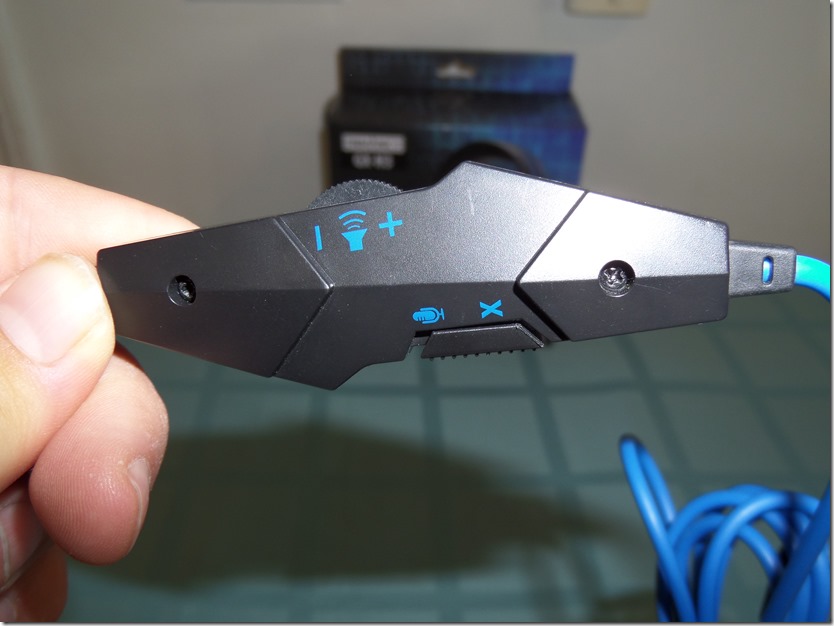 As seen in the picture above the controller box is a nice size and can be reached and adjusted by almost all hands.
I bet you want to know how they sound. Well  they sound great. You get that nice sound from music that you want to hear. You can hear you favorite band singer hit those notes that you normally don't hear from a lower priced headset. You get that bass you want when listening to heavier bass filed tracks but you also get that mid range that sound  make you fell like your there. When in game mode you can hear you friend chatting or that enemy sneaking up on you. I loved how when playing Ark: Survival Evolved I could hear the raptor sneak up on me like I can with my higher end headsets.
When using the microphone your friends can hear you and you can hear them well. I had no issue with sound cutting out during chat. One thing I would have loved was a software to be included for for sound adjustments. By luck my sound card has one so after doing all the testing I used it and it made it sound even better.
When all said and done the Enhance GX-HS Gaming headset hit a lot of marks you want to see a gaming headset hit. You get that crystal clear sound you should get even crystal clear chatting. You get that noise canceling you need for background noises. So back to the question I asked are they worth the price? Simply put yes they are worth the$34.99 that they are on sale for. I would definitely say if your on a budget and you need a headset to grab these for sure.
Disclaimer: Accessory Power sent me the Enhance GX-H3 Gaming headset to give a honest review of. All opinions are mine and mine alone.
We are influencers and brand affiliates.  This post contains affiliate links, most which go to Amazon and are Geo-Affiliate links to nearest Amazon store.
Hi everyone I'm James Braga. I was born in Oregon and moved to New Hampshire a few years back. I love most things that have to do with video games and electronics, It doesn't matter if it for a car or a house, if it has electricity in it i will love it . I'm also in school for Information Systems Technology.