We are influencers and brand affiliates.  This post contains affiliate links, most which go to Amazon and are Geo-Affiliate links to nearest Amazon store.
When I had the chance to try out the iPad Tablet Buddy, I was really excited. He is a device designed to hold your tablet securely in place by clipping it to the headrest of the car. This would be great for entertaining the kids on a long drive.
I want everyone to know that I had difficulties. My first iPad Tablet Buddy broke. It was totally my fault, my headrest bars are too far apart for this device to securely hold it in place. That being said though, if your posts on your headrest are of the right width, it will grab and hold very securely. It is adjustable so that it can fit on a variety of sizes. Just for your reference, my posts are exactly 7 ¼ inches apart as measured from the outside of one post to the outside of the other post. That 1/4th of an inch is all that made the difference between fitting, and not fitting properly.
When I assembled the unit which comes in two pieces, it fit together very easy and fast, and it is very snug and secure. I have no concern about it coming apart while in use. There are, as I said, adjustments for width of the headrest as well as tablet size. There are adjustments for thickness of tablets and for the tilt of the tablet once it is all in place.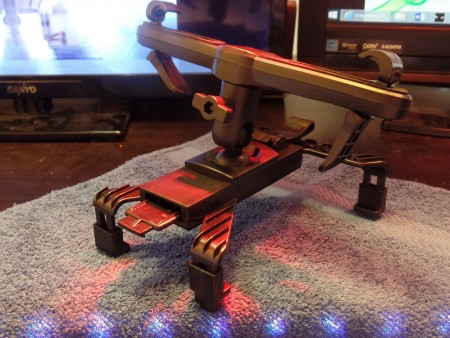 For me, since I could not fit the unit on my headrest the way it was meant to be installed, I opted to try hooking one side using the clip provided, and on the other I tried a hair tie. I found it to be a little bit loose. Not too happy with that. So, I maneuvered the entire thing so that the main bar that the clips attach to was on the other side of the headrest, and then lowered the head rest down on top of the whole thing. It was very stable and secure this way.
I tried holding two different tablets with it, one was my Kindle Fire 2nd gen, and the other was my daughter's iPad. I have a rubber case on my Kindle and while the fit was not perfect, it did hold my Kindle firmly in place. One my daughters iPad, without the case, I could not get a solid fit. With her case on, it fit great. I am not entirely sure why but I was able to make the whole thing work.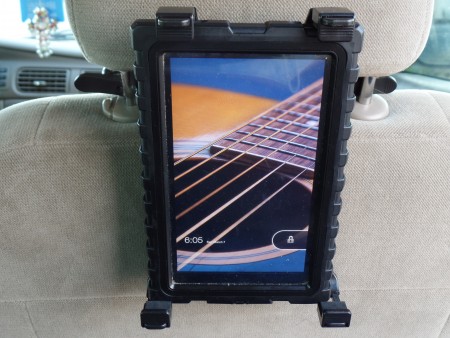 Now, some might ask if it is a horrible thing that the unit broke while reviewing it, and I will say not exactly. You see, by my snapping off a piece, I learned that they have a warranty that allows you to return the broken part to receive a new one, no problems, and no fuss. I also learned that while this is a sturdy piece, it does have some real limitations, so don't try to force it. Will I use this in the future? I have to say yes. This is something I would recommend for anyone who has children, especially on a long road trip. I know that I have a long trip coming up, and this will definitely be a part of the fun.
We are influencers and brand affiliates.  This post contains affiliate links, most which go to Amazon and are Geo-Affiliate links to nearest Amazon store.
I have worked in and around many different types of computers. In the Navy, I used a magtape drive computer that was a step down from pen and paper. I later worked for a big computer company and after that, taught computer class's nation wide. I had the privilege of teaching 14,000 students in a 2 years period of time. Afterwards, I owned a small computer training and repair shop for a few years. I have owned C-64's, Pc's of various types, Amiga's, and even Mac's. I now have included the android to my collection. At any time, I have close to 15-20 computers or combinations of computers and game systems in the house. I look forward to more.