We are influencers and brand affiliates.  This post contains affiliate links, most which go to Amazon and are Geo-Affiliate links to nearest Amazon store.

Daylight, a thing some of us might take for granted and at night we have to rely on lights, something that's pretty common. No matter how much light there is though, if you are in a room, there seems to be a spot where the light doesn't really reach, and of course that's where you are working on something. There is light, and you can see just about everything, but there are some spots that are just too dark, so you have to pull out the lamp or a flashlight held by your neck so that you can shine a light in those spots and use 2 hands, that time is over.
Let's take a look at the Aennon LED Headlamp, here are some specs
• Glass-filled ABS polymer,
• Black Elastic Headband with Blue Trim with white "AENNON HEADLAMP" text
• 4 Light Modes:
o 2 LED's at 10 Lumens
o 4 LED's at 20 Lumens
o 8 LED at 30 Lumens
o 2 Red LED's
• Illuminates up to 164Feet
• Hands Free
• Powered by 3 AAA Batteries, included.
• Silver body
• Weighs 0.3 ounces
• 16 Hour Average Battery Life
• LED Lifetime, up to 20,000 hours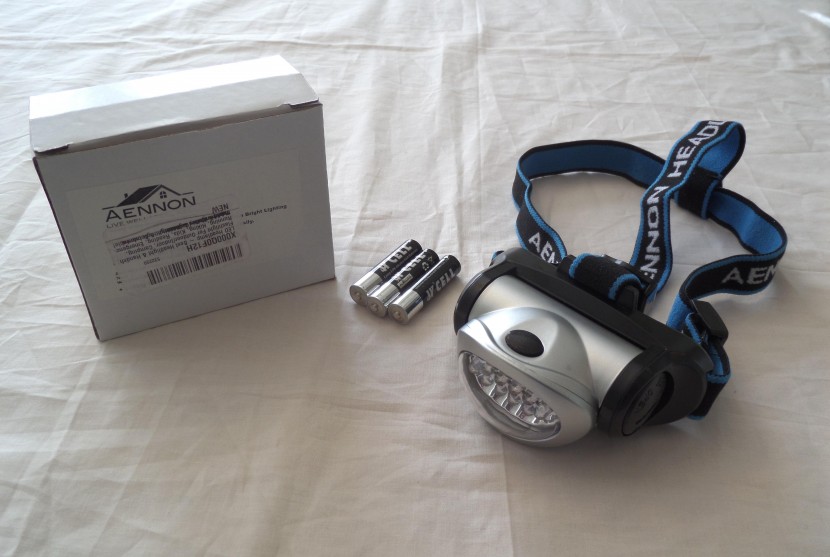 The batteries fit into this cylindrical piece.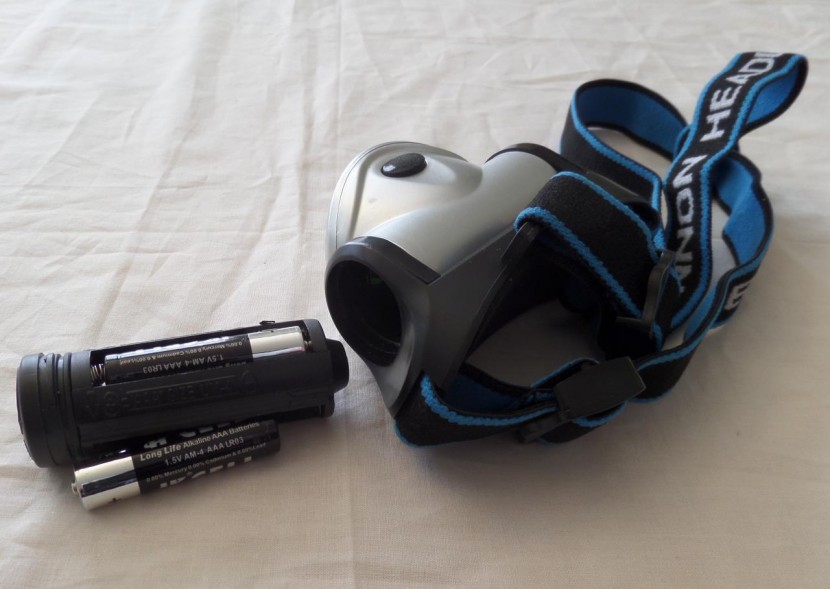 Then right into the headlamp as such and twists shut.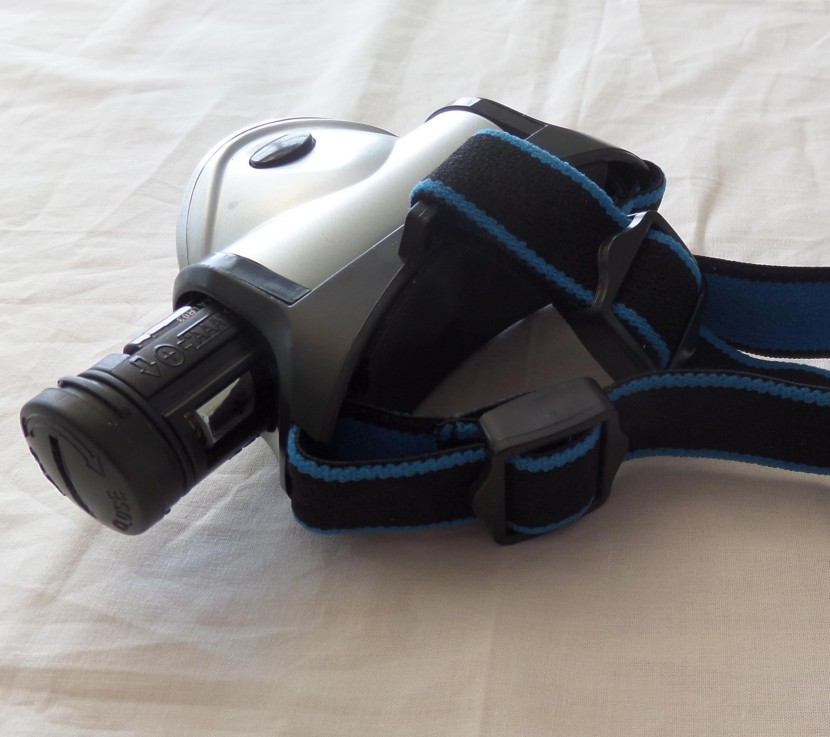 So first off, I want to mention the headband, super comfortable and completely adjustable as you can see from these pics. The part that actually goes against your head is a soft foam pad, comfortable and if you wear it for a little while you forget you have the straps or the foam pad against your head.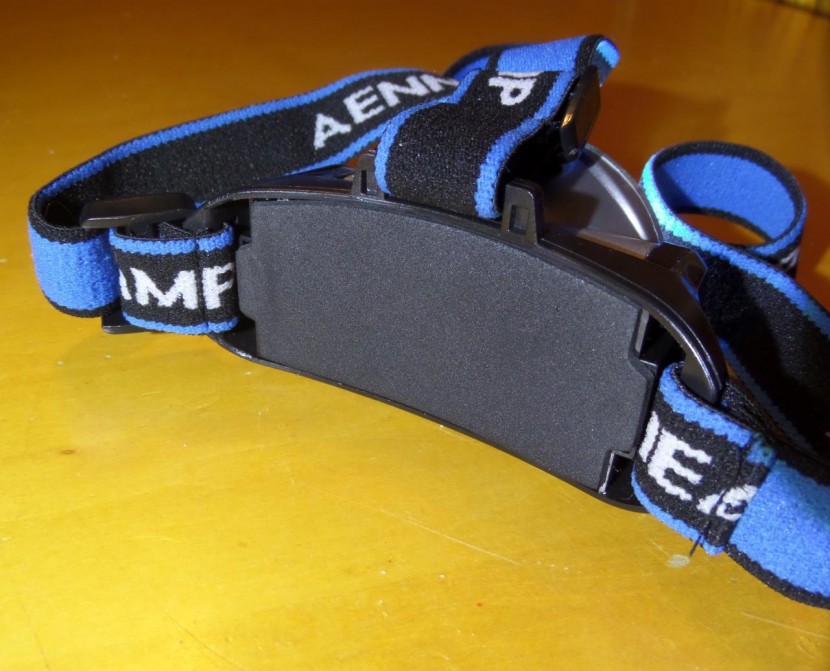 Let's check out the unboxing video.
Pretty simple packaging, that helps in the cost tons. So let's go to some examples.
This is me wearing the headlamp, it has one strap that fits around your head and then another that goes over your head.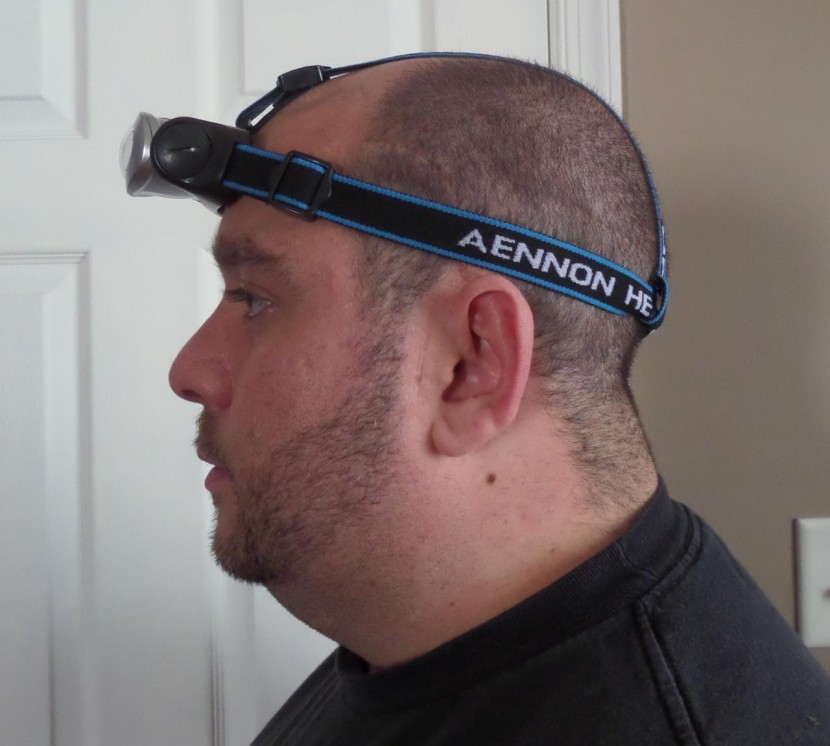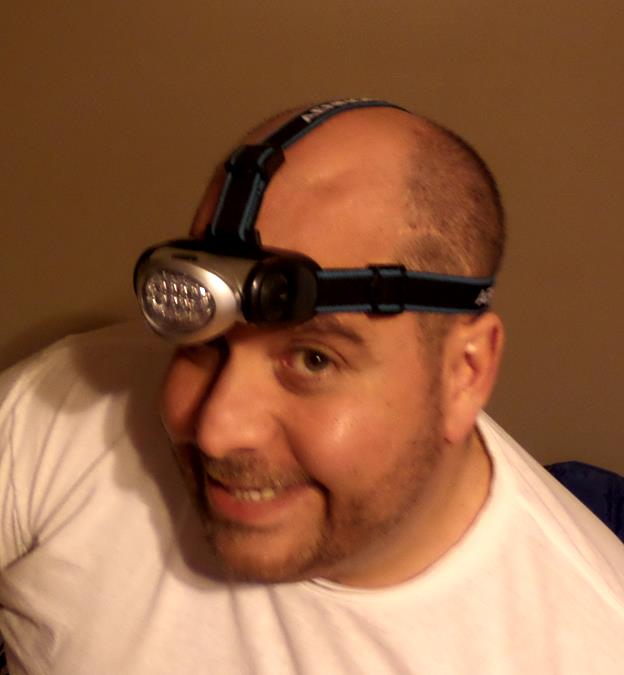 Then my son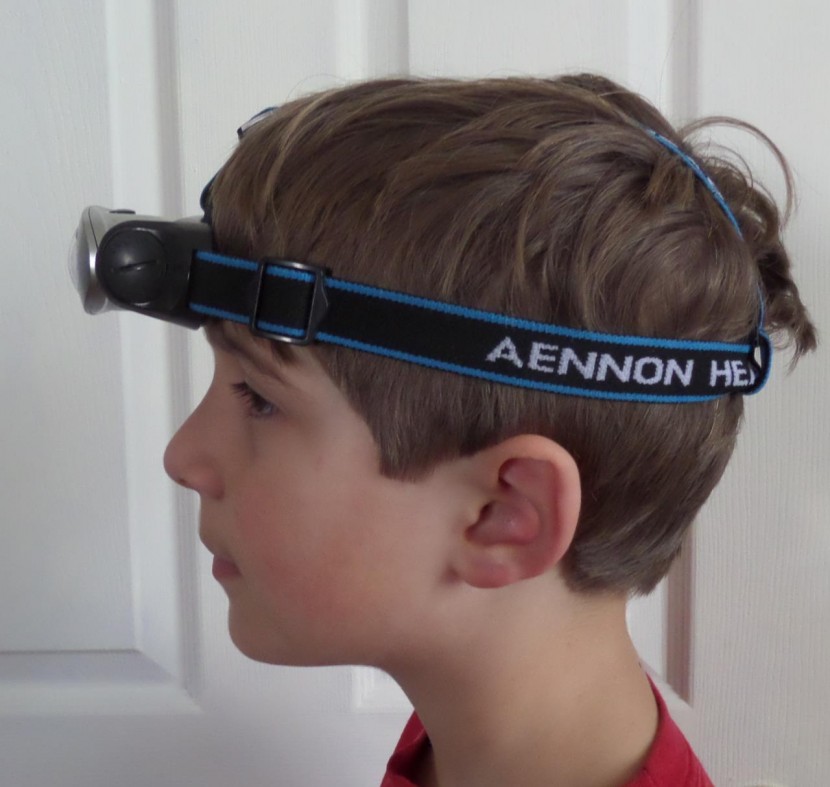 And finally my dog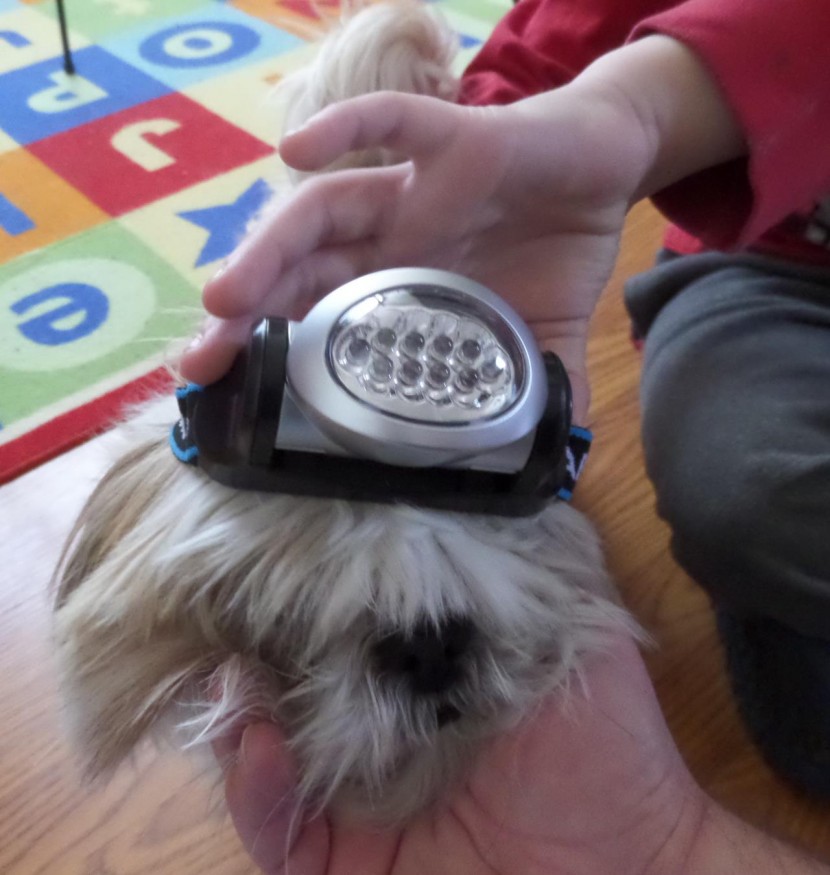 It might be easier if he had a forehead, but you get the idea, it is completely adjustable and Moco was a great sport.
If there is a hurricane, tornado, the lights just go out when you are playing with something electronic or some other emergency, you need to make sure you can make it down those stairs safely; you have to see them first.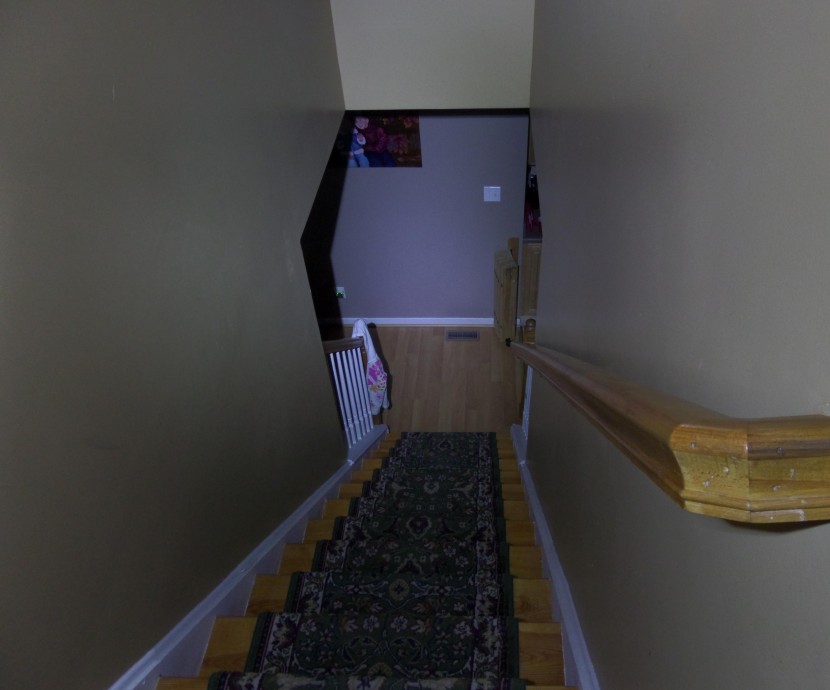 This thing is great for when your mistakenly blow out a fuse and there are no lights in the house, not that this has ever happened to me… but what if?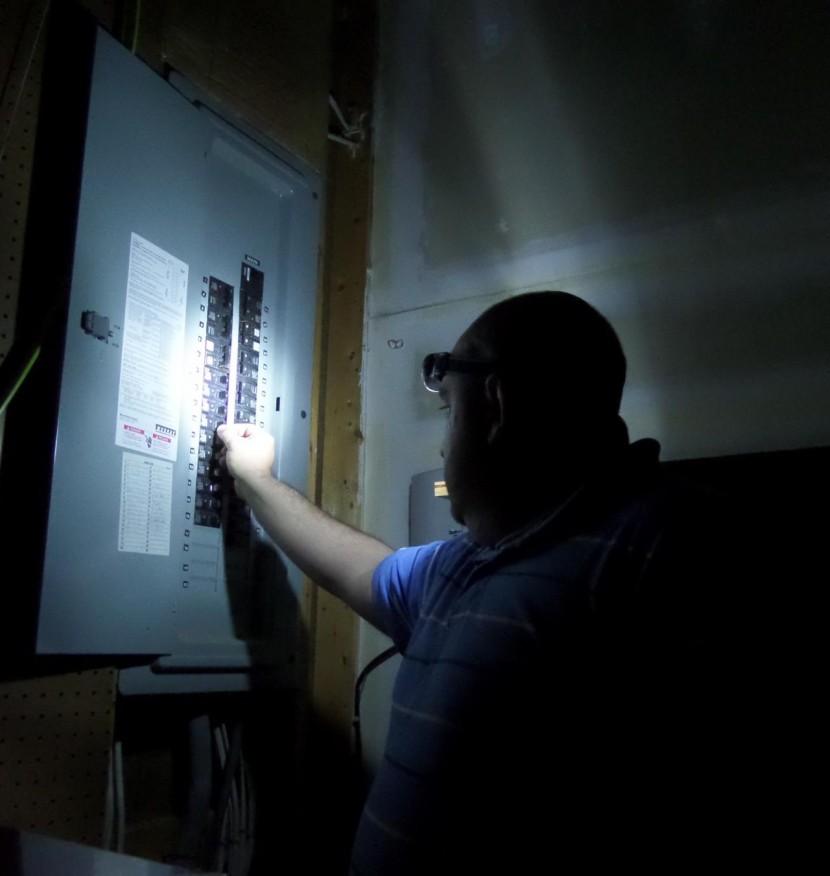 Being a PC guy, sometimes I have fix a friends old PC. Here is a picture of looking into the PC to try and pull out the IDE ribbon cable, like I said, it's old.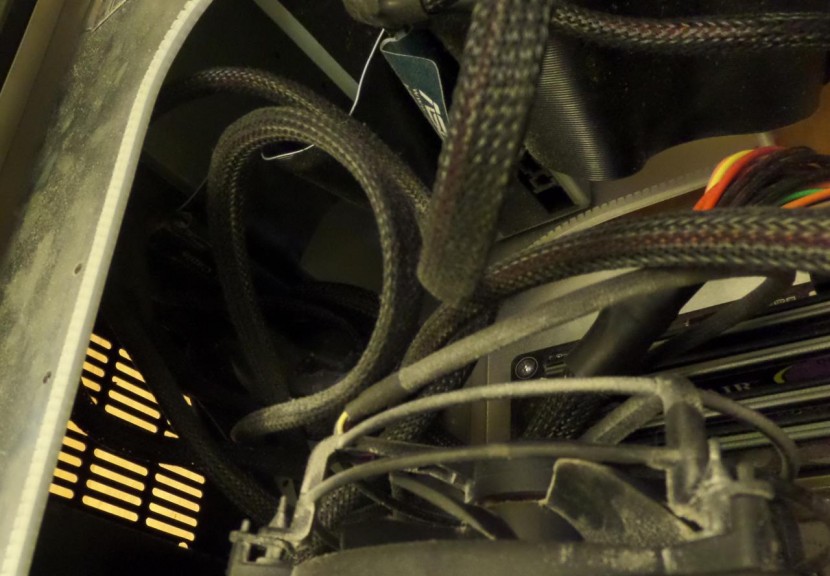 It's too dark, I mean you can see it a little bit and all the lights are on but it's in such a horrible place, it looks like its Aennon to the rescue. Much better now right, I can even read the plastic piece of wrapper on the cable.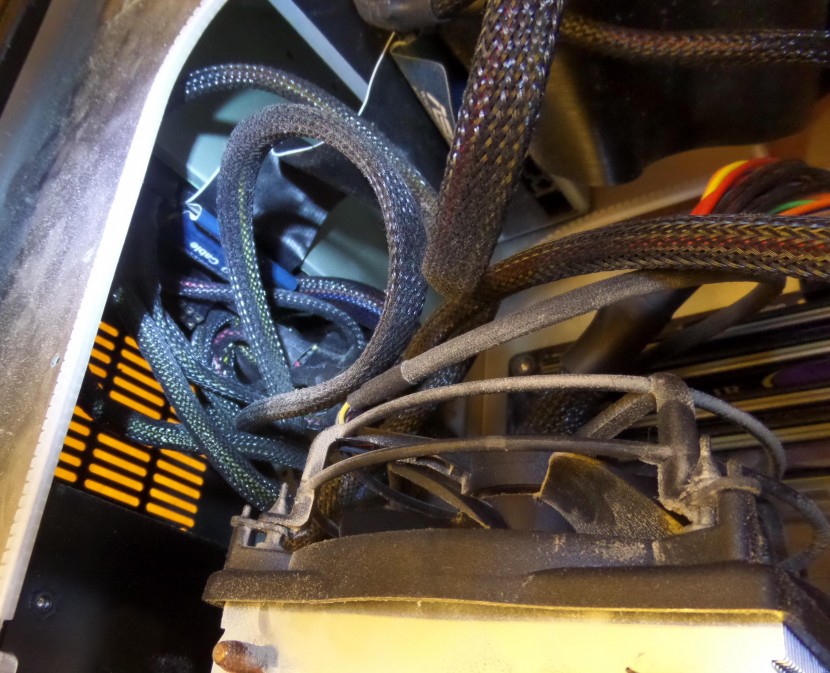 Don't take my word for it though; let's see what Billy Maize has to say about it.
And funny story, I went to take out the trash in the dark, with my trusty headlamp of course.  Turns out I generated a little more trash in the process.
I could have shown you what the aftermath was, but I will save you the details.  Also, in the review process, I did drop the light a few times, from about 5.6 feet and it survived so the strong ABS plastic really does work well. I know the distance because that's how tall I am and it fell off my head.
This is also works very well for when you have to do some auto maintenance in the middle of the night; the car doesn't always break down in the day.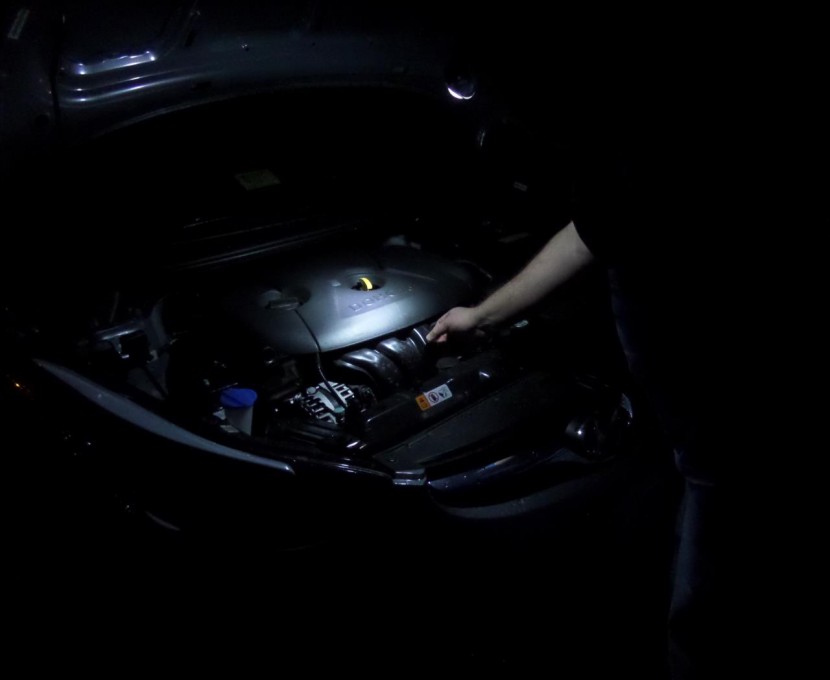 I will also take this with me next time I go camping with the boy scouts, usually it's my son leading me and me using my cell phone as a backup light, but now I can be up in front with him. This will surely make him happy to be upfront with his dad, it's the little things.
The red light that it emits, is supposed to be great for reading, reducing strain to the eyes, so I put that to the test as well reading "Spider-Man: The Ultimate Guide", nothing but the best late night reading.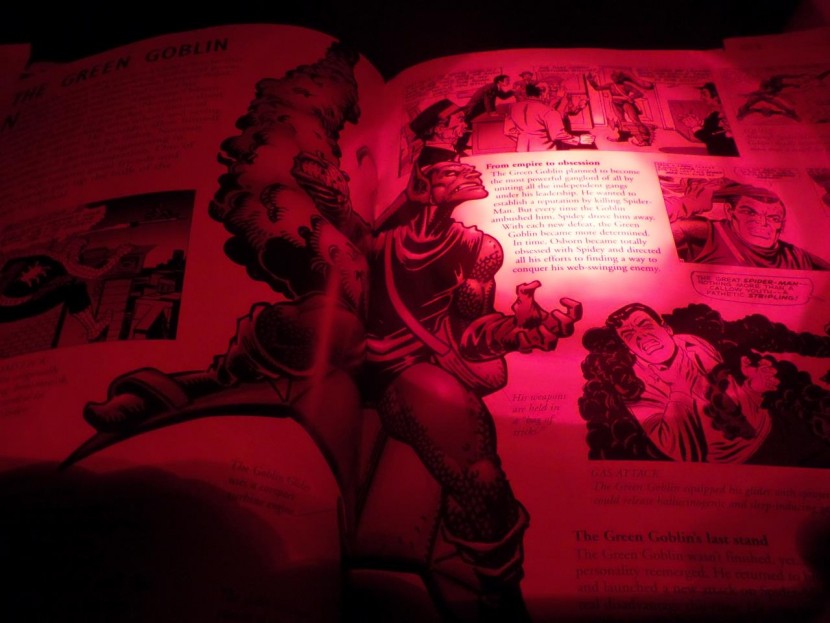 So that's about it. In the time I have used it, I found tons of great uses for it and even put it through some stress testing and I have to say it has not let me down. It's a headlamp, so it's not going to have a ton a features, aside from shining light, but it actually does have a few nice features, you can check them out above, but yeah, I like it a lot.
I give this a 5 out of 5, as the only thing wrong with it is that it takes batteries, AAA batteries and I hate batteries, though they are included.  What saves it though is that you can of course use rechargeable Lithium Ion batteries and they would work better than what it already brings, at least battery life wise.  Its affordable, durable and amazingly handy.
What do you guys think?
Disclaimer: Aennon provided us with the Multi-Function LED Headlamp so that we could do a thorough and accurate review. All opinions are 100% mine and mine alone.

We are influencers and brand affiliates.  This post contains affiliate links, most which go to Amazon and are Geo-Affiliate links to nearest Amazon store.
I have spent many years in the PC boutique name space as Product Development Engineer for Alienware and later Dell through Alienware's acquisition and finally Velocity Micro. During these years I spent my time developing new configurations, products and technologies with companies such as AMD, Asus, Intel, Microsoft, NVIDIA and more. The Arts, Gaming, New & Old technologies drive my interests and passion. Now as my day job, I am an IT Manager but doing reviews on my time and my dime.