A car digital video recorder, popularly known as a dashcam is an onboard camera that continuously records the view of the vehicle from the front windscreen, and sometimes the rear window. The main role of the dashcam is to record any untoward incident. The video recording can also help other road users, in case, of any incident such as reckless driving. Having a dashcam in your car can also lower your insurance premium by up to 15% and prevent insurance fraud.
If you have been searching for the best dashcam for your car, you have probably come across LANMODO Vast Pro Dashcam. This dashcam is one of the best-selling dash cams on the market and this is mainly attributed to the great features it is equipped with, including a high-quality camera with excellent night vision, loop recording, parking mode, and more. Below is a detailed LANMODO VAST Pro Dash Cam.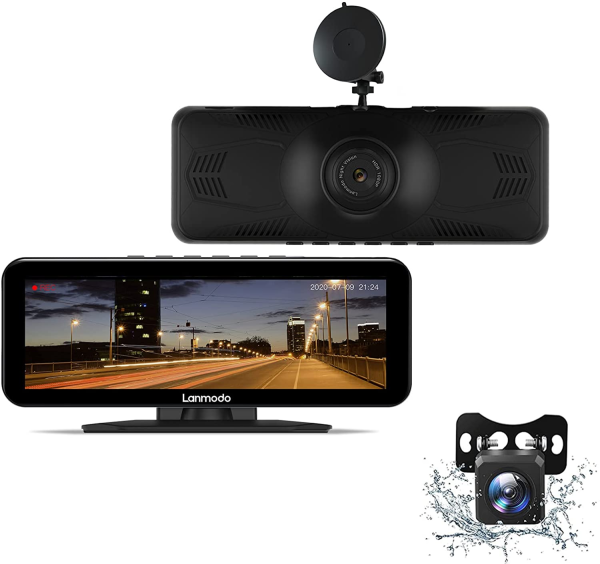 LANMODO Vast Pro Dashcam is a camera installed on the front or rear side of the car windows to provide real-time recording during the day and night to enhance your driving safety. This camera is equipped with an advanced Sony CMOS sensor which provides dual 1080p full-color images and videos with amazing details even during rainy, snow, and foggy days. This dashcam is also IP67 waterproof, grade, meaning it works well even in torrential rain.
LANMODO Vast Pro Dashcam features
Dual 1080P image and videos
LANMODO Vast Pro Dashcam features a high-resolution front and rear camera that simultaneously captures the road's videos and images with superior clarity, even in darkness. The camera is equipped with an advanced Sony CMOS sensor that provides 1080p, making it a reliable driving assistant throughout the day. Both cameras are also equipped with powerful night vision technology that enables you to see everything happening at night.
LANMODO Vast Pro Dashcam rear and front camera both record videos in full 1080P. This means that you will record everything that is happening around you with superb clarity. You will also be able to read the license plate of a car in front of you clearly, even when it is far from you.
Incredible night view distance
This dashcam features a Sony sensor and 7 glass lenses with an incredible view distance of up to 984 feet. This camera can detect danger at long range than what your naked eyes can see. This is important because it will enable you to spot danger on time regardless of your lighting situation.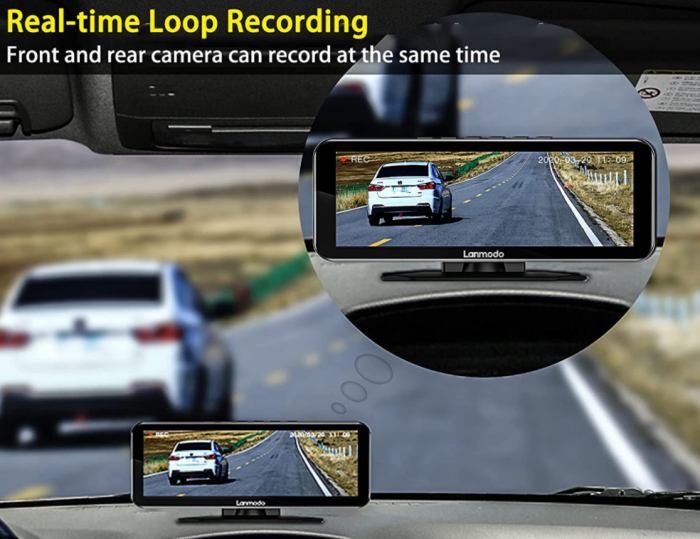 LANMODO Vast Pro Dashcam is equipped with a loop recording that allows real-time continuous recording even when the micro SD card (which supports up to 128GB storage) is full, meaning you will not miss out on anything that happens on the road.
Another incredible feature that this dashcam is equipped with is the built-in G sensor that can detect collisions. When the G sensor detects a collision, the camera will automatically record and lock the footage. This means that footage will not be overwritten. To get rid of it, you have to delete it manually.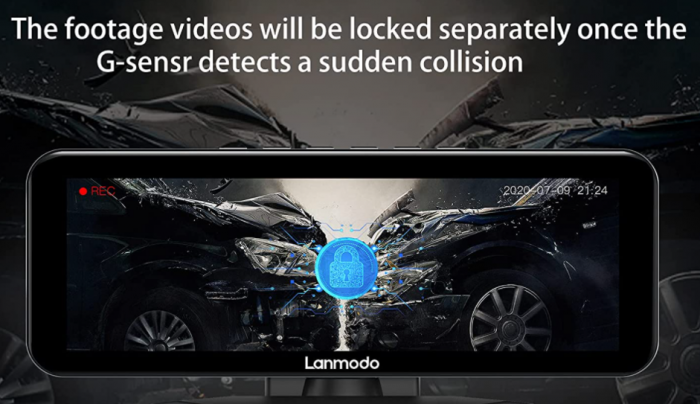 LANMODO Vast Pro Dashcam has an anti-theft system that triggers after any kind of shock, even when your car is turned off. Besides providing clear images and videos, this camera will also protect your car from thieves.
This dashcam features a 24 hours continuous monitoring parking mode that monitors your car when it is in the parking lot. The parking mode is powered with OBD power, low voltage protection that is extremely energy efficient.
Flexible and easy to install
The ergonomic design of LANMODO Vast Pro Dashcam makes it easy to fit and install in any car. This dashcam fits in 99.99% of all car models, and the installation process is straightforward. You can either mount the dashcam on the dashboard using a nano glue suction cup or use the OBD port.
LANMODO Vast Pro Dashcam pros
It is equipped with a large 8-inch FHD display
It is easy to install
Provides real-time recording to enhance your safety
1080p at 25 fps on both rear and front camera
Long-range night vision
Provide collision detection
Cons
The built-in store is quite small
Final verdict
If you are looking for a high-quality and reliable dashcam for your car, look no further than LANMODO Vast Pro Dashcam. This dashcam is equipped with excellent features that make it stand out from the rest. More so, this dashcam is easy to install and has a large display that allows you to see everything happening around you without losing focus.
Get the LANMODO Vast Pro Dashcam which is on sale Black Friday for a great price!