LastPass Extension for Google Chrome is now one of my top extensions for managing login form information on various websites.  With LastPass you can simply remember and auto login into any and all websites which you have accessed previously and built a profile for in LastPass.
Once you install the plugin and register for a LastPass account it is very easy to get started, once you log into a website that doesn't yet exist in your LastPass profile you will be prompted if you want to save the login information.

Once you click on Save Site you are presented with a LastPass page which contains the site login information.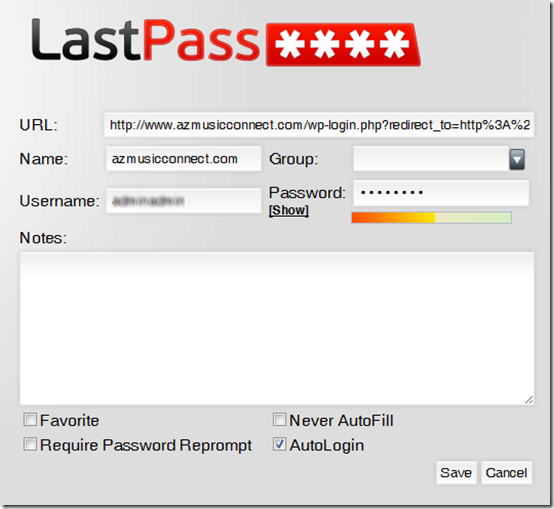 From here you can define a name, set "AutoLogin" or force the site to always require a password reprompt (or just never autofill).  LastPass once installed and configured for the sites you visit makes it so you don't have to enter usernames and passwords to your sites anymore.
This plugin is particularly valuable for me so that when I log into the 7 WordPress blogs that I administrate I never need to enter a username/password again for the wp-admin interface.  I also use LastPass to access many of my affiliate networks, though if you have multiple accounts with one site you are best to require a password for each prompt.
Bottom line there is no easier extension for Chrome to manage web site password logins and LastPass will help make your browsing life a little easier if you find yourself having to log into sites several times per day.  Install LastPass for Chrome and see how easy it is to keep track of all your website logins and passwords as well as setup custom auto login or deliberate re-prompts on certain sites.
LastPass also works just fine with RockMelt which is where I am using it all the time.
-Dragon Blogger