Just before Thanksgiving weekend iSkysoft contacted us asking if we would review their Video Converter Ultimate software and it came at a good (if busy time).  I was just about to leave on a six hour drive and have two kids in the car who had Kindle Fire tablets so I decided to test out iSkysoft by converting some media files and DVD movies into Kindle Fire video format so they can load their devices and watch some entertainment while on the road without access to Wi-Fi.
Of course The Avengers was the first movie I had to burn for them, I never get tired of listening to or watching this movie when I sit in the back seat with them while we rotate drivers.
iSkysoft Video Converter Ultimate is very easy to use, you simply install the software and start it up.  Put a DVD in your drive and then click the Load DVD button at the top of the software.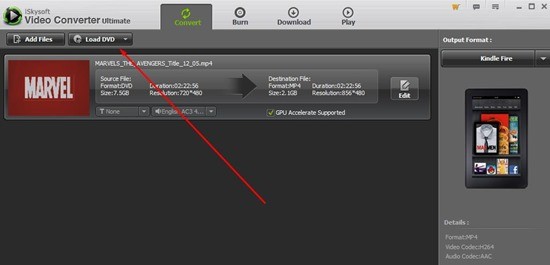 Then in the right you select your output device, this has a huge list of video formats which can save you time.  You can find Apple devices, Samsung phones and tablets, and under Device > Others you will find the Kindle Fire, Google Nexus 7 and Google Nexus 10 as well as others.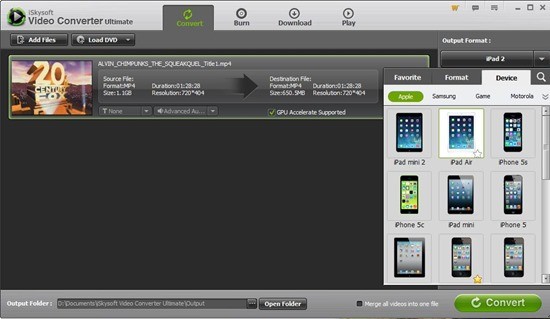 The default standard settings are good, but say you have an 8GB or 16GB tablet as we do and there isn't a ton of room, then you can have the video file be smaller by lowering the bitrate a bit.  Click on the settings button on the bottom right of the output format section after you select the output device and you will see the setting screen pop up.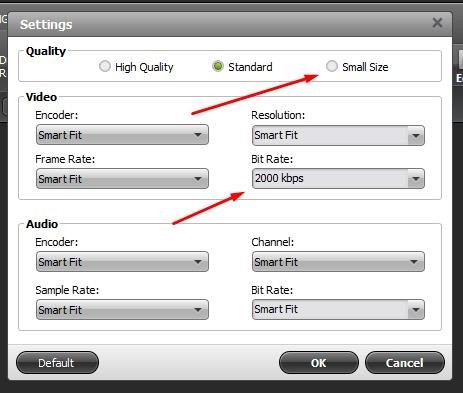 Here you can play around with the file size and resolution, You don't have to tweak around too much unless you really want to.  But on most very small devices especially if you have older generation devices that don't have HD screens like the 1st generation Kindle Fire or iPad, you can drop the bitrate down to 1500kbps and shave off about 25% of the file size or more from the default.  This allows you to store more video files on the device and the quality video difference isn't really that noticeable.  1000 bitrate is even fine for most cartoons and small tablets if you are converting video media for kids because they tend to not care about the resolution that much and fitting more content is better than having it be higher quality.
Doing a full video format conversion of The Avengers straight from the DVD took around a hour, and you have a marker showing how long until it finishes as well as when it is completed.

If you are like me and use a smaller SSD drive for your Windows/Install drive and a larger storage drive, then you will want to make sure you set the default output folder at the bottom of iSkysoft Video Converter Ultimate.

Just click Open Folder and browse or create the folder you want to default all output files to.
When converting files that you add, you can see the file size of the source video and the size it expects the file to be, so in this case I am taking a home movie recorded with an HD video camera and converting it to Kindle Fire HD format, but you can see the format resolution remains the same, yet the file size is less than 1/2 as much as the source file.

That is with the 2000 bitrate, if I drop the bitrate to 1500 then I can get that file size down smaller.

So I was able to take that same MP4 movie and shrink it by 67% by using the iSkysoft Video Converter Ultimate so that it is more portable for watching on mobile devices.
Merge Multiple Files into One Movie
With iSkysoft Video Converter Ultimate you can also take multiple input video files and merge them into a single output file.  So in this case let's say I have 5 or 6 home movies and I want to convert them into a single home movie .mp4 I just add all the video files, then I would just check mark the "Merge all videos into one file" at the bottom of the screen.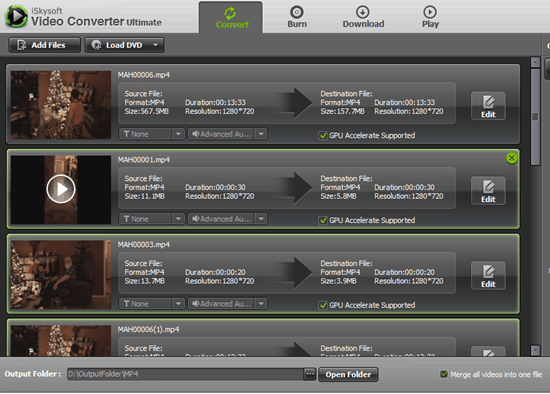 This is a great way to merge TV episodes into a single video file for playback and I have done this to convert some of Adventure Time Season 1 into a single playback file for example so the kids can just go through all episodes in a row without having to jump around.  Though when you have a lot of episodes it makes it hard to specifically find the one you want when they are all merged into a single file as there are no chapter skips.
Speaking of home movies, iSkysoft Video Converter Ultimate also lets you burn those movies to a DVD, so you can easily compose a DVD collection of all the videos you want and choose from one of the default templates for the title menu.  They even had a nice default holiday template for my home Christmas movies.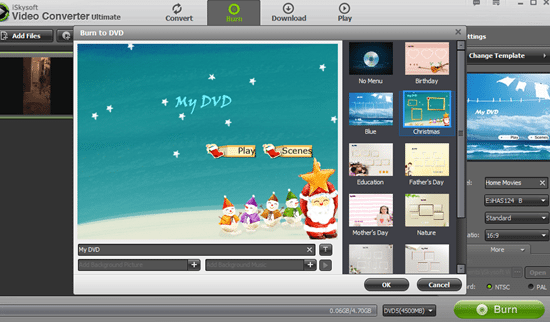 It also does so much more than simply title menu's too, you can add watermarks to your videos and adjust the transparency of the watermark.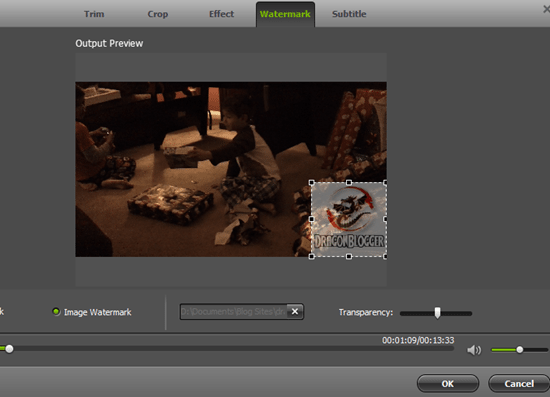 You can also crop your videos to trim out the content you don't want, as well as add some crazy cool effects to your videos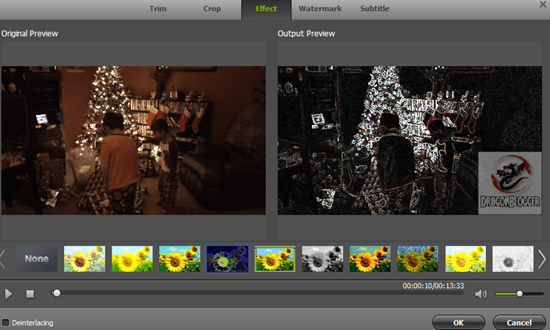 Which are just fun to play around with, in particular the brighten effect really can help a dark video stand out better while watching.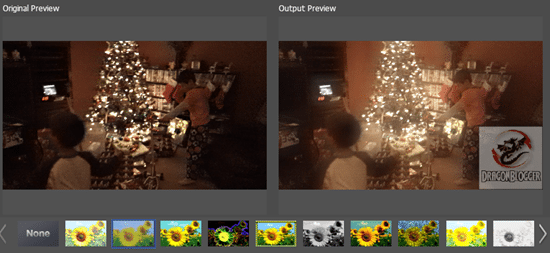 Download Movies from YouTube and More
iSkysoft Video Converter also lets you download video files from the Internet and save them locally.  Just click on the Download tab and click Add Url button to the left and paste the URL you want to download the movie from.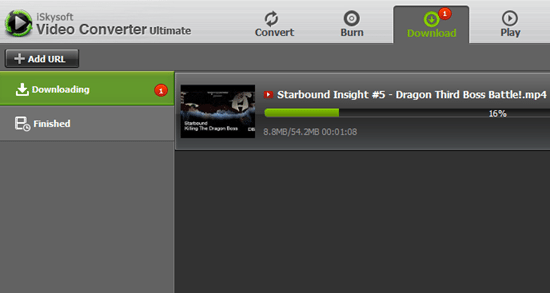 This makes it ideal for getting YouTube episodes and online content that you can just download and convert to put on your mobile devices.  One example is that my kids watch tons of Minecraft animations and cartoons on YouTube, many are by Element Animation or others and this allows me to get those ahead of time, download and burn them so they can watch on those long car rides as well.
Currently the software requires you to put 1 video URL at a time, and I would like it to eventually have an update to allow you to post multiple URL's to save time, so it can queue and go out and download a ton of files.

Alternatively I wish you could just post a YouTube user's video URL and it go out and get all videos from that YouTube Members account but that may not be ideal if a user has thousands of videos, so the ability to paste more than 1 video at a time would be nice.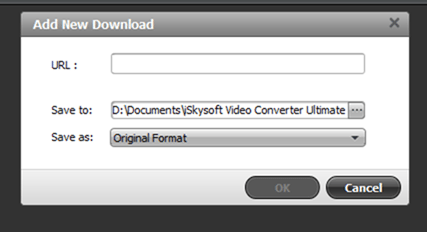 Having multi-line with 1 URL per line would be great, even if you could put up to 10 videos, it would be better than 1 at a time if you want to get a lot of YouTube videos at once.
Finally the play video functionality is cool too in iSkysoft Video Converter Ultimate, not only can you play any video or DVD, but you have the option right from the play menu to convert to another format or burn to DVD.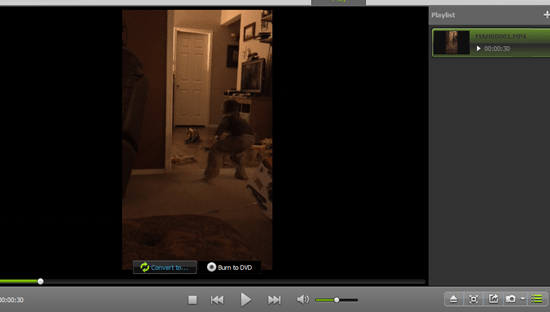 You also have the option to take a snapshot of the current screen to use as a cover image or for whatever purpose.
Overall I found iSkysoft Video Converter Ultimate to be much more than a video converter and well worth the price.  You can burn DVD's, create DVD's, download videos from the Internet, convert videos and create consolidated video files with ease.  This software could be used to merge an intro or exit file into any videos too, like if you create YouTube content you can just merge your default intro or exit video into it as well.  If you have a need for software that lets you port around your video content, then iSkysoft Video Converter Ultimate will certainly get the job done.
Now I reviewed the Video Converter Ultimate software on the PC, but they also have the iSkysoft Video Converter for Mac which from the screenshots is the same great software and the videos automatically import into iTunes as well.
Buy your copy of Windows Video Converter Ultimate from iSkysoft now!
I have been obsessed with computers, tech, gadgets and games since the early 1980's having grown up on the Commodore 64 and Amiga computers.
By day I work in the IT Security Industry and have been in IT for over 20 years. On my spare time I am a Vlogger, Blogger, Streamer, Gadget Reviewer, affiliate marketer, influencer and entertainer. I am also an avid movie fan, TV Show fan, Anime fan, video game fan and fan of trying anything and everything new.