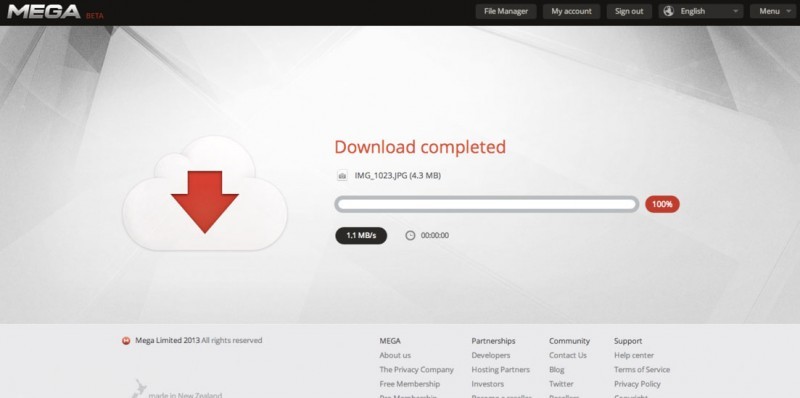 Today I just got to experience Kim Dotcom's new file sharing service MEGA. I was a casual user of Megaupload before it was shut down, so I'm happy to see that Dotcom stayed on his feet and improved upon the service.
MEGA is an improvement upon Megaupload in that its servers are not located in the United States, it's on a New Zealand domain name, and it uses one of the most complex encryption methods I have ever seen. The first two are for obvious reasons: Dotcom's original site, Megaupload, was seized by the FBI in the United States. Using United States-based servers would make MEGA just as susceptible to another government take-down. To add a bit more security to just how the website is hosted on the Internet, they use the domain extension of New Zealand, .co.nz, because New Zealand isn't majorly involved with the FBI. As for the encryption methods that MEGA uses, that is over my head. For the best explanation, do some research on the MEGA website.
Downloading a file from MEGA is interesting. It downloads to a temporary folder on your computer in a browser-based user interface first, then it is moved from that temporary folder to the download location of your choice. This process is mighty slow, but MEGA insists that it is secure, so it's worth the wait.
The reason that MEGA has so much potential is because of the United States National Security Agency (NSA) making its way into the news almost every week. The NSA supposedly spies on millions of Americans via wireless carriers (Verizon, AT&T, etc) and the Internet to seek out terrorists. If MEGA decides to create a secure email service, a secure web hosting service, and a secure music streaming service, all while maintaining their secure file storage, that makes all paranoid Americans essentially NSA-proof.
I am interested to see where MEGA goes in the near future. As of right now, users can sign up for 50GB of free cloud storage (10 times the amount Dropbox offers). In the near future, MEGA plans to add secure messaging and email, a sync client that acts like Dropbox or Google Drive, and mobile apps for both Android and iOS.