We are influencers and brand affiliates.  This post contains affiliate links, most which go to Amazon and are Geo-Affiliate links to nearest Amazon store.
Everywhere you look there is a tablet or a laptop and of course the inevitable phone but the problem is sometimes you need all 3 for productivity sake. Phones and Tablet screens are too small to get real work done, to add to the sizing issues the virtual keyboard takes up half of that real estate and you are left with a tiny box in which to see what you are typing and to type with, that's kind of annoying and you don't want to lug around a huge laptop. I want portability and comfort without having to sacrifice productivity and fun, well if you are like me, I have the perfect solution.
Today I bring you the Tablet Express DragonTouch i10X Tablet. Wait, wait, wait, come back, its not what you think. This is a tablet and a PC, a convertible of sorts, a 2 in 1 solution. I know it might sound like an infomercial but it's not, this is the real deal and it comes with some power under the hood and Windows 8.1. This is not some stripped down version of Windows 8.1, this is the full-fledged version of Windows 8.1 like some of you may be running on your Desktops and Laptops. The catch… Well there is a tiny one, but I will tell you that a little later, let's jump into some of the specs.
Specifications
Intel Bay Trail Z3735F Quad Core CPU running at 1.33Ghz on all 4 cores (1.83Ghz with burst frequency) with 2MB L2 Cache
2 in 1 design, acts as a Laptop or a Tablet
Detachable slimline keyboard that acts as a cover and a stand.
10.1 Inch Touch Screen IPS Screen running at 1280X800 HD
10 Point Multi-Touch Screen
64Gig Toshiba 064GE2 SSD
2Gigs of DDR3L-R5 DDR3
Windows 8.1
Free Full version of Microsoft Office 365
Dual Camera 5.0MP Rear /2.0MP Front
Wireless N 802.11b/g/n
Bluetooth 4.0
Ports: Mini HDMI, 3.5mm Headphone Jack, TF/Micro SD card slot, Micro USB
G-Sensor
7900mAh Battery
What do you think so far? These specs might seem a little low for a desktop PC, but stick with me I think it may surprise you. Let's check out an unboxing.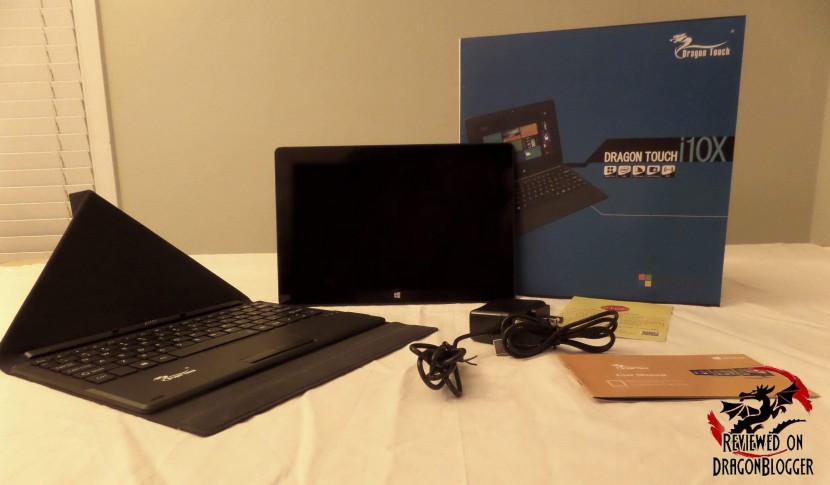 I can't say that I am a big fan of the box, but the only time when a box is more important than what's inside is when you are under 5 years old and its Christmas. Most people would throw away the box or if anything just put it away, out of sight and out of mind. There is not a lot in the package, the keyboard/case, Tablet, USB cable, AC Adapter and some manuals.
With that out of the way, let's check out the first boot and how to set it up.
Like a Desktop or a Laptop, the initial setup does take a a little while but once it's done you are on your desktop. What makes it even more interesting, if you have another machine in the house with Windows 8.1 and you enter the same credentials you will get the same background and more potential settings as your desktop, it keeps this information for you to make you much more comfortable with your environment, great move Microsoft. As you saw in the video, it looks like a regular desktop OS, that's because it is.
Some of you might think, with this Tablet/Laptop being so affordable there must be some catch to the operating system, and like I mentioned previously there is, there is only 1 small little catch, depending how you look at it too.
First catch is right off the bat; the default search engine is Bing, so the OS is actually Microsoft Windows 8.1 with Bing.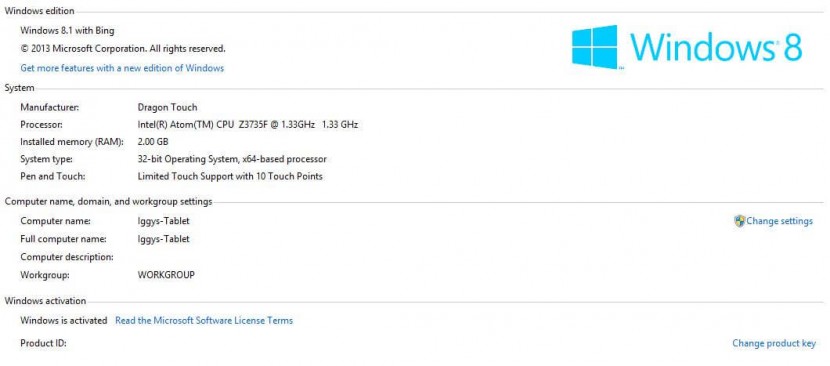 Some may like it, it doesn't bug me and some can't stand it, but that's Ok, you can change it to whatever you like, it is just the default. You can even install any other Browser; it is Windows 8.1 after all. The other catch, which really isn't a catch but something Microsoft would prefer OEM's like Tablet Express do is to install Office 365, it gives them and you a bigger break on the price. This is not a shareware or demo version, this is a free full version of Office for a year and all you need to do is register it, there is an install process but it is essentially the usual "Next, Next, Finish" type thing, so you will need to be connected to the internet to download and register it. Please remember, that Office 365 is a subscription based product but the fact that they include 1 year free of charge is nice.
Why this version is free is that Microsoft rather than selling you the OS wants you to sell you services. The office that it brings if Office 365, a subscription plan, so after a year, if you would like to keep using it, you would pay a subscription fee. Windows 8.1 offers also the Windows App store, and in it you can buy a ton of apps, games, music and videos, books, tools and other sorts of shopping, there are also free.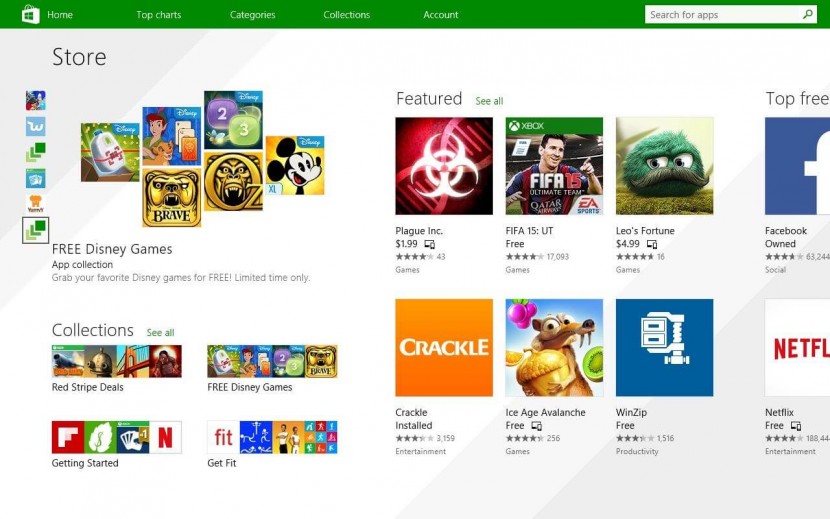 Microsoft decided to try what Google and Apple are doing by providing the OS for free and access to their stores (Microsoft including their own app store like Apple has done with Apple's App Store, iTune's, and Google with its Google's Play store and more). They do sell many attractive apps and offer some nice services, many even free, though I will say that the store is not as populated as Apple's or Google's but it will grow and again, it's a regular OS so you can install your current programs and games.

One thing to note about this install of Windows, it is a 32bit version. Not a big issue to most, but I find it odd that the Intel Z3735F is a 64bit processor, so it only makes sense to include a 64bit OS as well, at least to me.
Now, since this laptop/tablet does only include 2Gigs of RAM I can see how there would be no need to memory wise, but still an odd move. With Wow64 (Windows on Windows) things are more compatible since it can run 32bit and 64bit applications, whereas the 32Bit mode can only run 32bit applications, but this is only my opinion and 32bit operating systems run perfectly well.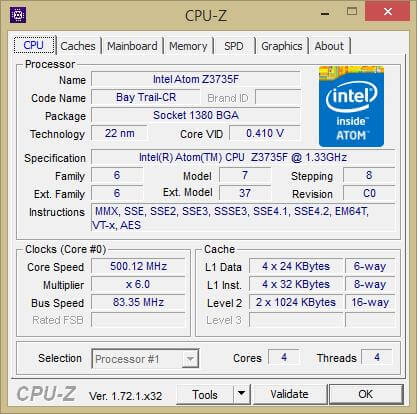 Being that this is a Z3735F processor, it includes an on chip Intel HD graphics GPU, so that also helps cut costs aside from the free operating system. This GPU offers a 311MHz Graphics Base Frequency and a Burst frequency of 646MHz doubling the base speed, very nice and very useful.
Let's start off the benchmarking with Futuremarks 3DMark to see a bit of what this GPU can do.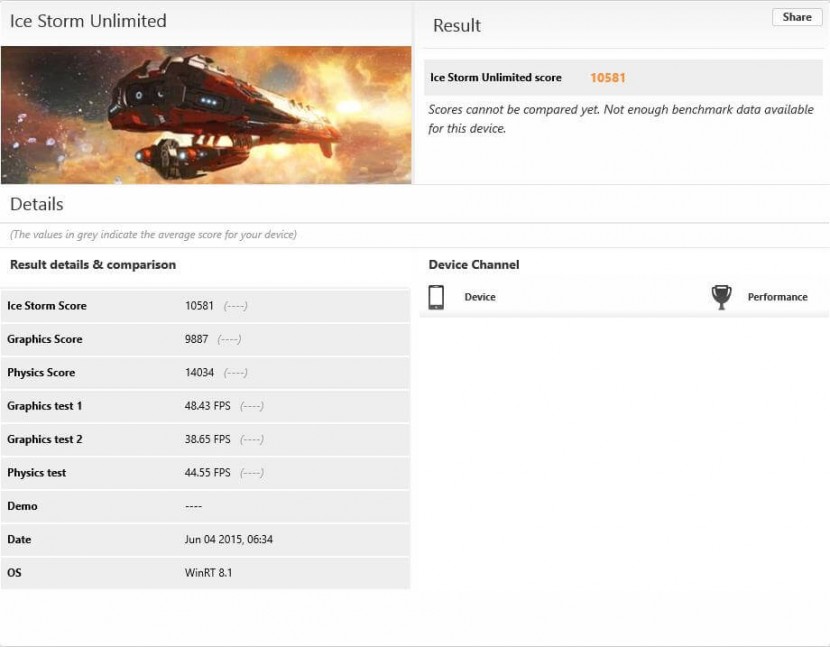 While this is not truly a tablet, Futuremark recognizes the OS as a Windows RT OS, so it does not run a full 3DMark like Desktops or Laptop's run, bur 10,580 is a great score. The score is so good, that Ice Storm Extreme and the Standard Ice Storm would not complete, reading that the score was maxed out, pretty nice.  The overall score is a combination of Graphics and Physics test, so it handled itself pretty well I would say.
3DMark while a great benchmark, only goes after the video cards performance, let's take a look at overall system performance with PCMark, another Futuremark product.

It is a newer processor so it makes sense that it is not recognized.

Even though 3DMark rated it as a Tablet OS, recognizing the OS as Windows RT 8.1, PCMark seems to show it a little differently. PCMark shows it performs 2% better than other results, but what results. If you look directly above this score of 1018 on the bar graph, the next score is an Office PC from 2013, a PC, just above that a Gaming laptop and so on, so the performance is pretty decent I would say. Remember, this is not a graphics performance, though graphics are taken into account, this is an overall performance test.
Since this tablet/laptop is using an SSD, I did a little benching on that as well. For this test I used CrystalDiskMark 4.03.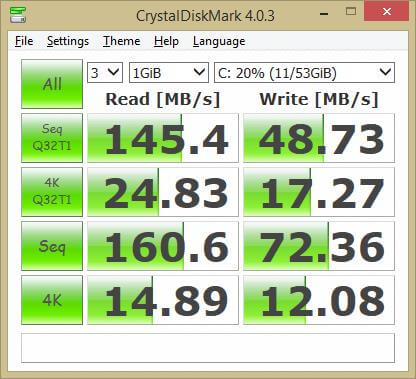 These speeds are not too impressive, and fall a little short on what we have seen so far though they are much better than a mechanical hard drive and older SSD's. The fact that this is using an SSD helps the boot speeds and the battery as well.
Some tablets are slow to boot, just like some Desktops and laptops, but this one is not really the same. Greatis' BootRacer can help us testing on this side.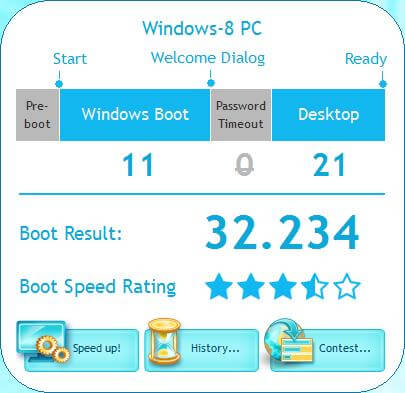 While it essentially is both a PC and a tablet, it boots as fast as a PC with an SSD. The fact that this has an SSD saves us anywhere from 30 seconds or more booting and of course overall performance. Being that this is an SSD, you can even update the virtual memory settings in windows to improve your performance even more and help out those 2gigs of RAM the system has.
One important thing for anyone using a mobile device is battery life and again, Futuremark steps up to the plate with PCMarks Battery test. This test doesn't test having your device sitting idle watching the clock, it plays videos, games, browses the web, edits documents and pictures,…. Things people like you and I use PC's for, so it is a great test.

The laptop/tablet is rated to last around 8 hours, and while I didn't find it to last 8 hours during testing, it came pretty close. The test showed that it would last 5 hours, 56 minutes and 6 seconds but it stops when the battery is down to around 19 %. That's about 12.5 % battery consumption per hour, so it looks like it could have lasted about 8 hours, very nice. That is longer than most if not all full sized laptops in 2013, even in today's standards you'd be hard pressed to find one that lasted more than 4, especially at this price.
Ok, so now that we have seen some numbers, what does it mean for games, funny you should ask, I took care of that for you. Check out this video.
Pretty impressive for such a great price, I feel like I have said that many times but it's true. In that video you saw me playing Order & Chaos, HearthStone, Half Life and Race 07. If you didn't watch, you may want to back and watch, in this video I connected a mouse to play some games, of course aside from the touch screen aspect and using the keyboard and I used for Race 07 an Xbox 360 controller, yeah really. Not included, but you can buy a Micro USB Cable that goes from USB A to USB Micro B, also linked here.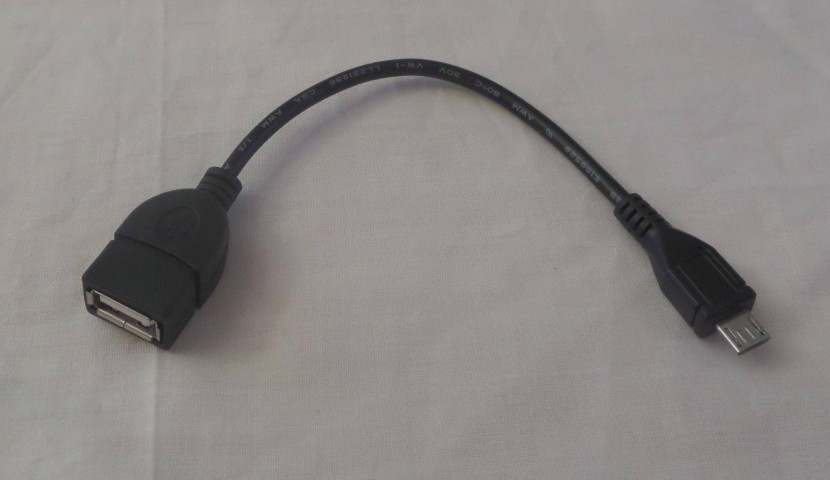 You can also hook up a USB hub and put more devices on here, though I don't have one to try.
Even though I did not use the mouse too much that comes attached to the keyboard, it does work very well, though it's easier to navigate through a game or anything really with an external mouse. The keyboard and mouse it brings is actually very nice. It comes as part of a cover or case of sorts that the tablet connects to making it a laptop.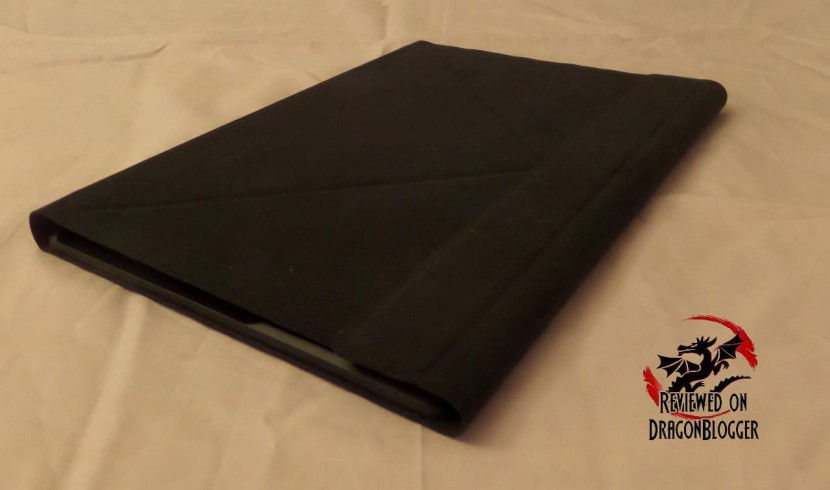 This is the case closed, by itself with no tablet. Very slim and very elegant looking and protects it from the elements, though I don't think it would protect it too well from a very high drop.
Here is how the case works out.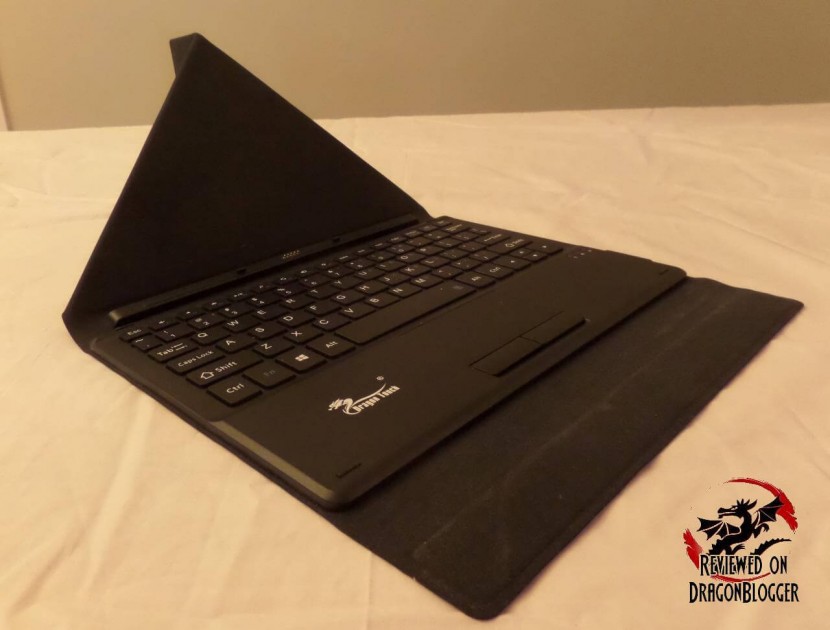 The cover opens up revealing the keyboard and mouse. To the left of the mouse, you see the Dragon Touch silkscreened logo matching perfectly with the Dragonblogger theme. The keyboard itself, while smaller than a standard keyboard feels very much like a normal sized keyboard, I don't really have problems typing on it. It has 80 keys and multi-function keys adding another 36 keys for a total of 116 keys. The mouse, well its nothing to get excited about it's just a plain touch mouse like found on mostly all laptops and standard left and right mouse buttons.
The case is pretty unique, folding in origami style to make a stand for the monitor. Though not adjustable adds a very nice touch. The flaps are magnetized so they snap and stay together very well and offer little resistance when pulling them apart to close the laptop back up.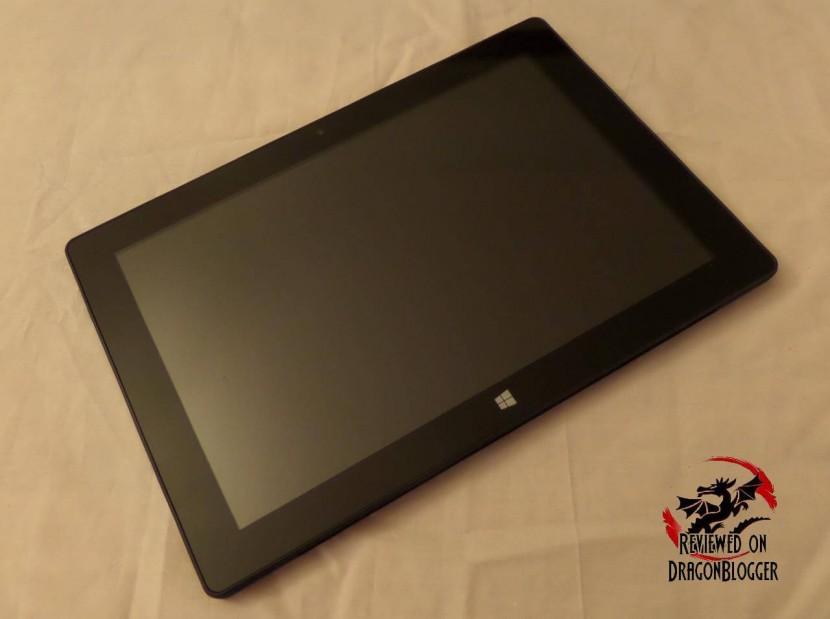 The tablet by itself is nice a looking tablet with a rubberized backing, I love that feeling, so soft and so smooth. The rubberized backing of course making it a bit more resistant to drops and allows for it not to slide off of surfaces so easily.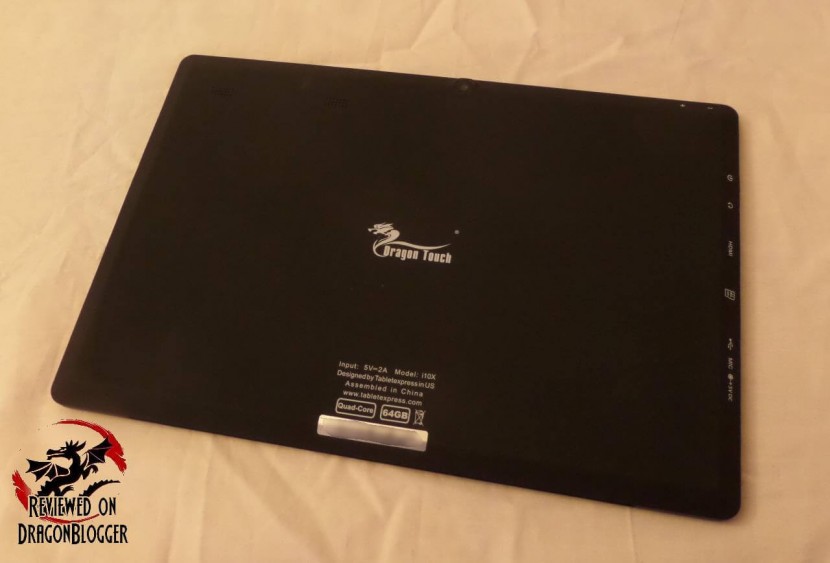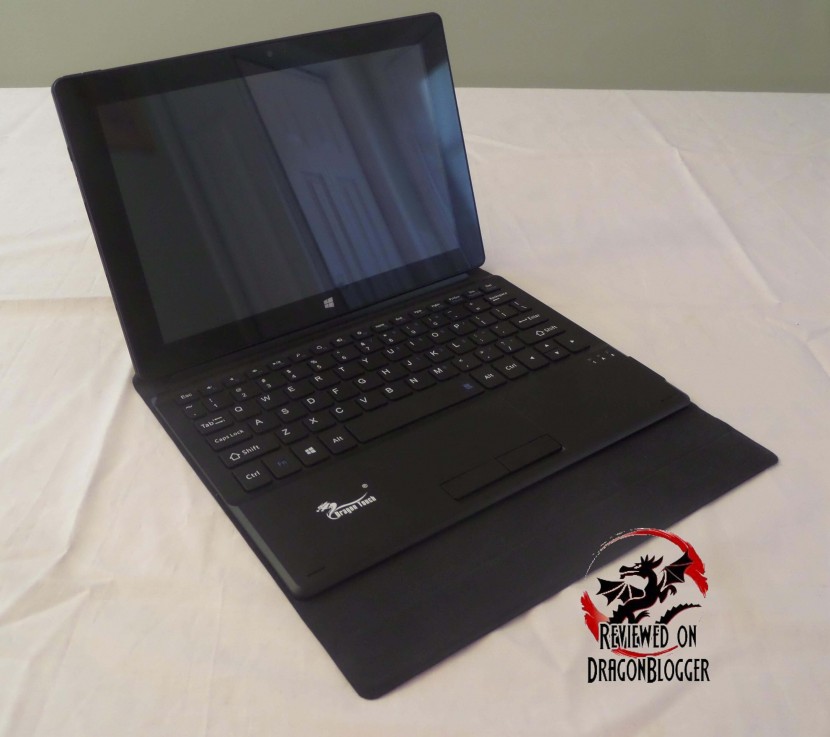 When you put it all together, you have one nice looking laptop that fits any place and anywhere. Laptops aside, when you are crunched for space remember, it's a tablet also. So while at work, this tablet actually became very useful for a very indecisive manager and co-worker.
Sometimes no can make up their minds, but I made up mine. I didn't want to carry around my notepad and pen, writing everything down when I type much faster than I write but my co-worker wasn't sure if we would need a tablet or a laptop, so I brought both, so did he. I brought essentially my all in 1, he brought his 17 inch notebook and his tablet, I just brought my tablet that can take the task of both saving me plenty of space.
So while at the hotel, that TV on the wall had an HDMI port, though I didn't have time to take advantage of it, I could have watched movies or played games through that HDMI port. Check out how this connects to HDMI to watch movies and play some games.

Maybe you don't want to play a game or watch movies, maybe you want to listen to some music and do some work with the included version of Office 365, well I got that covered too. In this video I connect the Creative JAM through Bluetooth to listen to iHeartRadio while I am taking care of some work. I also tested out the speakers that are incredibly loud, though my wife didn't appreciate that too much.
Last but not least is the camera test; I get a little confused here.
This photo is taken with the rear camera, a 5MP camera with a resolution of 2560 x 1920 (I cropped it and brought it down a bit so it wouldn't take as long to load)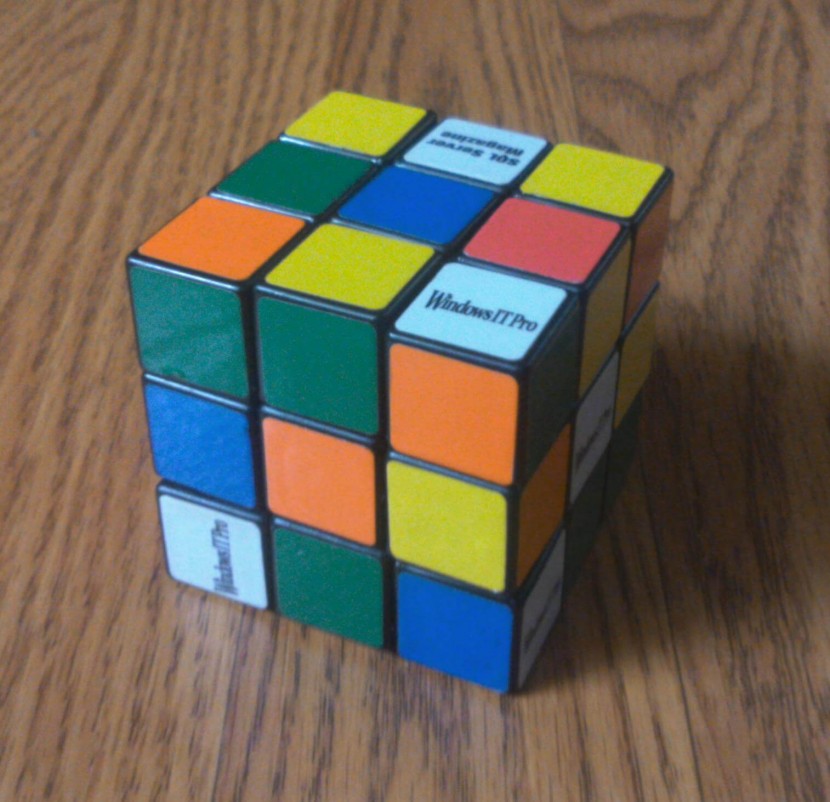 The picture looks nice and all, but wait till you see the pic taken with the 2MP camera, at a resolution of 1600 x 1200.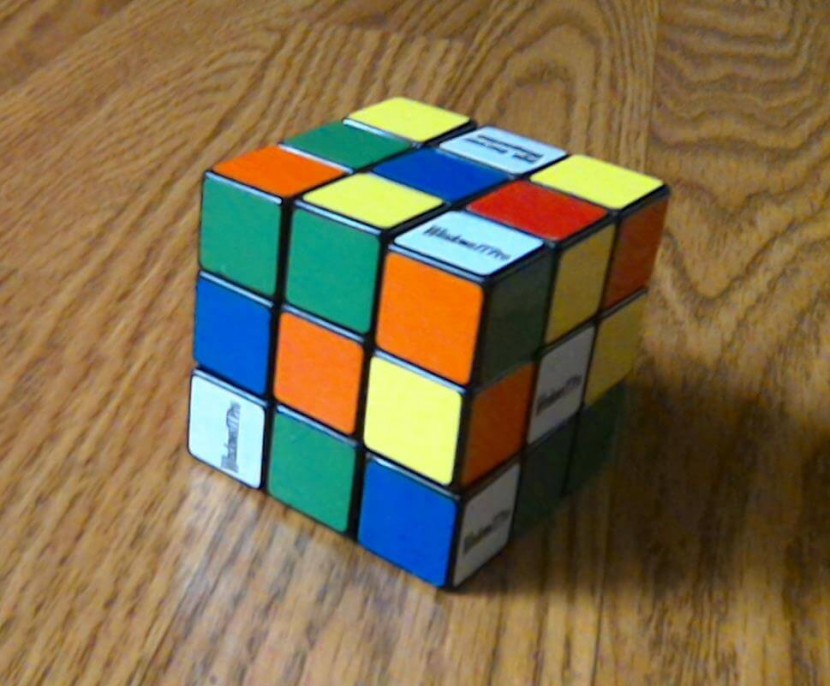 The colors look nicer, deeper and richer. Both are decent cameras but the lower mega pixel one seems to take nicer pictures, better quality components I guess. I understand that it has to be good for Skype and the likes but I don't understand why a lower MP camera taken seconds apart from each other looks nicer than a higher mega pixel camera. I will get some more information on the lenses are the glass for these camera's and update the review with the information but I thought you would like to see what I saw with them.
Needless to say, I am impressed with this tablet/laptop, the i10x from Tablet Express, there are pros and cons to everything though and of course these play a role in the overall review and my rating.
Pro's
Great Capacity HD and a decent speed, 64Gig
Decent amount of RAM at a decent speed, 2Gigs at 1333Mhz
Great processor in a tiny form factor, the Intel Bay Trail Z3735F Quad Core CPU, 64bit.
I love the keyboard that acts as a cover and stand, great size too.
Great size screen and technology used, 10.1 and IPS
A true full version of Windows 8.1
A true full version of Office 365
Incredible battery life.
Price this tablet is a fraction of the cost of the Surface 3!
Cons
While the screen size and technology are great, it is only 1280X800
While the processor is 64Bit but the operating system is 32Bit; it brings compatibility down a tiny bit.
Does not include the USB A to Micro B USB conversion cable
The Windows app store does not include as many apps and programs as the Google Play Store or the Apple App Store, though that is not Tablet Express' fault, but I had to mention it.
I would recommend this tablet to anyone, for work or play since it can do either very well, but even though not huge cons, it does have a few. There is nothing mechanically wrong or physically wrong with the tablet and everything that was run within the tests performed very well and the price is excellent, I will have to give this tablet a 4.5.
What do you guys think, I don't think it deserved a 5 because of the cons, but do you think 4.5 was right or should I have gone lower? Was 4.5 with its cons not justified and should have I given it a 5?
We are influencers and brand affiliates.  This post contains affiliate links, most which go to Amazon and are Geo-Affiliate links to nearest Amazon store.
I have spent many years in the PC boutique name space as Product Development Engineer for Alienware and later Dell through Alienware's acquisition and finally Velocity Micro. During these years I spent my time developing new configurations, products and technologies with companies such as AMD, Asus, Intel, Microsoft, NVIDIA and more. The Arts, Gaming, New & Old technologies drive my interests and passion. Now as my day job, I am an IT Manager but doing reviews on my time and my dime.