Drones are popping up everywhere in the media, and I know you have had your eyes on them. They are sneaky, though not quiet their sound is very soothing and can sneak up on your without your knowledge,… like the one behind you now… don't worry its gone now. Most are way out of the normal persons budget, especially ones with camera's, but this one is a game changer. I bring you the Hubsan H107D FPV Mini Quad Copter, a drone for the masses. Let's check out the specs.
Specifications
• Control Distance: 50 ~ 100 Meters (164 ~ 328.1 Feet)
• Live Video Distance: ~100 Meters (Up to 328.1 Feet)
• Battery: 3.7V, 380mAH li-po battery with auto off safety PCB
• Charging time: ~30Minutes
• Flight time: ~7 Minutes
• Motor: 4 x 0820 Coreless
• 4 night LED Lights
• Rubber Feet to soften impact for landing
• Protection cover for blades and finger tips
• Frequency: 2.4GHz + 5.8GHz Video transmission
• Transmitter: 2.4GHz 4 Channel
o 4.3 Inch LCD on Controller to display video feed from Quad Copter
o 640 x 480 Resolution for Camera
• Controller: 6 Axis flight control system with adjustable throttle sensitivity
o Micro SD Card slot to save recorded video, will not record video without it
o Micro USB socket (Used only to upgrade software)
• Video Glasses socket, not included in package and not reviewed
So what's in the box, check out my unboxing to see what's inside.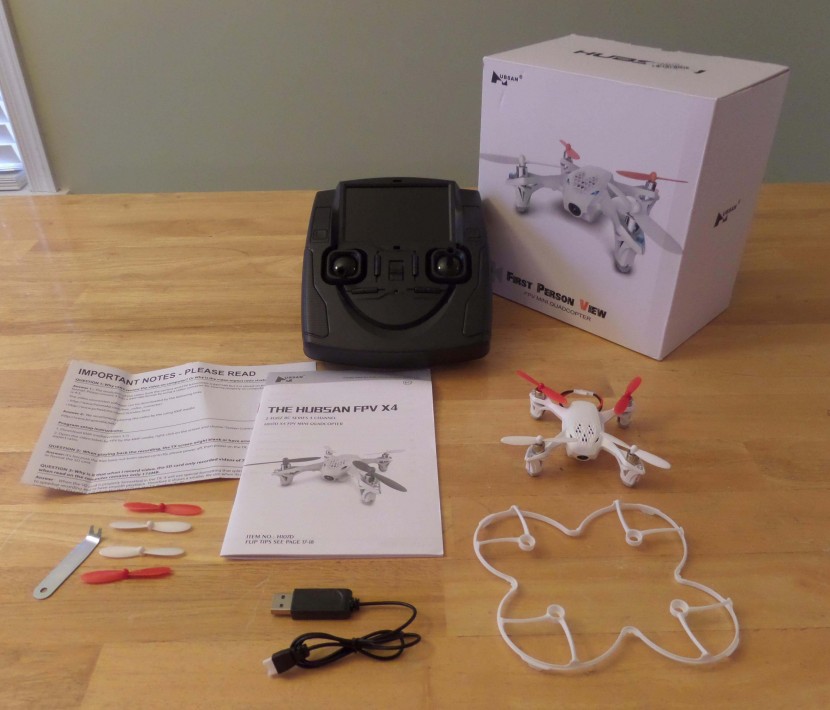 The H107D brings extra propellers in case you mess the up or you get some gunk caught in between them. As you can see I already did mess them up a bit because I forgot to put the protector on the copter originally. The little metal piece is to make replacing the blades much easier.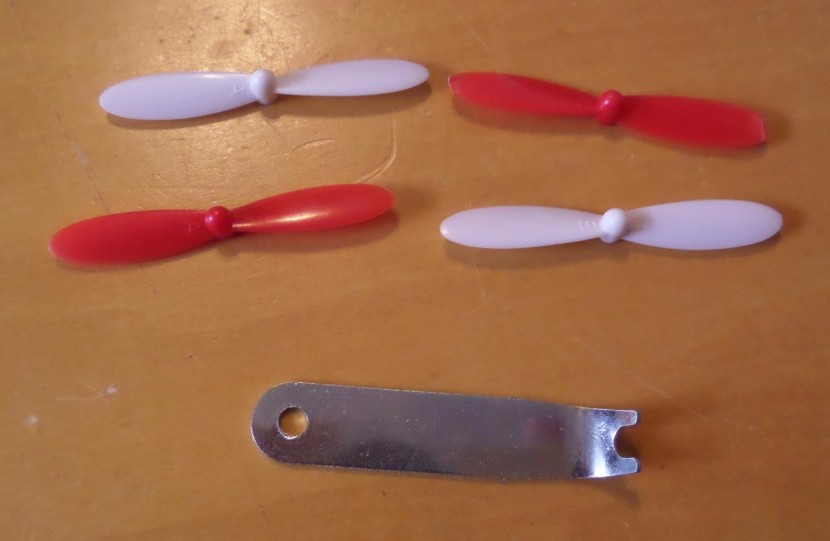 This is the drone without the protector after a few flights.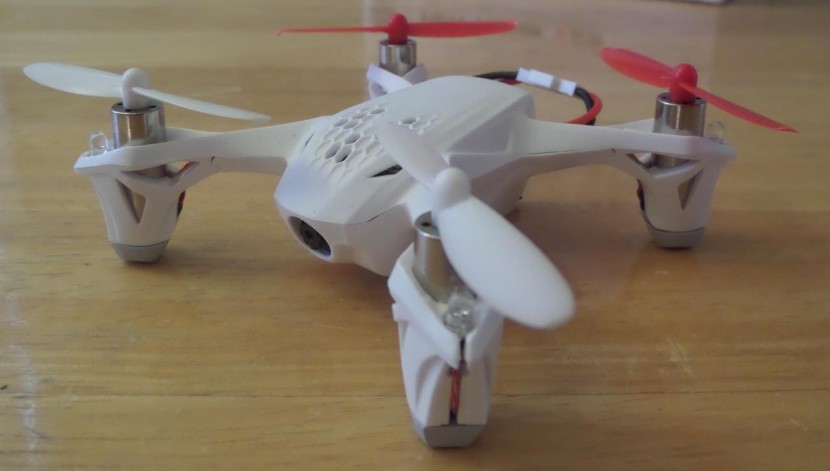 This is the drone with the protector after a ton more flights.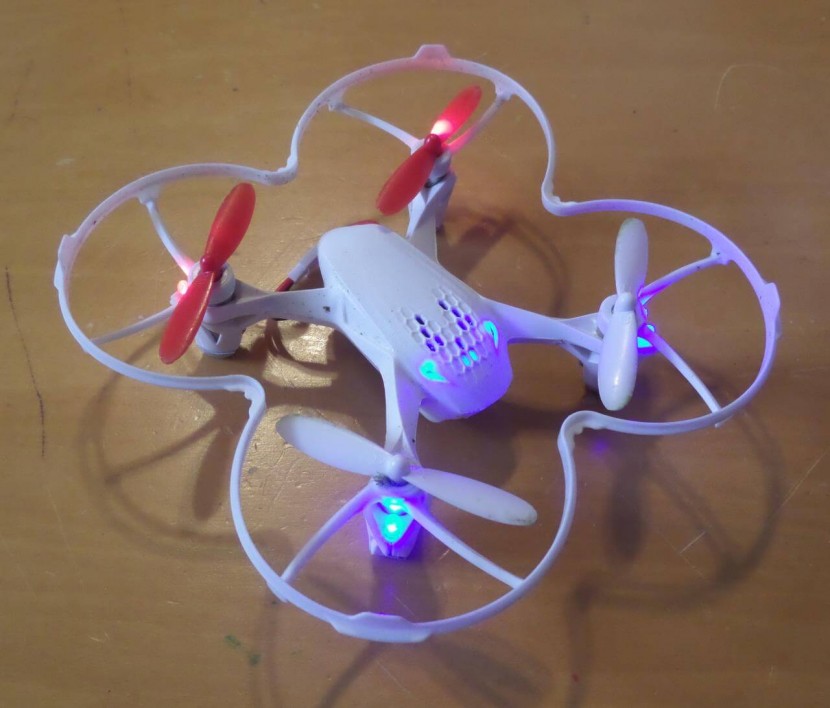 The blue and red lights light up when you connect the rear cables that connect the battery to the drone. When the blink rapidly, it's time to charge and at first connecting them for a few seconds they will blink rapidly then change to a solid light once done pairing to the remote.

While the H107D does not bring an AC Adapter to charge, it charges through USB, so you can hook it up to your computer, USB Charger or USB battery. At night I charge it with my RAVPower RP-UC07 4 port USB charger with my tablets and phone and while I am, like I was out in the park flying like you will see in a video in this review, I charged it with my USB battery, the RAVPower Duo USB battery (looks like the battery was discontinued, this is the newer one). The USB cable lights up red while charging and turns off when charged.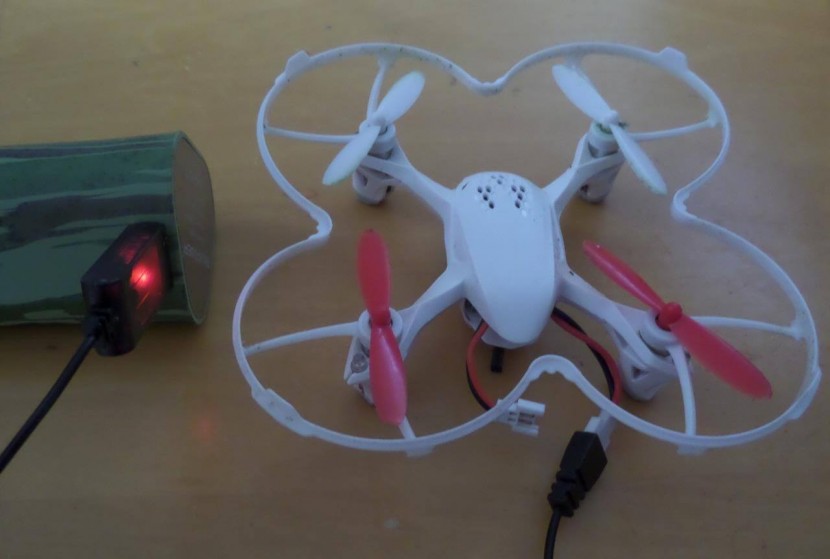 One with the remote, the remote also acts as a viewer for the live video stream the H107D delivers, here is an example.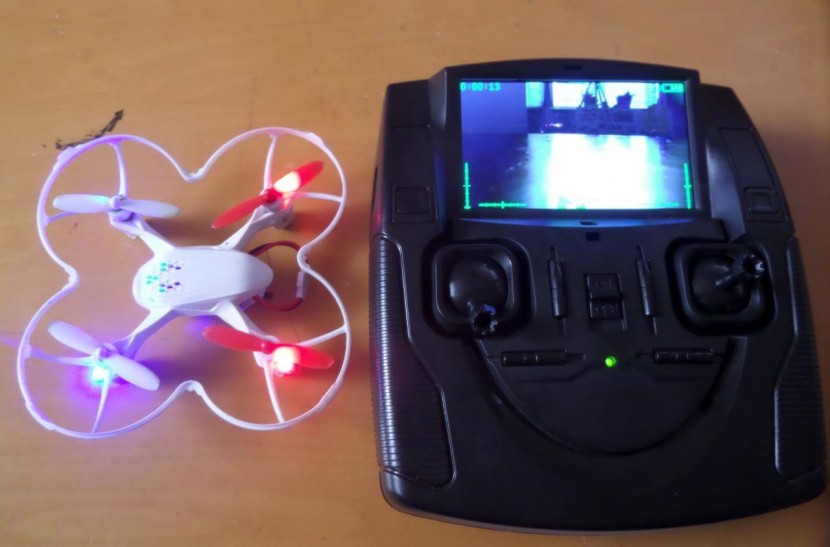 Here is the controller explained a little, it can be a bit overwhelming.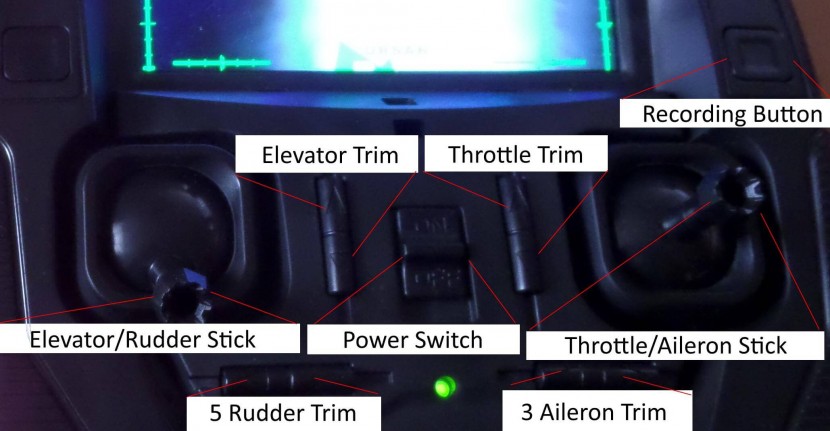 The Elevator/Rudder stick is to control how fast the propellers spin then allows you to spin the drone. The spin of course controls how high or low the copter flies along with the Throttle/Aileron Stick. The Aileron adjusts for left or right tilt and Throttle controls forward and back movements. The Trim adjustment buttons allow you to adjust how the base levels of each stick are, to compensate for wind and other elements, the defaults I have found to be spot on though. The recording button once pressed and the drone is online, allows you to record your flight as long as you have a micro SD card in the controller, make sure to press it again once you have finished your flight, if not the flight will not be stored. I have lost many hours of flight because I forgot to press the button to end the flight.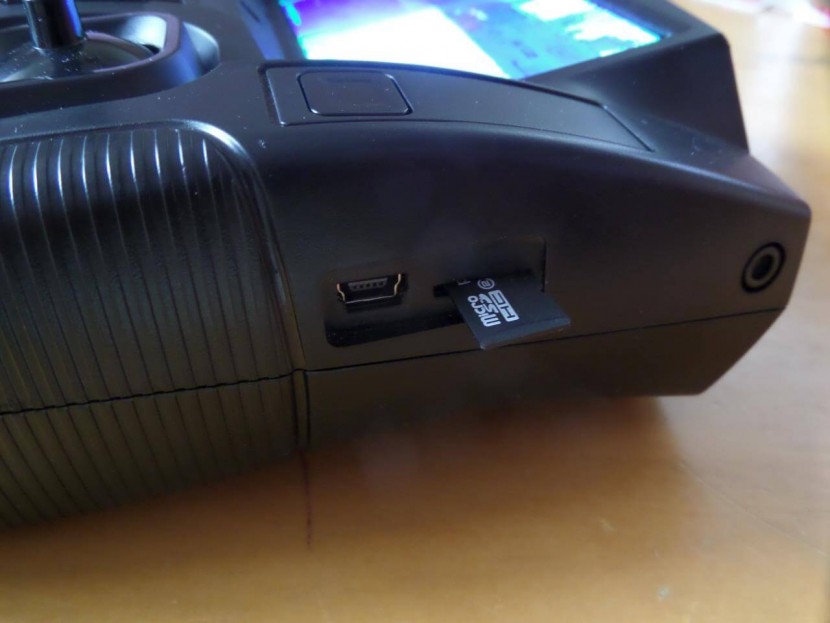 On the right side of the controller, there is a Micro USB port and a Micro SD slot. This is where you will want to insert your Micro SD card when you want to record. The Micro USB port though is not used unless you are upgrading the software on the controller, their manual states it for their engineers,… undocumented, I am sure you can make some nice software mods when you can access them.
One thing to note, that will save you tons of frustration,… if you don't read the manuals like I didn't is when you record video from this drone, it is not ready in a format you can view for longer than 1 second.  Once you have saved your videos like I mentioned above, you will need to transfer them to the computer, and then you need to use Freemake Video Converter that you can download off of this website http://www.freemake.com/free_video_converter/.
Here is a short video just to show you how to convert the videos.
So now you know a little of the basics of the Hubsan FPV H107D, but now let check out some flying. I was so nervous on this flight; this was my very first flight but I did pretty well.
There was not a lot wind that day, but it was pretty cool, temperature wise. You will notice though that the video is a bit grainy at times, like you were watching TV on an older TV with the bunny ear antennae. I found out through more reading of the manual that it occurs when you are around too many trees, if you watch the video you can see that's when the video flakes out a little bit.
A bit later, I recorded another video of me flying this drone in the park, while still there were trees around, I did not fly as close. The video is a bit awkward though since I tried to tie in together video off of my digital camera and video off of the H107D. It made me realize that the video is not as fluid as I thought, but at this amazing price, you cannot complain.
So aside from the LCD, controls and SD card slot, on the back of the controller is where the batteries go and man do I hate batteries, but its not solar powered, so you need them. It takes 4 AA batteries, and to save money in the long run, I buy rechargeable Lithium Ion batteries, saves the environment some too.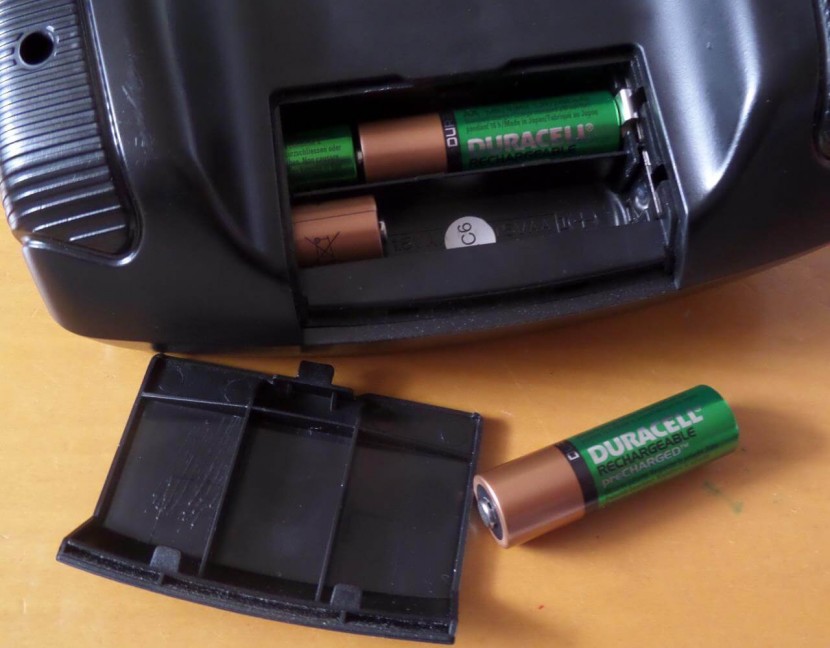 Talking about solar powered, while this is not solar powered the sun does provide light and of course in the night there is no light unless you are flying this bad boy. Here I show you how the lights look in the night and how this sounds, please not it is in a tight hall way so everything echo's it's not as loud as this in the open.
So that's about it, I love this little guy but I will say that the battery limit of 7 minutes is a big bummer and I would have to drop it by 1 star, normally it would be 2 stars because it is a big issue but the price makes up for the extra star. It does sound like a box full of bees but from what I have seen that is normal for all ranges of drones, some louder so I cannot drop a star for that. On the second video I filmed there were some decent winds (thankfully because it was so hot out there) and the drone easily compensated when I gave her some more juice, of course that adds some battery drain.
The lightweight body design makes it a bit light for strong winds and that would have dropped it a star but the lightweight strong design is a plus as well because as many times as I have dropped it while flying would have destroyed any other drone, this thing is durable. I cannot see how something that costs so much for other drones would not be as durable but I know of a few that have been destroyed just from simple drops as I have done and this is an investment, so I will actually bump it up half a star.
It is understood that the lightweight yet durable design help it from getting destroyed quickly and the protector for the blades add to that protection but it does not take away from the battery life. A longer life battery would surely drag this drone down and add some weight but I cannot make up the loss of a star for that, it means something to have a long fun flight. The RAVPower Duo USB battery helps tons, nothing worse than going on a trip for a long time and only enjoying the drone for 7 minutes, this adds plenty of fun to the drone.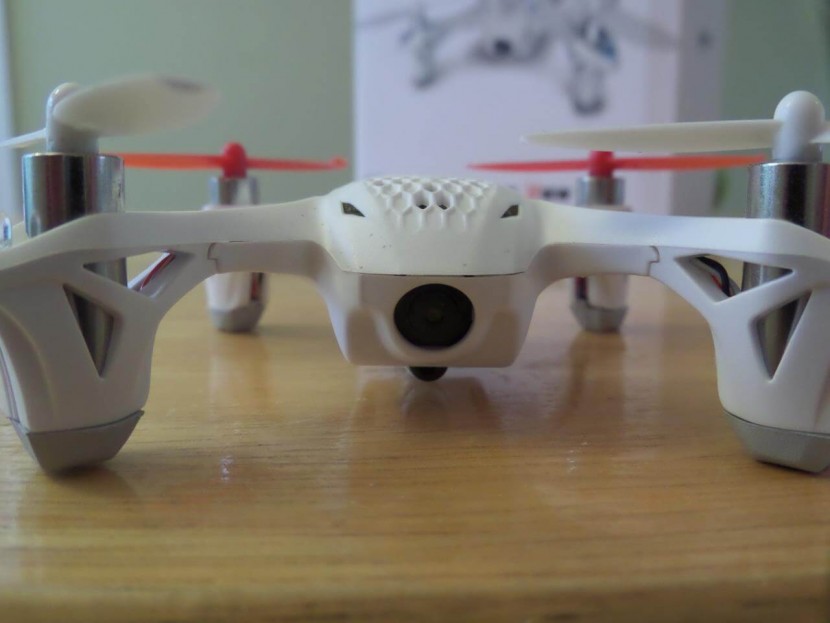 So that's about it from me and this menacing looking bad boy, what do you guys think? Don't be too mean, its watching you…
I have spent many years in the PC boutique name space as Product Development Engineer for Alienware and later Dell through Alienware's acquisition and finally Velocity Micro. During these years I spent my time developing new configurations, products and technologies with companies such as AMD, Asus, Intel, Microsoft, NVIDIA and more. The Arts, Gaming, New & Old technologies drive my interests and passion. Now as my day job, I am an IT Manager but doing reviews on my time and my dime.