The Kingston DataTraveler Locker+ G3 advertises automatic personal security by having you password protect the USB stick and encrypting the data stored on the USB stick.  It also boasted having 135MB/s read and 40MB/s write speeds over USB 3 even while encrypting data on the fly and storing on the USB stick.
Kingston Technology sent me one of the DataTraveler Locker+ G3 sticks to test and I put it through it's paces copying dozens of gigabytes of files back and forth, deleting, re-adding, copying on both USB3 and USB2 ports to compare and see how well the performance lived up to the name.
Yes, I even tested out the fact that if you enter a bad password 10 times, it formats the USB stick supposedly making your data unrecoverable as a security precaution.  Here is my review of the Kingston DataTraveler Locker+ G3 and full summary of my thoughts on it.
DataTraveler Locker+ G3 Setup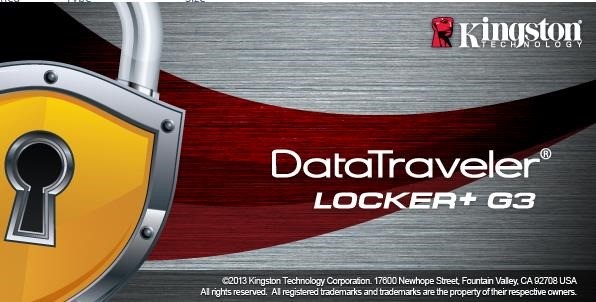 When you first plug in the USB stick whether it is on your MAC or PC, you will at first see a partition that looks like a DVD RW and is the only accessible partition on the USB stick.  Here you will have to run the launcher which runs the Kingston DataTraveler software which helps setup the password and format your USB stick.

Though the stick is 32GB in size, you really only get about 28GB of usable space due to it keeping the rest reserved for it's setup files and functionality.
Running the installation program is simple and you only accept the license and then set your password and hint on the first page.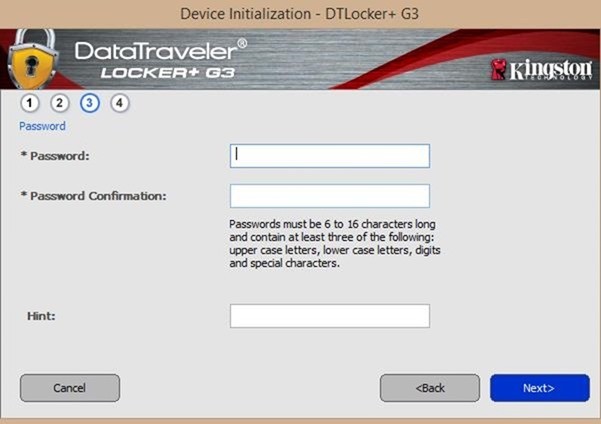 The 2nd page is for you to identify who owns the flash drive and the company and some details about what may be stored there.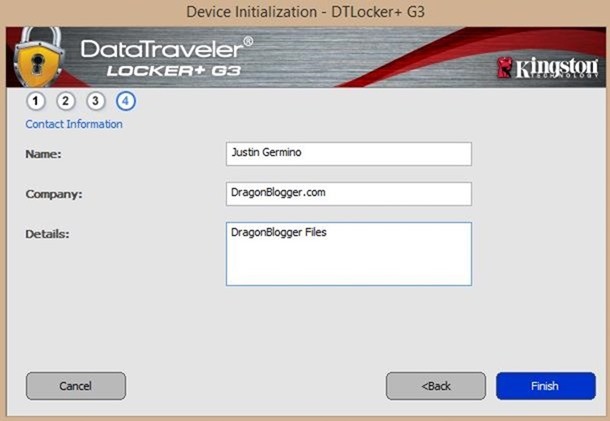 After this the device will format, right now though you can access your files until you first unplug the USB stick, then if you plug it into any PC you will be prompted to enter your password before you can see the 28GB formatted portion of the disk.  The only thing is I wish it would automatically execute the run software to enter the password, instead however you have to browse to the DVD RW DTL+G3 partition and execute the software which will prompt you for the password.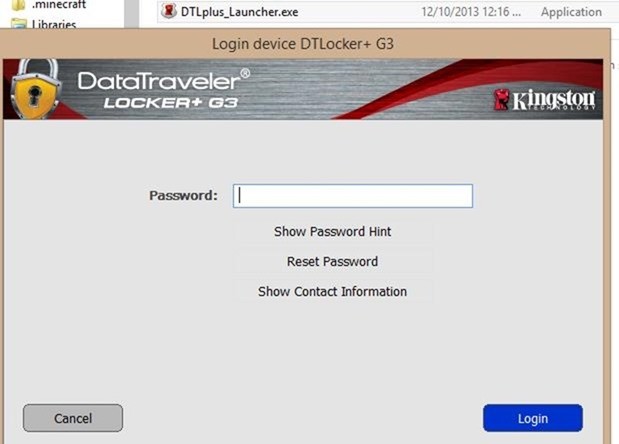 You only have to do this 1 time for every time you plug the USB stick into the PC, but it should open the password protection prompt automatically in my opinion.  More on the formatting after bad attempts at the end of the review.
Kingston DataTravler Locker+ G3 Write Speeds
I first tested the DataTraveler write speeds with USB 2 first, and I had to put data on the USB stick before I could test read speeds.  Several tests showed that the write speeds were better than the 20MB/s rated write speeds advertised by Kingston.
I was able to consistently get 27 MB/s write speeds no matter which USB 2 port I used and which set of files I started copying, this is 7MB/s over the 20MB/s advertising for USB 2 and is very good considering it is encrypting the data as it is being copied.
USB 3 write speeds were exceptional however, and often went 2x as high as the rated 40MB/s write speeds that Kingston claims on the packaging.  I never saw it dip below 67MB/s write speeds and even saw it climb as high as 84MB/s write speeds which was higher than most USB 3 flash drives in the 60-70MB/s write range that I tested previously.  Considering the fact that the Kingston DataTraveler Locker+ G3 is both encrypting while writing the data and it is impressive that it maintains these write speeds.
Kingston DataTravler Locker+ G3 Read Speeds
Read speeds were just as impressive, and on multiple tests I was able to exceed the 135MB/s read speeds advertised on the packaging.  I was able to consistently get between 142 and 144MB/s read speeds and copying data from the DataTraveler G3 was very speedy, copying over 3GB of files in 5 seconds or less.
Kingston DataTraveler Locker+ G3 Data Protection
My last test was the most important, and this is what the automatic personal security is all about.  This is where if someone fails to enter the password on your USB stick 3 times, it will auto wipe the data supposedly preventing it from being accessed or retrieved by would be thieves.  So to me, this means it doesn't only have to format the data, but it needs to write over it to make sure you can't use recovery software to extract the files that were formatted.
Note, when you hit 7 bad passwords, you get the warning that in 3 more attempts your data will be wiped.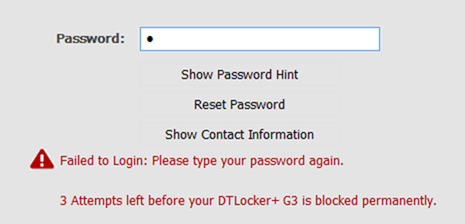 When you enter all 10 bad password attempts, you get the following popup message.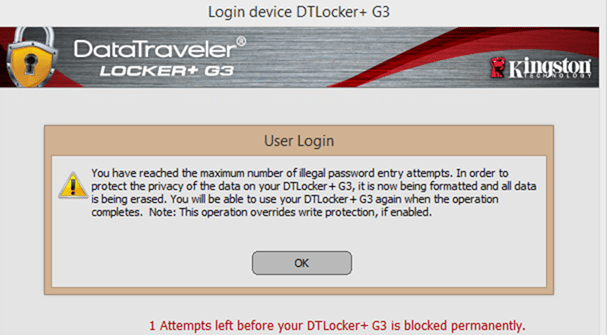 It then forces you to set a new password for the device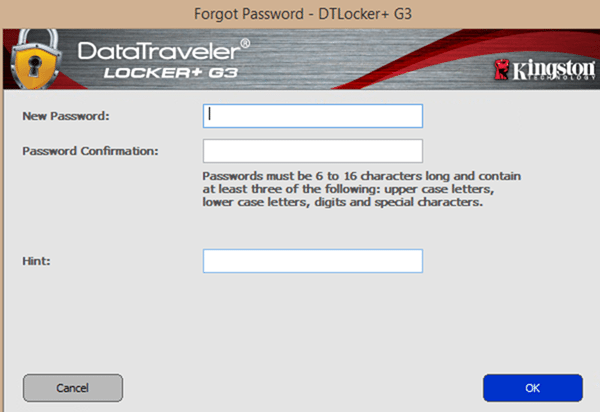 So now the drive is freshly re-formatted after entering 10 invalid attempts, now I click OK and will write no new data to the drive and instead just try to recover any data if I can from the USB stick.

First I tried the free version of Piriform Recuva to see if it can find anything to recover from the DataTraveler G3 that was wiped.  I first did it without deep scan enabled, and it couldn't find anything to recover on it's initial attempt.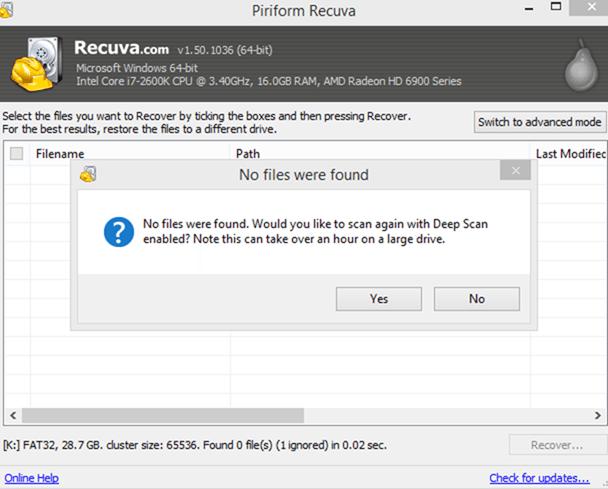 So then I added in deep scan to let it really dig deep and see if it could salvage files from the formated Kingston DataTraveler Locker+ G3.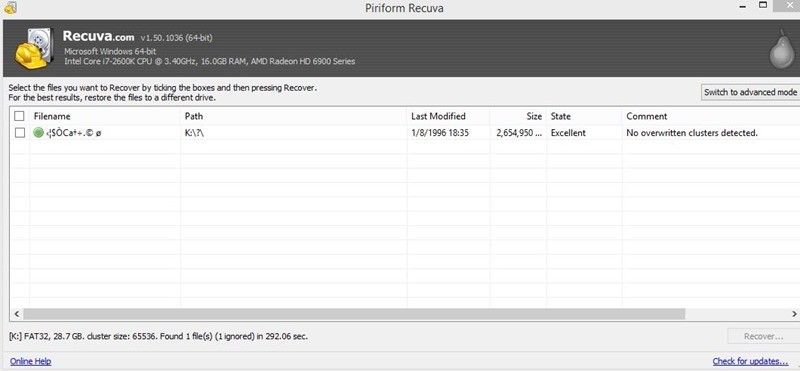 Deep Scan however was able to find what appeared to be some my most recently copied movie files, so I attempted to recover it and see what data happened.  I had put 6 files on, deleted, 3 files on, deleted and then 1 file on.  So not sure what it exacly found but the file size was actually larger than any single mp4 that I had copied onto the drive.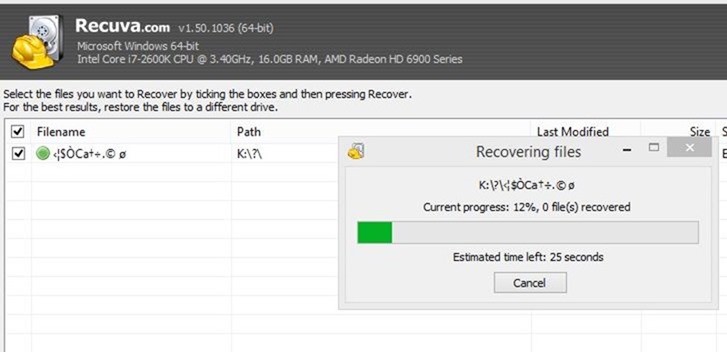 After about 26 seconds the operation was completed, and I had the file on my drive to see if it actually worked after recovering it.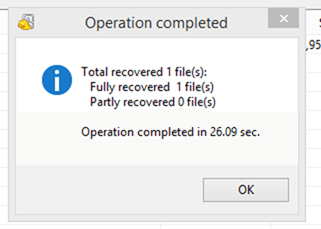 I knew this was an mp4 file, so after seeing the file I renamed it to recovered.mp4 to see if it would play.  The file size was about double the largest MP4 file that I copied, I didn't copy any single files that were 2GB+ in size, so I think it recovered multiple movie files as 1 file actually.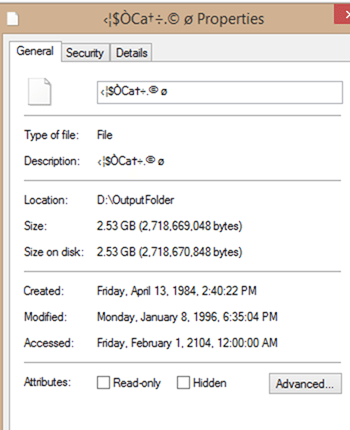 Didn't work, the data was not usable, I could not get the media data to be playable or make it work with renaming the file.  I repeated my tests again, this time with word documents and excel documents instead of media files which are much harder to recover if data is damaged.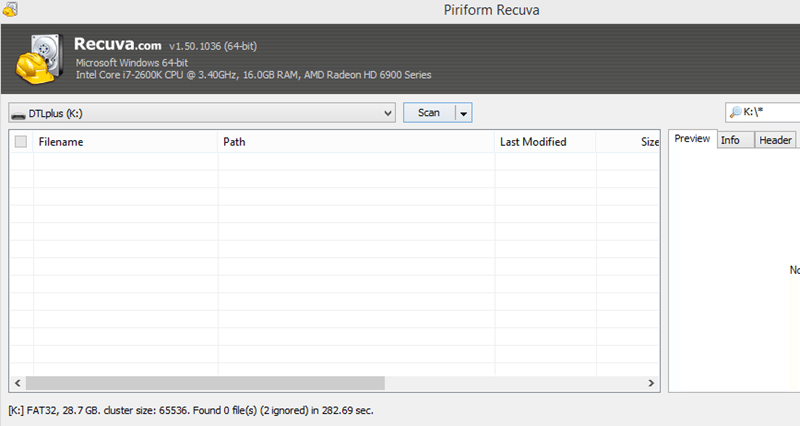 After another deep scan, there were no recoverable files at all that it could see, though it claimed it found 2 potential files and ignored them, I had 6 so not sure if it just detected some remnants of files.
I have not tried any professional recovery software, but from freeware, it seems like your data is relative safe from recovery.  I would say this product does a good job of keeping your data portable and secure for most purposes and is an excellent option for the home user.
Based on my review of the Kingston Datatraveler Locker+ G3 I have found no other 32GB USB Flash drive that offers the performance and security at the price, this product gets my highest marks for being a MUST HAVE USB stick if you need one that not only has speed but also allows you to password protect and encrypt the data on your flash drive.
I have been obsessed with computers, tech, gadgets and games since the early 1980's having grown up on the Commodore 64 and Amiga computers.
By day I work in the IT Security Industry and have been in IT for over 20 years. On my spare time I am a Vlogger, Blogger, Streamer, Gadget Reviewer, affiliate marketer, influencer and entertainer. I am also an avid movie fan, TV Show fan, Anime fan, video game fan and fan of trying anything and everything new.