We are influencers and brand affiliates.  This post contains affiliate links, most which go to Amazon and are Geo-Affiliate links to nearest Amazon store.
Review of the OtterBox Defender Series Case for Motorola Droid Turbo
We all think that we are super careful and will not wreck our phones and I am one of those as well. I have had tons of phones and never broke one till now. Mind you I have dropped them and scratched them, but they didn't break, my luck ran out with this phone, the Motorola Droid Maxx and it was such a great phone. Check out how mine broke.

Stressed out, working on another review and I wasn't thinking and just dropped my phone. Maybe this exact scenario hasn't happened to you, but I am sure something along the lines has happened that ended up the same way.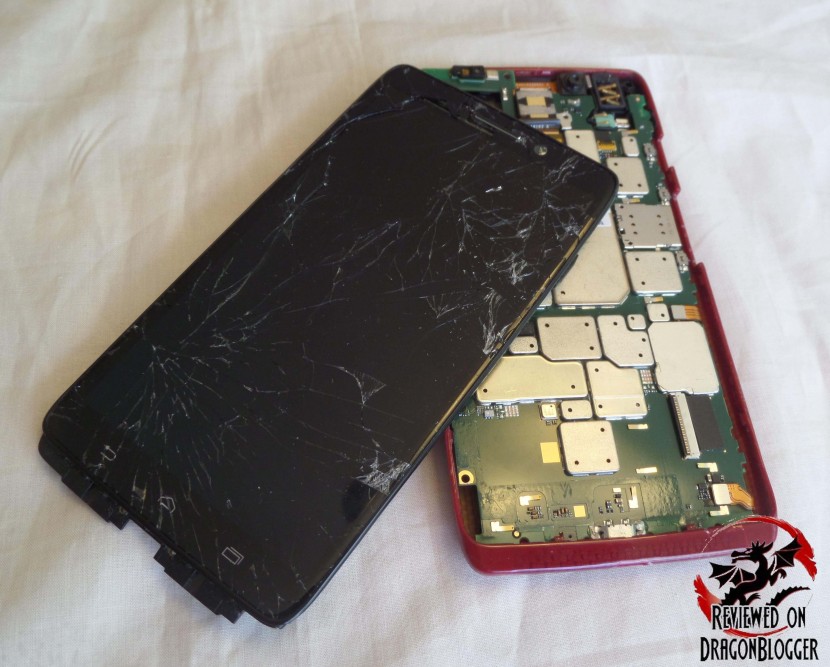 I really did like the phone and what was best of all was that it was free with my plan, I did a lot of research before I got that phone, and I am not much of an Apple fan so I wanted an Android phone. Since the phone was free, I didn't want to pay the extra $9 a month for the insurance, that would have been $216 for a year and later when I called to find out about it, on top of the $216 I would have paid, I would have had to pay the additional $100 replacement fee, how does that make sense?
So determined to get something done, I purchased a repair kit, and well, that didn't go over so well. I ended up burning the new screen and I am very mechanically included but I guess I don't know very well how to gauge temperature, so there goes another $30.
I bit the bullet and go back to get a replacement, but it turns out they had the Motorola Droid Turbo for the same price as the Motorola Droid Maxx, so it was a no brainer on which one to get. So I ended up getting the Turbo and spent a lot of time researching on which case to get, the same trap I fell into with the Maxx, but this time I actually got it. Our friends at Otterbox provided the Otterbox Defender for the Motorola Droid Turbo.
So let me show you some of the features and specs of this case.
Multi-layer case

Polycarbonate shell, Foam padding, Synthetic Rubber

Built-in screen protector

Guards against scratches and allows touchscreen sensitivity

Dust protecting Port Plugs
Snap click installation
Optional Swivel Holster clip (It comes in the package, but you don't need to use it)
Comes in Black, Black and Green, Pink and Green, Dark Blue and Black
Let's get back on track and do an unboxing.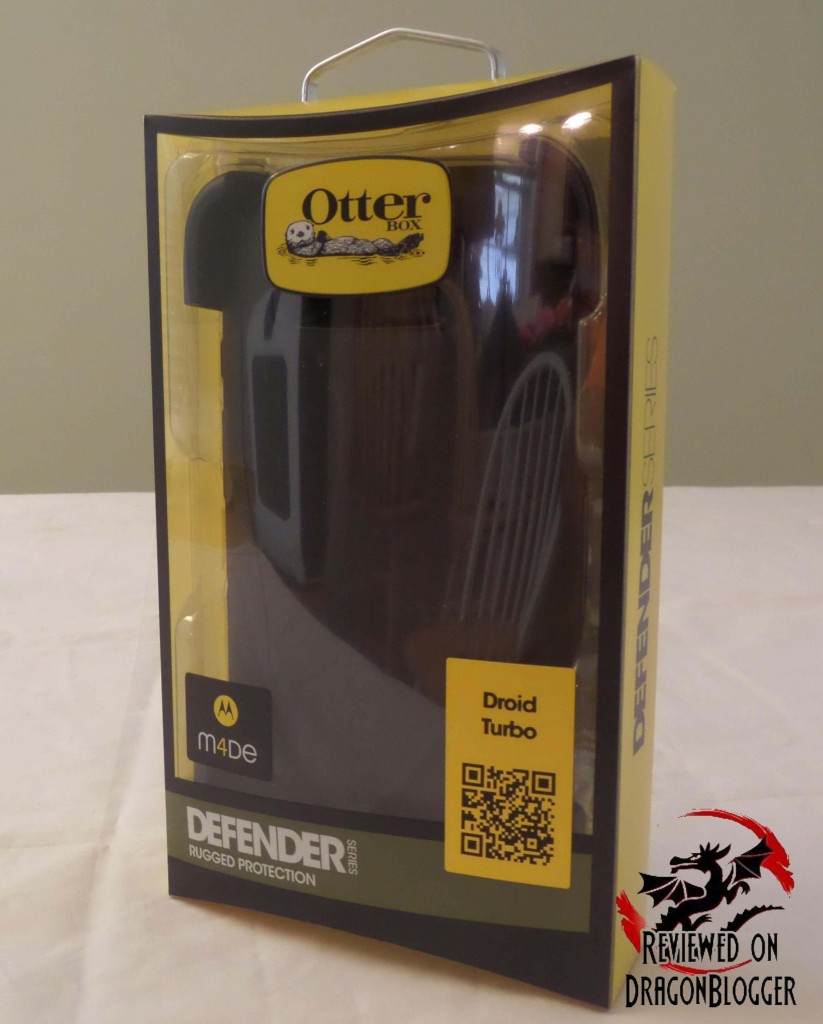 Ok, so I have the phone and I have the case and the manual to help me install everything. It doesn't look incredibly easy when I did the unboxing, but check out this video, it will help you installing this case.

So, you remember those little installation guides the phone brings, they are totally worthless. Here are the guides unfolded.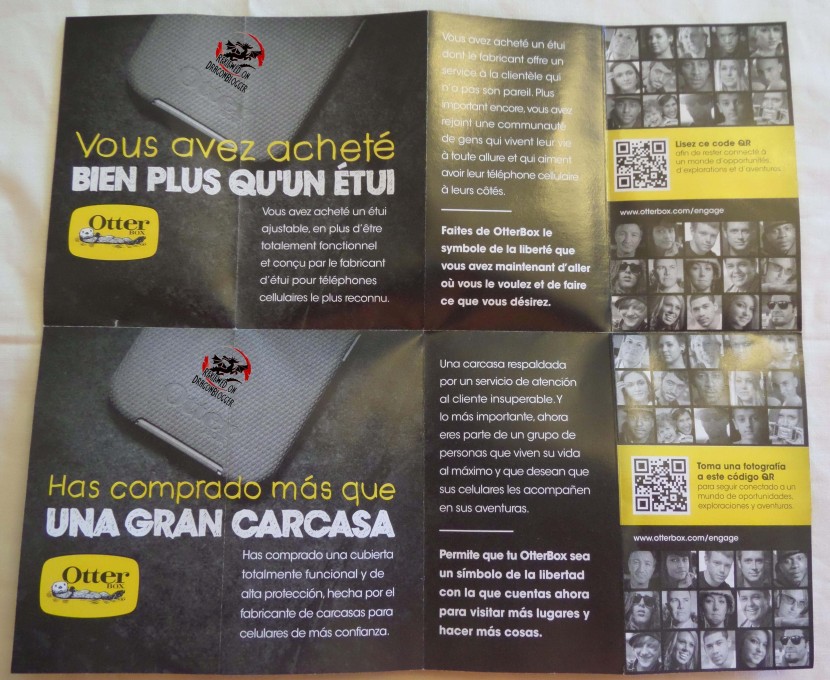 It comes in English, Spanish and French but it is totally worthless, so it can come in any language.
So here is how the phone looks like with the case installed with the belt clip.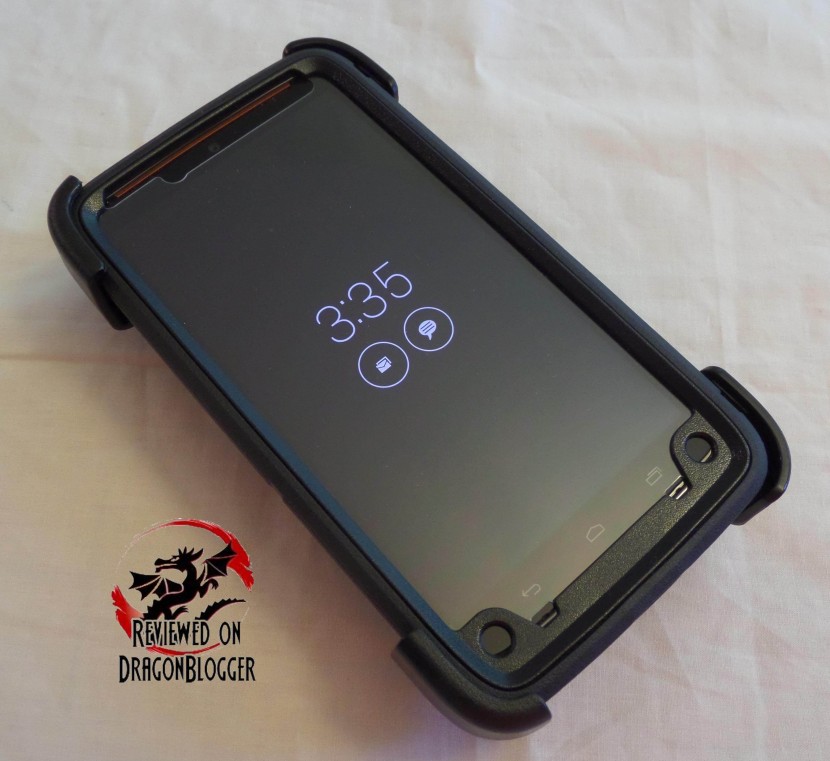 And without the belt clip, you don't have to use it.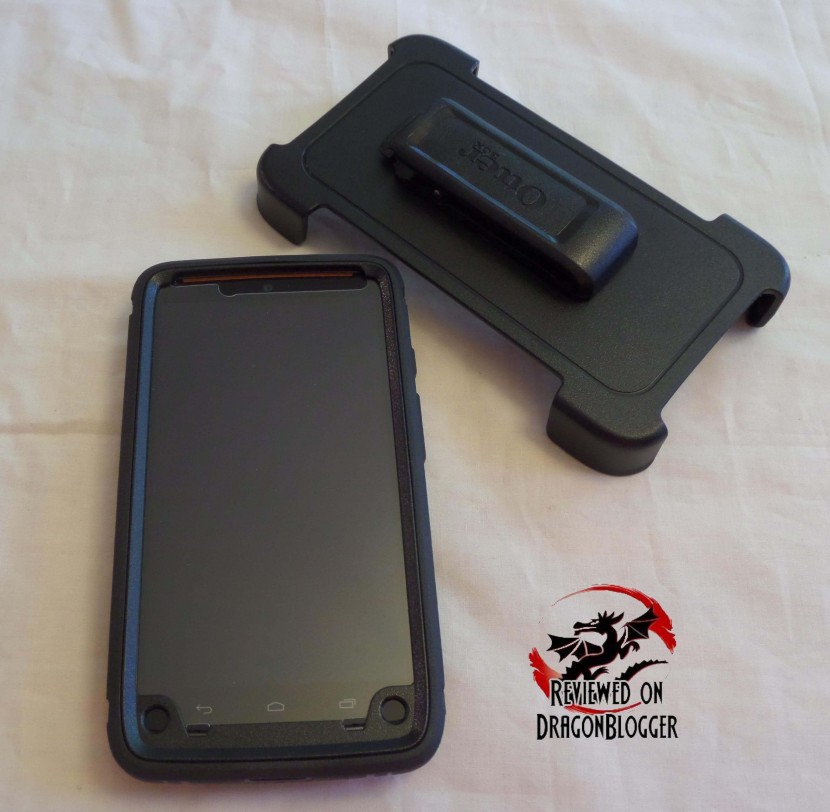 So now that the case has been fitted to the phone I will say aside from feeling secure, the phone feels solid. Before the phone was very light but felt a bit weak, now adding only a tiny bit of weight to the phone and the tight embrace of the rubber and foam, it just feels right. Sounded a bit like an Anne Rice novel huh?
Well, just how good is that embrace… let's find out.

There is a story here. So I recorded a previous video kind of going over the same thing, but the reason I skipped over Metallica was because on the previous video I chose Metallica's One (My favorite song) and once the video was posted, I got hit with a copyright notice warning,…. So I had to take it down. I don't want to break any laws, but it was pretty ridiculous. Anyway, on the first video, I nearly had a heart attack, but I had dropped it the same way I dropped it before… and nothing happened, the phone worked fine, so I did it 2 more times and it still worked.
On this video, I replicated the other video, this time choosing White Zombie's Thunder Kiss 65, another great song. I wanted to replicate it as closely as possible, so I dropped it 3 more times and still nothing, the phone was in great shape. I couldn't replicate it as much as I wanted to though, because the first 3 times I felt like I was going to have a heart attack, but this time I was totally sure nothing was going to happen.
How is it so secure, these pictures might help you.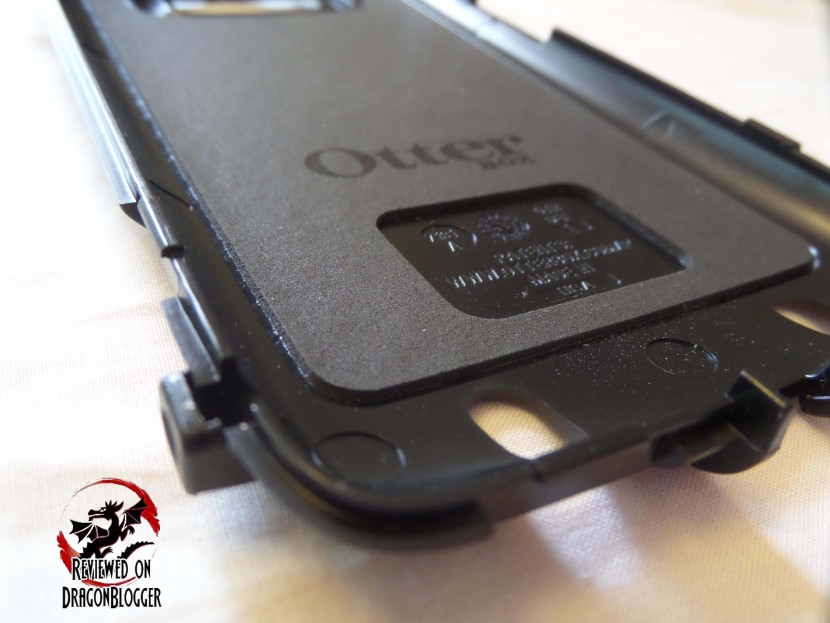 The inner plastic piece that hugs the phone is lined with a foam sheet under where the phone would sit.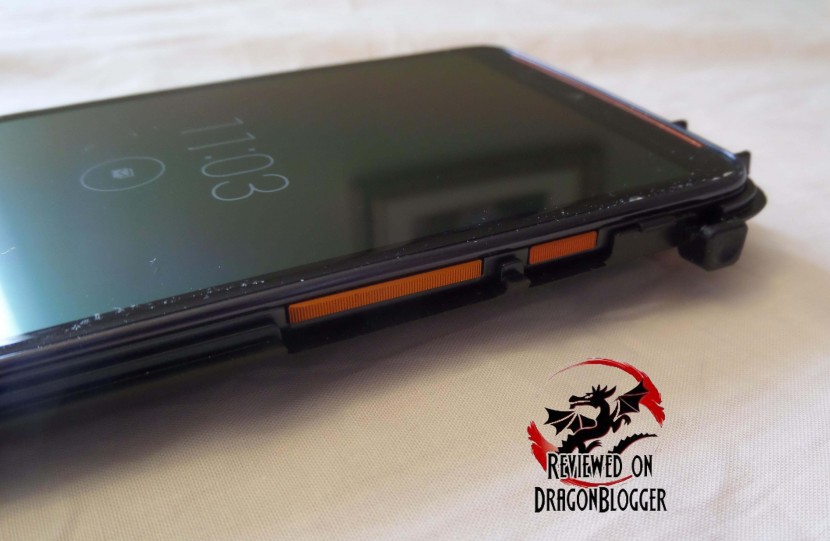 The plastic piece that has cutouts to allow you to continue to use the power button, volume buttons along the side.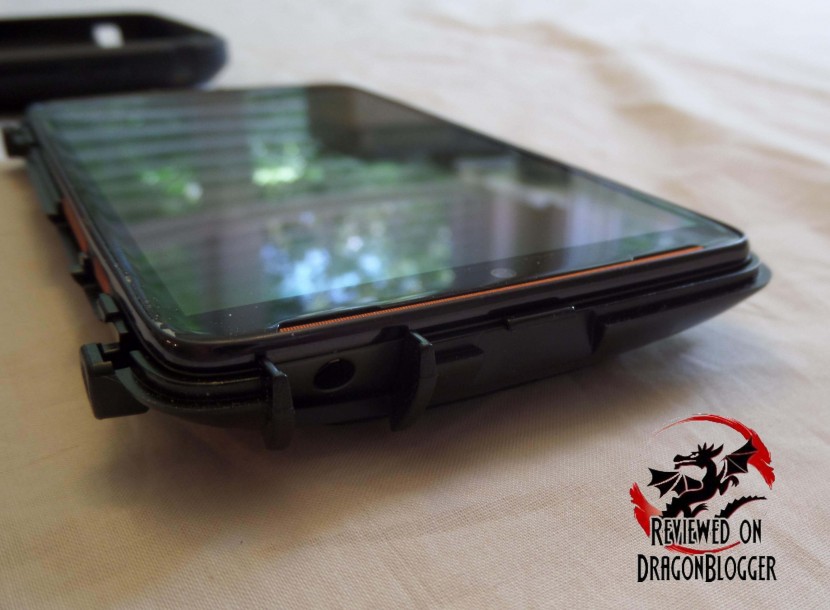 It also has a cut out along the top for the 3.5mm jack.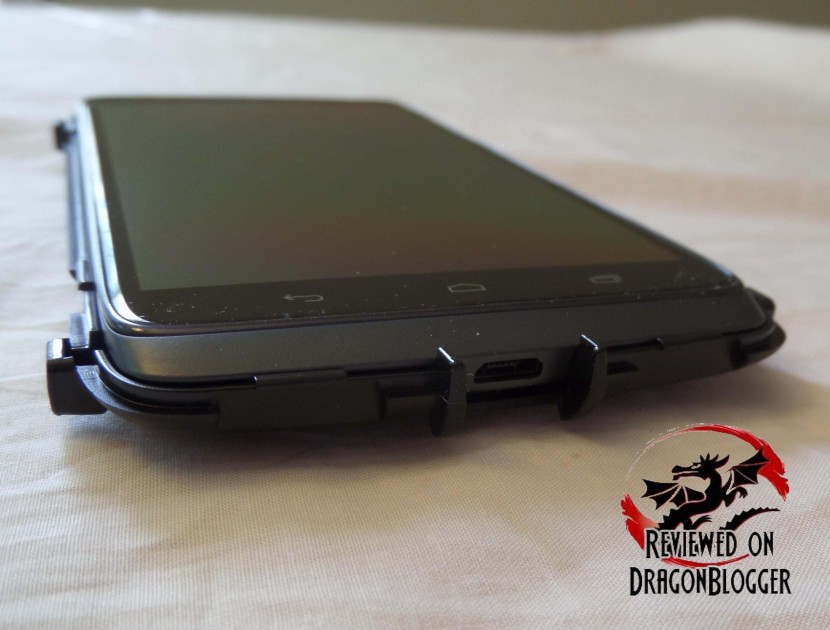 And a cut out towards the bottom of the phone for the micro USB connection.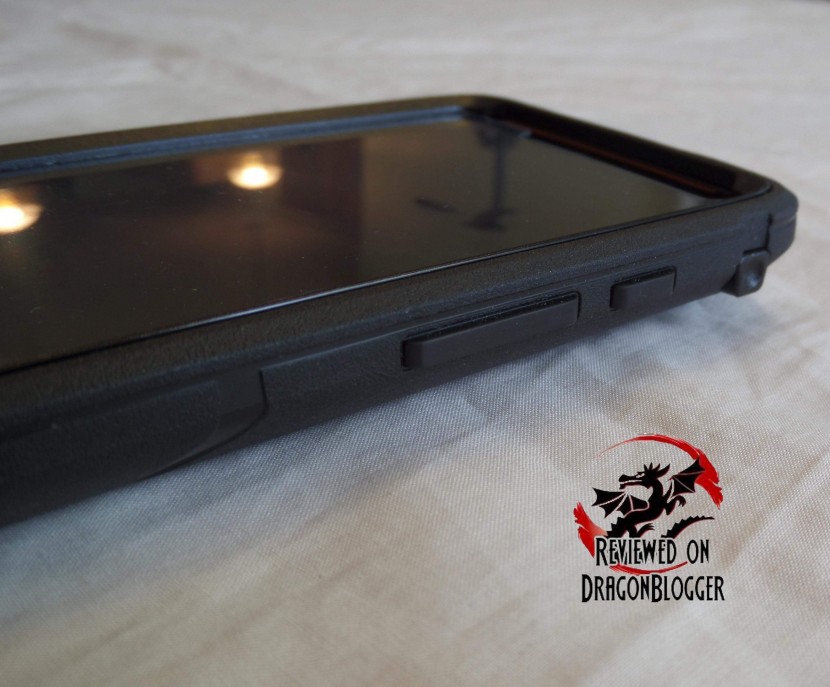 With the rubber wrap placed on the phone, we can see the power and volume buttons stick out a bit so that you can actually use them.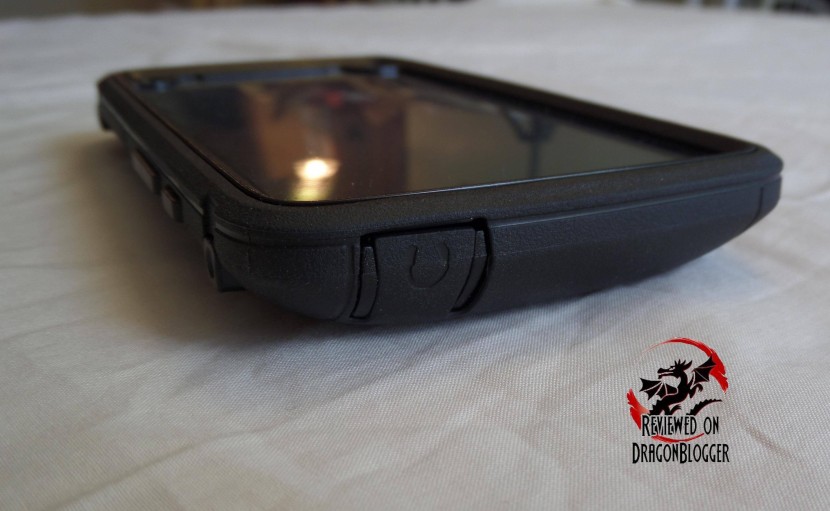 Then a fold out section for the 3.5.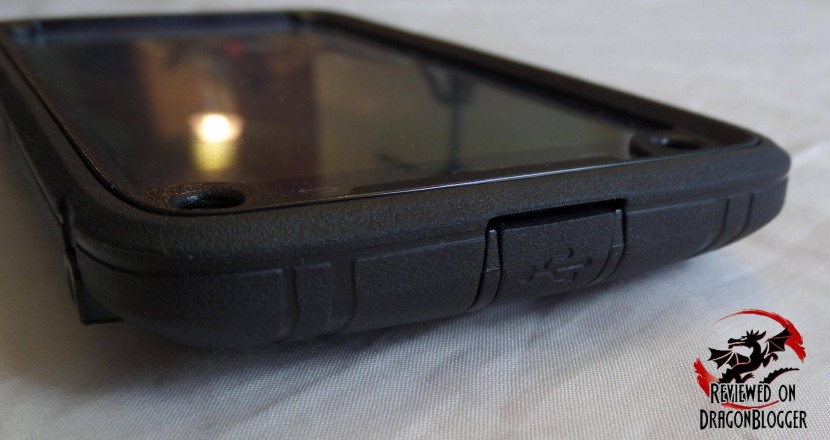 Also a fold out micro USB on the bottom. Just because it is protected, does not mean that it cannot still do the same things it could before, just has a little extra cushion.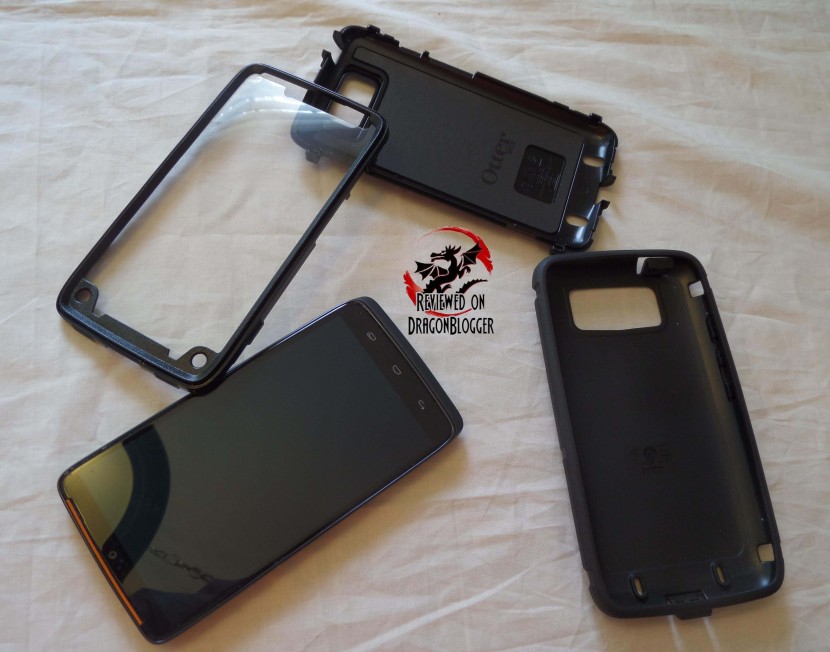 These 4 come together to form a heap of awesome.
As I started writing this review I discovered another use for the holster clip that is not very evident. Turns out you can use the holster clip as a kick stand for the phone as well.

So yeah, I like Walking Dead and I do get a little emotional and at times I am known to slap the phone clear across the kitchen. Well it was safe when I picked it up, it fell out of the holster clip but I would much prefer for that to happen than the phone brake.
I chose the black one, but it comes in 4 colors, Citron Kick, Teal Rose, Nautical and Black.
Oddly enough, the straight black one is the most expensive, click on the one you like above and it will take you to the Amazon store.
I was never into buying cases this expensive because I always got free phone, but it isn't till you get that free phone, then the phone breaks that you realize how much free can be. Aside from that, some people like to buy phones all the time, this will protect that investment allowing you to sell back the phone at a better price, or sell of the phone to someone else for a far better price that a nicked up phone.
With that said, I was originally going to give it high marks because of what it could do, high marks for me being 4 stars, but it comes in various colors, protects your screen, allows you to use everything you could have before without the screen, actually protects well, has a belt clip and even has a kick stand. It protects your current investment and future investment.  I fight myself a little for doing this, but I know it is the right thing, I am giving this 5 out of 5 stars, this case is just amazing.
Update 8/27
Football season is almost here, Otterbox has you covered. What is your favorite team,…. it doesn't matter they are all here.


Its not just a simple sticker, here's an example of a full case.  Show your pride.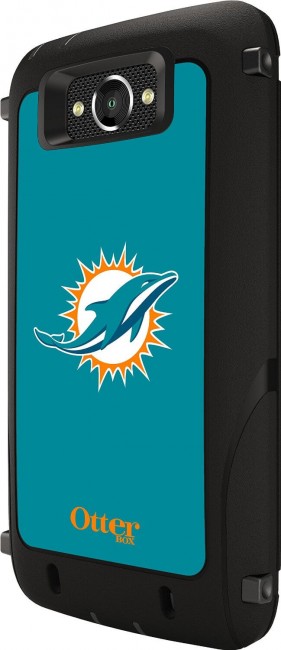 We are influencers and brand affiliates.  This post contains affiliate links, most which go to Amazon and are Geo-Affiliate links to nearest Amazon store.
I have spent many years in the PC boutique name space as Product Development Engineer for Alienware and later Dell through Alienware's acquisition and finally Velocity Micro. During these years I spent my time developing new configurations, products and technologies with companies such as AMD, Asus, Intel, Microsoft, NVIDIA and more. The Arts, Gaming, New & Old technologies drive my interests and passion. Now as my day job, I am an IT Manager but doing reviews on my time and my dime.