We are influencers and brand affiliates.  This post contains affiliate links, most which go to Amazon and are Geo-Affiliate links to nearest Amazon store.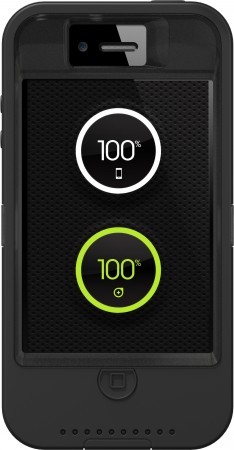 Otterbox has proven time and time again that their products are not only built to last but also built to make certain that your device is protected. The Otterbox Defender Series of cases are built with three layers of protection in order to ensure you that your device is guaranteed to have some of the best protection for your money.
This is the newest case from Otterbox in their Defender line of products and what sets this one apart from the regular Defender series might surprise you in the form of a built in battery. The case is one that you may already be familiar with if you have had a the regular Defender case. It's the standard three layer protection you will find with the regular case however before you plug your iPhone 4/4S into the case itself you will want to be sure to charge the case with the 4.2mm  USB charging cable that is supplied with the unit which enables a faster charging rate. In order to tell if the case is fully charged there is a string of lights on the bottom underneath the "Home" button that will let you know exactly how charged the case is.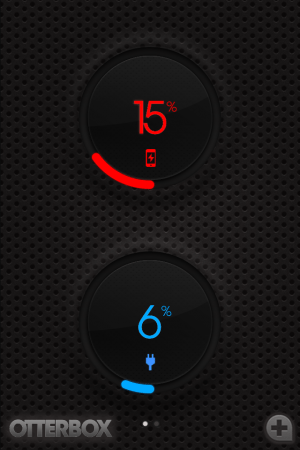 Once the case is fully charged then you can go ahead and plug in your device by simply docking the phone with the case. As soon as this is done your iPhone will let you know that there is an app that you must download. This app is the iON Intelligence App. As seen in the picture above the app tracks how the power in your device is used and will let you know how much battery is left on your phone and on the reserve battery that is built into the case. It also predicts exactly what time your phone will shutdown due to no power left from either battery as well as how much time is left in total from both batteries.
When the power from your phones battery goes out the power from the reserve battery automatically will transfer to that reserve battery. I highly recommend that once the battery on your case has worn down to charge the case separately from the phone since it will charge the case a lot faster than trying to charge both your iPhone battery and the case battery at the same time which you can do if you choose since if you plug in the USB cable that came with the case it will charge your phone as well.
I highly recommend this case if you are like me and don't want to keep having to worry about charging your phone all the time. I was able to get about 10 hours of battery time by having both a fully charged phone and case however that all depends on how much you use your phone. So if you are looking for a great case that gives the best protection as well as a longer battery life the Defender Series with iON Intelligence is definitely the case for you.
We are influencers and brand affiliates.  This post contains affiliate links, most which go to Amazon and are Geo-Affiliate links to nearest Amazon store.
I've been writing and covering many forms of entertainment such as comedy shows, and arcade bars as well as reviewing video games and more for the past decade. I love to write and I am blessed to be able to have the opportunities that I have had in the entertainment and technology fields.