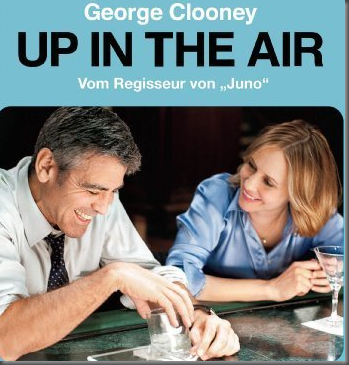 I saw the movie Up in the Air with George Clooney the other day and thought it was a very clever move by Jason Reitman about a professional "terminator" as in someone who flies around from company to company laying people off.  The movies showcases the psychology of someone who spends his entire life as a career frequent flier who ties themselves down with no commitments at all, no relationships, home, pets and barely even is known by his own siblings who consider him nonexistent in their lives.
The movie is filled with humanity and warmth and takes twists as a new young recruit at Ryan's Employer convinces management to change up the game by remotely firing people via video conference terminals instead of paying to fly people from company to company. This pushes Ryan outside his comfort zone and after making a strong argument the new recruit is assigned to shadow him for several terminations and gain experience doing them herself.
Along the way Ryan meets another frequent flyer named Alex Goran (played by Vera Formiga) and in a funny scene they practically have foreplay over discussing which loyalty programs and rewards they have collected from a variety of airlines, hotels and chains around the country.  The human element of the film starts to develop as George Clooneys character slowly realizes the isolation he is in and starts to fall in love and this destabilizes what he has known and what philosophy he has followed for so long.
This film has a clever mixture of comedic moments with drama, and some seriously sad ones mixed in that blend so well with the film that the entire film feels so "human" and shows that life is full of mistakes, regrets, choices and lifestyles.  I thought this film was very good and had fine acting performance by George Clooney and Jason Bateman as his boss.   Also, J.K. Simmons has a funny cameo role as one employee who gets terminated.
[xrr label= "Up in the Air" rating=4/5]
[youtube width="555″ height="261″]http://www.youtube.com/watch?v=hnrDgLs8fQo&feature=related[/youtube]
[easyazon_block asin="B00337KM2S"]