We are influencers and brand affiliates.  This post contains affiliate links, most which go to Amazon and are Geo-Affiliate links to nearest Amazon store.
Hey Guys,
While my video and picture quality on my reviews have been decent, at least I think so we have decided to give you guys much better quality of both.  With that said we purchased the Samsung WB250F.  I will list the specifications below; I will list the main ones, not all of them because you would be scrolling for a while.
Specifications
Effective Pixel: Approx. 14.2 Mega pixels
Total Pixel: Approx. 16.4 Mega pixels
Recording* Smart Movie: Landscape, Blue Sky, Natural Green, Sunset * Movie Size : 1920 x 1080 (30fps), 1280 x 720 (30fps), 640 x 480 (30fps), 320 x 240 (30fps), 240 web * 18x optical zoom (Max. recording time : 20min) * Audio : Sound Alive On / Sound Alive Off / Mute * Dual Capture (Movie 1080p@30pfs & Still 2Mpixels)
Rechargeable battery: SLB-10A Connector Type: micro USB (5 pin) (300 shots)
Optical Zoom: 18x Optical Zoom
Digital Zoom: Still Image mode : 1x ~ 5x (Optical * Digital : 90x), Intelli-Zoom : 2x (Optical * Itelli : 36x)
Display Type: TFT LCD(C-Type Touch)
Size: 75mm (3″), 460K dots
Dimension: (WxHxD) 106.05 x 61.65 x 21.65 (32.6) mm
Internal memory: Approximately 9.5MB External Memory : SDSC (up to 2GB guaranteed), SDHC (up to 32GB guaranteed), SDXC (up to 64GB guaranteed)
File Format* Still Image: JPEG (DCF), EXIF 2.21 * Movie Clip: MP4 (Video : MPEG4, AVC / H.264, Audio : AAC)
Image Size14M: 4320 x 3240 12M P : 4320 x 2880 10M W : 4320 x 2432 10M : 3648 x 2736 8M (1:1) : 2832 x 2832 5M : 2592 x 1944 3M : 1984 x 1488 2M W : 1920 x 1080 1M : 1024 x 768
Shutter SpeedSmart  Auto: 1/8 ~ 1/2000 sec., Program : 1 ~ 1/2000 sec., Manual : 16 ~ 1/2000 sec.
Metering System Multi, Spot, Centre-weighted, Face Detection AE
Control Program AE, Aperture Priority AE, Shutter Priority AE, Manual Exposure
$117.95 on Amazon at the time of the review.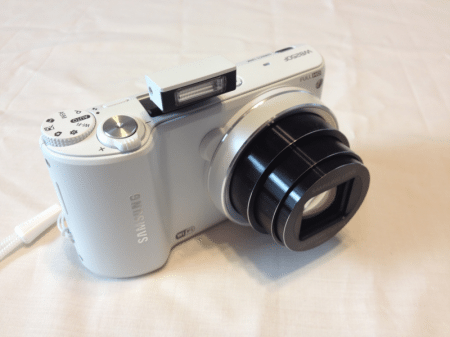 You can also check out the Samsung WB250f camera here and it is incredible for the price!
Check out my unboxing of this little guy.
Taking this camera out of the box, the plastic felt very dull, and the white is not a sexy white, just a dull white but the camera makes up for its looks by throwing very nice features at you, mentioned above and in more detail below.
The 18X optical photo and video zoom is amazing, and matching that with the 14.2MP you can actually use Digital Zoom with little to no degradation in photo quality.  The specs mentioned previously state a digital zoom of 90x, although the highest I could get was 36x, still very nice as you can see in the following pictures.
Check out a few photos' I took with this Optical and Digital zoom, also note the color quality.
For this shot, I was standing on my porch and noticed a Squirrel running across the street and it made a dash into the trees.  I wanted to get a good shot and zoomed in all the way, using digital zoom and as you can see I got his tail and some of this leg as he was climbing a tree.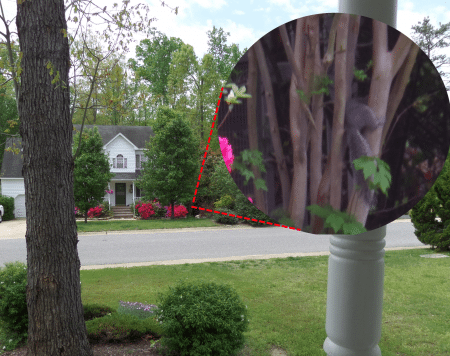 For this shot, a little blurry but with no digital zoom but it was a bit windy so it was very hard to keep a steady shot.  I saw this little guy as I was walking in to work the day after I received this camera and thought it was a great idea to take a pic.  I have never seen anything like it, but I didn't want to get too near it, I didn't want it jumping at my face doing who knows what.  So I wanted to try the full zoom with digital zoom as well, check this out.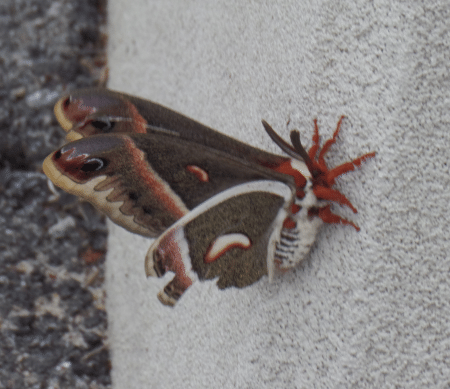 Zooming up gets me a little more confused.  I thought it had some fat legs, but with this level of detail you can see that they are actually very thin legs but it has tons of little hairs on its legs, truly beautiful.  It has 2 antennae that look like feathers, then the wings of a moth, the body of a fat bumble bee in monochrome with a splash of red, also looking a little like a spider but big enough to be a butterfly.  Does anyone know what this is?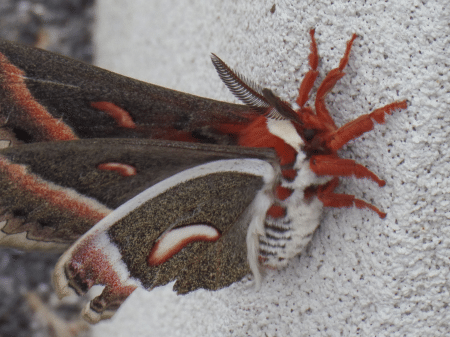 Just to give you an idea of the video quality and the zoom, check this out
I took this outside my house, facing my neighbor's house.  I placed Link on the ground, a 4 inch figure and I stood about 12 feet away and zoomed into him, with 18X optical zoom on video.  Aside from the great video and zoom quality, you will notice the sound of the motors moving while zooming.  I would think for this high of a zoom it is relatively normal being that this camera is so thin, there is only so far the motors can get away from the mic.
A camera that I was reviewing previous to this one (A Sony Bloggie MSH-TS10/B) which turned out to be defective clicked very loudly when recording video without even zooming, the auto focus was bad.  On this Samsung, everything seems to be good.
This is a little pond in my neighborhood, more of a run off but it is a nice little relaxing spot.
This camera can connect to your tablet and allows you to zoom, take pictures, with or without flash and change the picture quality from the tablet.  To add to that awesome feature, the camera allows you to see the image on the tablet, almost like a video although really choppy.  Check out the video about this
I thought this was one of the coolest features.  Although to use this feature I had to turn on my tablet and Google Samsung smart camera app as I did not see anywhere where to download, not even in the manual and the camera did not come with any disc.   Google brought me to Google Play store or 1Mobile as a 21.74MB download.
Once I installed and started the Samsung Smart Camera App on my tablet, it starts scanning for the camera.  While the tablet is scanning, turn on the camera and switch it to WiFi then click on Remote Viewfinder then it will scan and connect to the tablet.  This is a picture of what it looks like on the Google Play Store.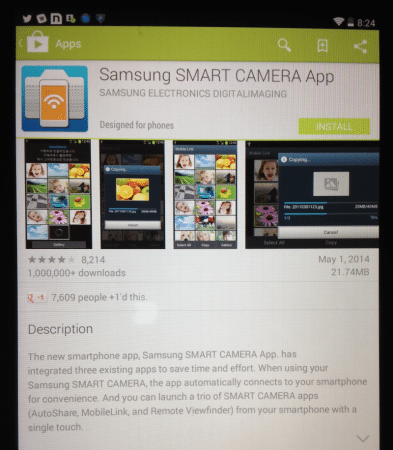 This camera, aside from the great specs listed above, 14.2MP and capable of recording video at 1080P along with its amazing 18x Optical zoom, can also email pictures by clicking the "Email" button.  I bet you would have never figured that one out.  Once clicked it will search for a wireless signal, then you would click on the router you are connecting through and type in your email, the receivers email and click send and in a few minutes the pictures are in your inbox.
When you email photos, it will lower the resolution of 4320 x 3240 to 1600 x 1200.  This is done to allow for most if not all emails to accept the image, although there is no alternative to this setting even if you can receive large in capacity emails.  The image before being emailed was 5,041KB (5Megs) and after being emailed was 533KB.  Most would think that coming from such a high resolution then dropping to such a low resolution there would be huge image loss, but there was little to no quality lost.  Check out my pics below.
This is the email coming in to my Hotmail, sorry guys had to blur out my email address.  I love you guys and everything, but I don't want everyone emailing me.  If you want to have a chat, you can always comment below, I get an email when you do.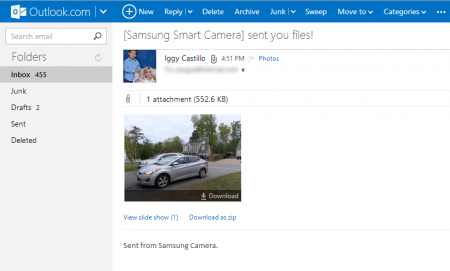 Here is the original image, (I blurred the license plates and street signs)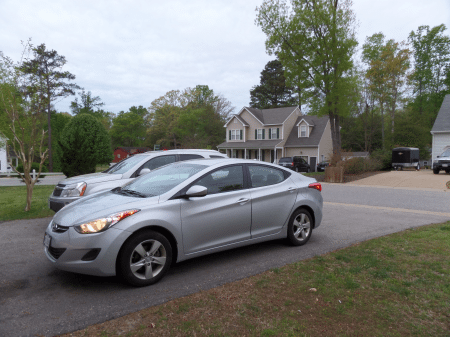 And here is the emailed photo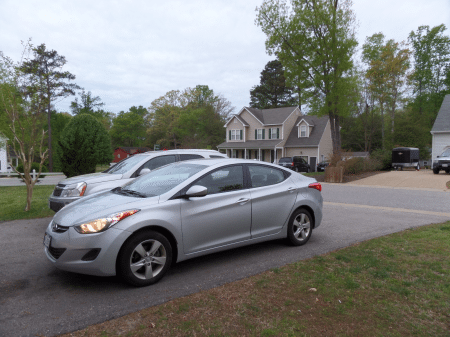 I apologize for the photo's, originally they were the size and resolution I had mentioned above but in order to preserve your bandwidth and keep your experience a good one, I had to lower the resolutions.  You may still be able to spot difference but even in the originals the only slight difference I did see was the color on the lower resolution photo was slightly more washed out, and I could only see that because I was squinting, very difficult to tell the difference.
When typing your email, the touch screen is very sensitive and very accurate; the technology behind this is called Hybrid Touch.  SmartPhones and the likes have auto correct for fat fingers, and misspellings, there does not seem to be a need for auto-correct on this, it seems to work very well.  If you misspell it you're on your own but it's not the on screen keyboards fault.
You can also upload images and videos to Facebook, Picasa, Youtube, Skydrive and Evernote but you will still be limited to the resolution of 1600×1200.  For these, all you need to do is set the camera to the "Wi-Fi" notch, then click "SNS & Cloud" and choose which social media outlet you desire and enter the email and password you normally use to login and then upload.
From the Wi-Fi selection you can also create and auto backup of your photos, where you would need to install the i-link software included within the camera's built in memory, then connect the camera through USB to the computer,  allowing you to transfer up to 1000 files.  From this menu you can also chose to use AllSharePlay, which allows you to store these files in Samsung's online storage and then also share the content from the camera through DLNA connected devices, a feature I could not test being that this is the only DLNA device I own.
DLNA stands for "Digital Living Network Alliance" and it is a standard developed by Sony for interoperability to enable sharing of digital media between multimedia devices such as TV's, Camera's, Tablets, etc.
While it's great that you can do all of this, I use the good old fashioned USB cable method, which it does bring although it is very short.  Also, if you have a large SD card you can fit plenty of pictures and videos and not have to move the pictures or videos for some time.  For this particular review and from now on I will be sporting a 64Gig SD card.  This is a 64Gig SDXC from PNY.
$44.94 on Amazon at the time of this review.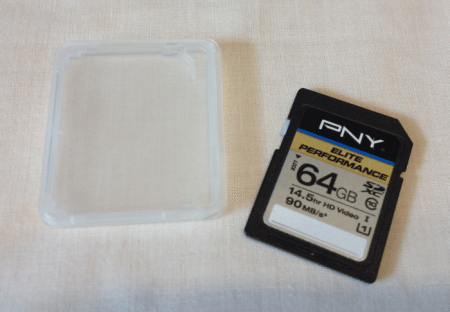 With all these great features and amazing quality both in pictures and video, I can say that I love this camera and I hope to bring you better reviews with it.
I also apologize for the heavy mouth breathing, its pollen season and we are getting hit hard here in Virginia, sorry about the pervy sound
Please let me know what you think and if you have any questions.
We are influencers and brand affiliates.  This post contains affiliate links, most which go to Amazon and are Geo-Affiliate links to nearest Amazon store.
I have spent many years in the PC boutique name space as Product Development Engineer for Alienware and later Dell through Alienware's acquisition and finally Velocity Micro. During these years I spent my time developing new configurations, products and technologies with companies such as AMD, Asus, Intel, Microsoft, NVIDIA and more. The Arts, Gaming, New & Old technologies drive my interests and passion. Now as my day job, I am an IT Manager but doing reviews on my time and my dime.