Intro
Video cards, one of the most wanted upgrades for any PC and tons of them keep getting released thankfully, each bigger and better than the previous.  Gamers will drool over the latest gaming GPU, as a gamer myself I loved the chance to get to review Sapphire's latest gen of AMD's GPU.  Today I bring you my review of the Sapphire Radeon NITRO+ RX 470 4GB GDDR5 OC  11256-01-20G.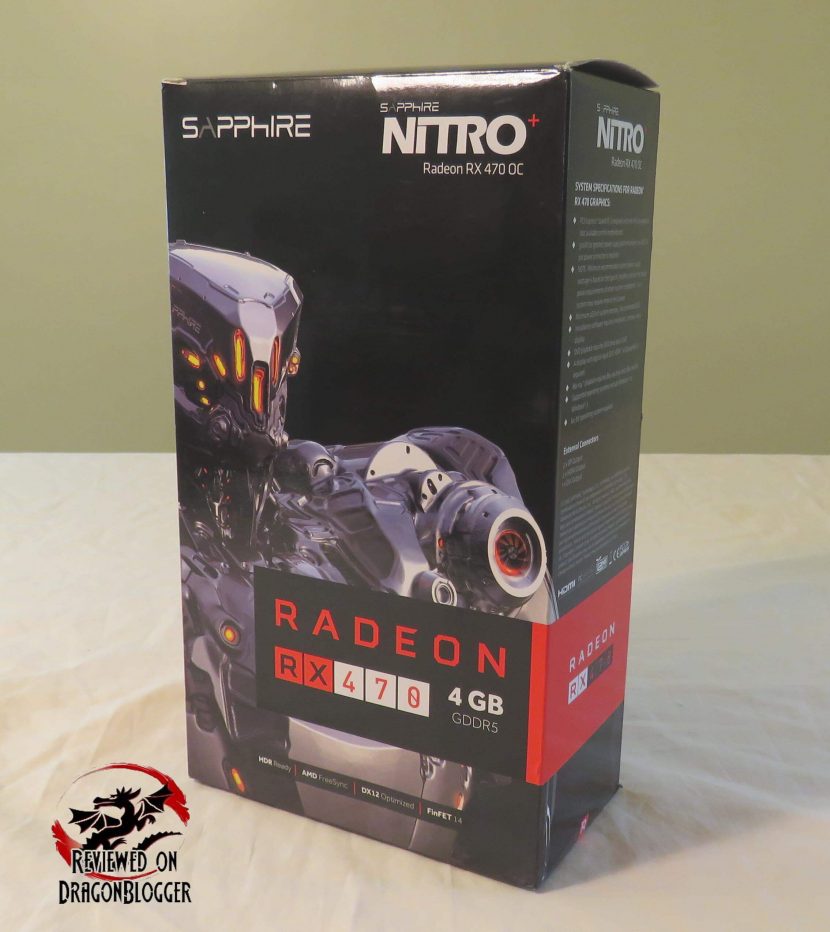 Before we get to the card itself, let's check out the specs.
Engine Base Clock: 1143Mhz

Engine Boost Clock: 1260Mhz (Always runs at this speed)

4,096MB GDDR5 256 bit RAM

1750Mhz

7000Mhz Effective Memory Frequency
2048 Stream Processors/Compute Shaders
5 Outputs Maximum

1 x DVI-D
2 x HDMI 2.0b
2 x DisplayPort 1.4
Resolutions Supported

3840×2160 Pixel DisplayPort Resolution
2560×1600 Pixel Dual Link DVI Resolution
3840×2160p HDMI Resolution
Supported API's:

OpenGL 4.5
OpenCL 2.0
DirectX 12
Shader Model 5.1
Vulkan 1.0
Support Features

AMD Crossfire (bridgeless)
AMD PowerTune
AMD ZeroCore Power
AMD Virtual Super Resolution (VSR)
AMD TrueAudio Next Technology
AMD Xconnect Ready
AMD Liquid VR
AMD Eyefinity
FreeSync Technology
Dobly TrueHD and DTS-HD Master Audio Support
DirectX 12 Optimized
High Dynamic Range (HDR) support
Frame Rate Target Control
10mm Heatpipe
16K Hours Capacitor
Black Diamond Chokes
Intelligent Fan Control III
NITRO Boost
NITRO GLOW RGB LED
NITRO Quick Connect System
VR Friendly
Dual BIOS
Dual-X 95mm fans
NITRO Free Flow
NITRO Fan Safe and Fan Health Check
Power Consumption: 175Watts
System Requirements

500 Watt Power Supply
PCI Express 2.0 or higher x16 lane slot
1 x 8-Pin PCI-E connection
CD/DVD-ROM drive for Driver Installation (optional)
Windows 10, 8.1, 8 or 7

Form Factor

2 PCI Slot's
Length: 9.44in
Width: 4.72in
Depth: 1.66in
Sorry, I know that was a lot of info but I had to get it out.  Check out the unboxing and overview of the Sapphire Radeon NITRO+ RX470 4GB GDDR5 OC.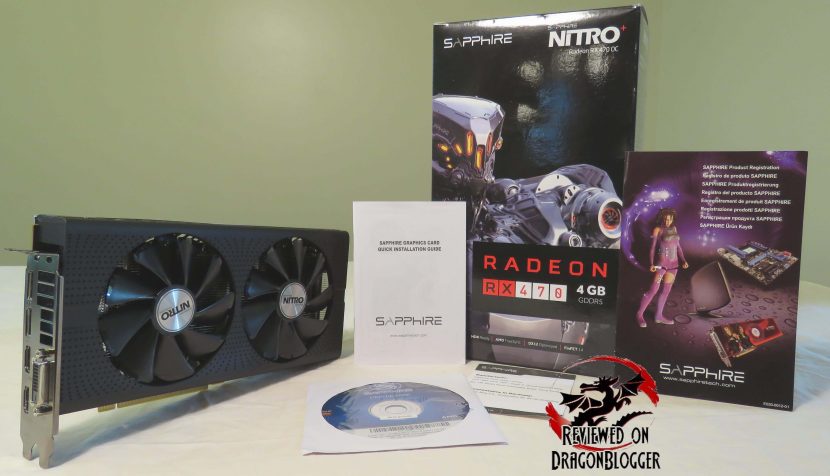 You are able to connect up to 5 monitors simultaneously, 1 x DVI-D, 2 x Display Port 1.4 and 2 x HDMI 2.0b.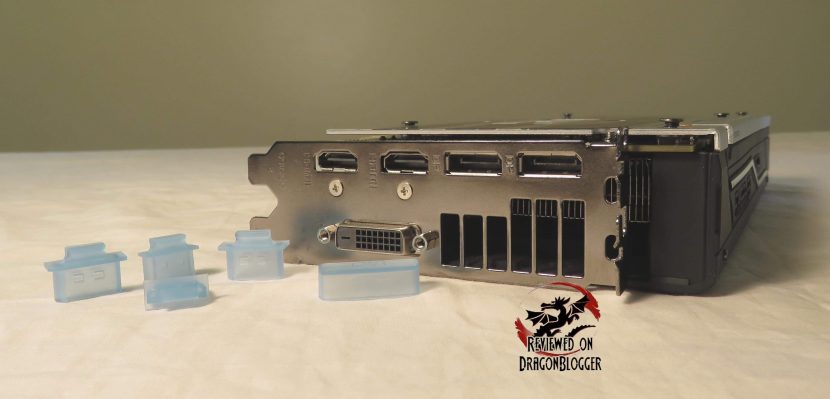 Yup, all 5 of those ports can be used at the same time, 1 x DVI-D, 2 x HDMI and 2 x Display Port.  I know that DVI is an older standard now, but it's great that they still allow you to connect to it.  Actually I just moved one of my monitors from DVI to HDMI 2 months ago, that way you don't have to spend extra money and waste extra time when you order the card to find out your monitor can't support it.
This is important because as you may or may not have seen in the unboxing video, this card does not include any sort of adapter to connect monitors.
Aside from the card, the package include a few other things.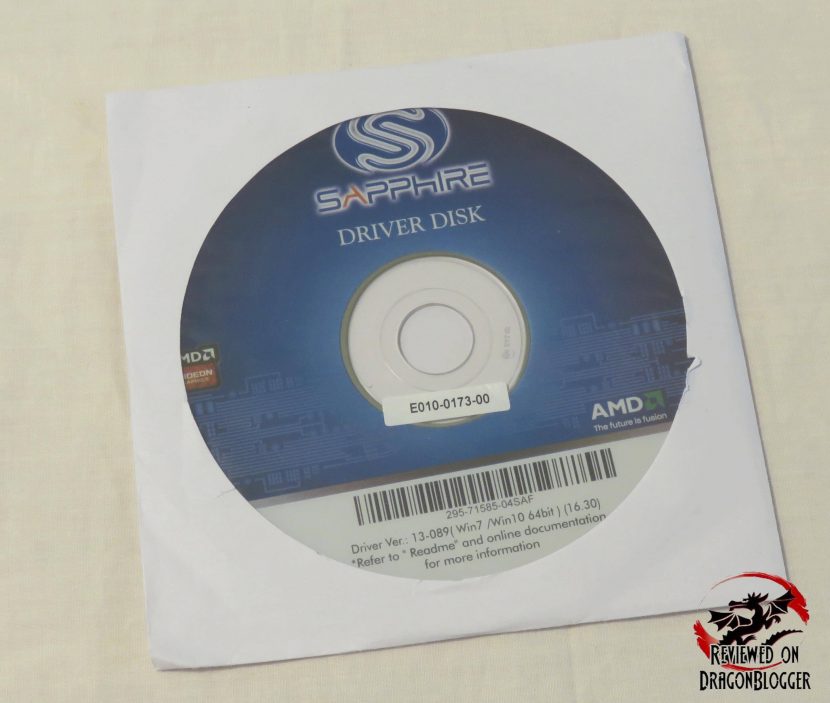 It includes the Drivers disk, which unless you do not have access to the internet, I would recommend you do not use.  The drivers on the disk are already outdated the minute they print this disk, I would always recommend going to http://www.amd.com and download the latest drivers.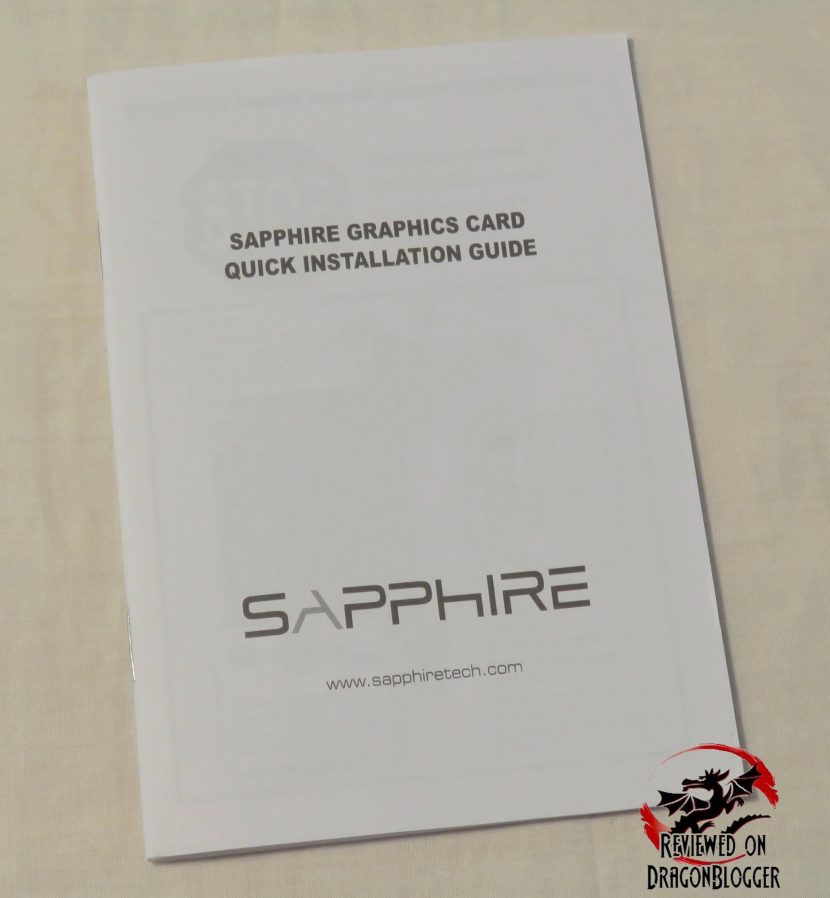 Also included is the "Sapphire Graphics Card Quick Installation Guide" which goes over the installation of this card, but it is amazingly generic.  Don't worry though, if you don't know how to install a video card, I will show you in great detail very soon.
This leaflet comes in there as well.  It basically just states the manufacturer of the card, their address and representative in Germany, nothing more.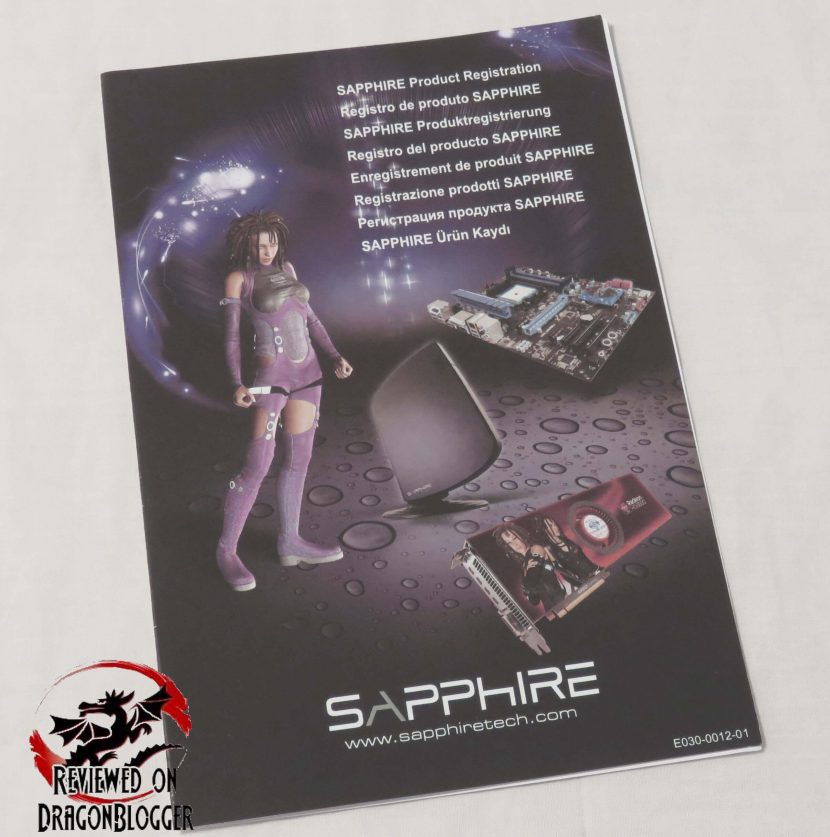 And finally, the product registration card.  This pamphlet has some information on registering and the serial number of the card.
OK, so let's get to a little more detail on the card itself.
I have spent many years in the PC boutique name space as Product Development Engineer for Alienware and later Dell through Alienware's acquisition and finally Velocity Micro. During these years I spent my time developing new configurations, products and technologies with companies such as AMD, Asus, Intel, Microsoft, NVIDIA and more. The Arts, Gaming, New & Old technologies drive my interests and passion. Now as my day job, I am an IT Manager but doing reviews on my time and my dime.