Running an email mailing list is an expense that nearly all internet stores and brands have to deal with and even with the extremely affordable rates of brevo compared to some email mailing list providers you still end up paying a lot per year, especially if you use a dedicated IP address and all the fancy features you can get with an email platform online.  One of the biggest ways to save money and prevent you from paying for a plan that is more expensive than you need is to cull your contact list to remove contacts who are never engaged from your email newsletters and simply are just using up your contact list limit and your email play.  As most email providers have a certain cost for sending out emails per month, you can get a ton of email sign ups and zero net value or return on investment on some of those emails.  This is especially true if you run giveaways for products or stuff and people subscribe to your email newsletter as part of a giveaway only to never click on or read any email newsletter or update you ever send out.

Unless you are getting a lot of loyal customers or subscribers to your email newsletter you can see low open rates of under <15% for newsletters or email campaigns. To handle this situation it is good to refresh or empty your contact list of all but active contacts.  There are a few ways to do this, one is more active than the other.
Create a Dedicated Email Blast to Ask People to Confirm Subscription
Simply design a single newsletter blast that asks people if they want to remain active in your email newsletter, remind them of the perks and ask them to confirm they want to remain part of the email newsletter by clicking a link to confirm.  Let this campaign send and sit for up to a week or two and then you can create a filter that allows you to separate out and purge emails that did not respond to this newsletter, but this is a very aggressive form of contact list purging and may wipe out too many emails as not everyone will care to respond and volunteer to stay subscribed to an email newsletter.
Purge Email Non-Openers for a date range or entire period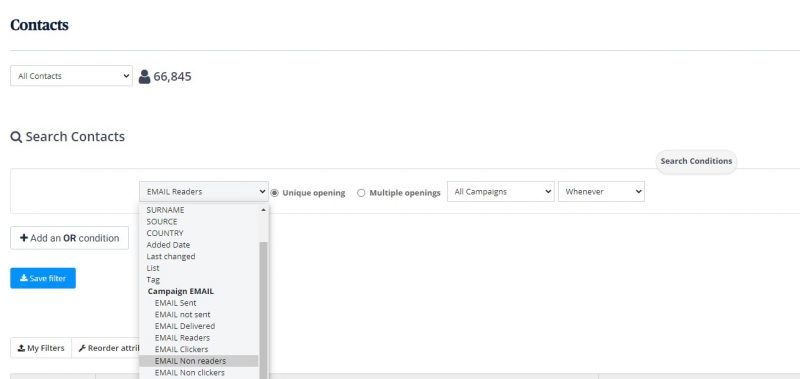 In brevo in the contacts list you can enable advanced filters, and set search conditions to help filter your contacts list.  One thing you could select is EMAIL Non readers which are subscribers who have never clicked on your email at all to even read it when it arrived in their inboxes.  This means your emails either ended up in junk folder or spam folder, or they simply deleted them without ever opening them.  You can then select the time period between 2 days, or simply the entire length of your campaign, the longer the range the less people you are likely to pick up. If you select only non-readers of your past 2-3 emails you will have a lot more people likely to wipe out than if you say all time and include every email you sent for several years in that bucket.  If you do want to purge anyone who hasn't read your email in the past 1 year for example you can do that.  You can also choose between a single opening or people who have multiple openings and target specific campaigns.  You can layer filters as well based on any fields that you collect in your email sign up and your mailing list platform.
Once you decide on the range and pool of emails you want to purge from your contact list make sure that you "delete" them and not blacklist them, deleting emails will give them the chance to re-subscribe again but blacklisting will still show the contacts in your email distro list though it will never send emails to people who are blacklisted.  This gives you a false impression on the number of emails subscribed at a glance because you will see total including blacklisted emails (self and manually blacklisted) unless you create a filter to remove seeing blacklisted emails in contacts.  So I generally prefer to delete vs blacklist, if users deliberately blacklist themselves, then I will leave it blacklisted but when I purge emails to make room in my mailing list plans, I delete vs blacklist as they can always choose to re-subscribe again during a later giveaway.
If you have an email plan where your # of contacts is very close to your email send limit in a month you may not be getting enough ROI out of your email plan without culling emails that never open and just take up email spots reducing how many emails you can generate and stay within your plan limits.  I still leverage brevo as my preferred email mailing list provider for many years now because of the excellent tools and analytics you get with each newsletter as well as the easy to use email newsletter templates and ability to clone and use your previous newsletter as a starting template.
But even though brevo is one of the best and lowest cost options out there, it still costs money per month to run a mailing list with 50,000+ emails and sometimes you have to optimize and the number of contact emails in brevo to help become more efficient and leverage your email plan better.

I have been obsessed with computers, tech, gadgets and games since the early 1980's having grown up on the Commodore 64 and Amiga computers.
By day I work in the IT Security Industry and have been in IT for over 20 years. On my spare time I am a Vlogger, Blogger, Streamer, Gadget Reviewer, affiliate marketer, influencer and entertainer. I am also an avid movie fan, TV Show fan, Anime fan, video game fan and fan of trying anything and everything new.