We are influencers and brand affiliates.  This post contains affiliate links, most which go to Amazon and are Geo-Affiliate links to nearest Amazon store.
For those of you who know me, you know I started this blog in 2008 originally as a means to bring entertainment and my love of tech, gadgets and video games to an audience but also as a way to make a part time income online to supplement my full time job.  I didn't have visions of grandeur thinking I could become wealthy enough to quit my day job with blogging, but over the past 10 years I was able to carve out a relatively stable method of making $10,000 to $15,000 per year by running a part time blog about 20-25 hours per week.  The best part about this is that I was able to do this at nights/weekends and queue work in advance so I had content being delivered everyday even though I only actually worked 2-3 days per week creating the content.  I have a whole make money online page that detailed many of the programs I have used since I started blogging, but this article will talk about the ways I have earned in 2018 and I foresee earning income online in 2019 that other people may wish to pursue and summarize them.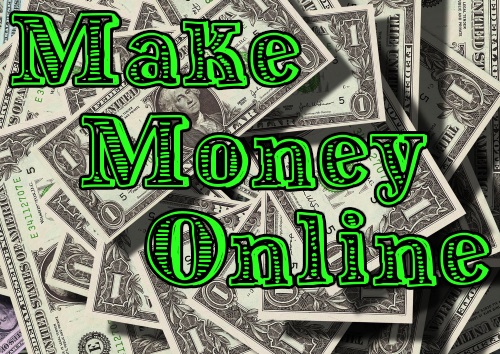 Become a Blogger or Run Social Media Channels (Instagram, Pinterest, Facebook Fanpages…etc)
This isn't as easy as it sounds, while anyone can become a blogger leveraging Medium, WordPress, Tumblr, and other blogging platform there is no easy way to make money being a blogger at first if you don't have a following and a readership.  Social media and Video platforms now dominate compared to traditional blogs and even if you do become a blogger or expand your blogging into where you are monetizing then I would highly suggest you augment it with social media and video channels.  Note you can simply spawn off Facebook fanpages and Twitter pages devoted to affiliate earning as well, you don't even need to run a blog.  I have several Facebook fanpages that have nothing to do with this site and earn purely by referring out specific products in the related niche for example.
Ways to Monetize
*Ads – These could include any type of banner ads like Google Adsense, Selling ads with BuySellAds (requires your site have a lot of views per month already) or sell your banner ad space yourself.  This is passive income and you get earnings per number of impressions or views of the ads with increased income if there is any CTR (Click Through) from the banners.  This is among the most passive and works well for a small passive income if you already have a fair amount of readership per your blog, it is not uncommon to get around $100 per month for a blog with 25,000 – 40,000 views per month in just passive banner income if you have decent banner placement and multiple methods.  If you are running a YouTube Channel and meet the requirements around views and channel subs you can also monetize your YouTube channel and earn revenue from video ads that play on your videos.  If your Facebook fanpage meets certain criteria as well you can get Facebook ad monetization on your fanpages and Facebook videos you upload to Facebook as well and earn that way.
*Affiliate Sales – This could be Amazon Affiliate, Gearbest Affiliate, MagicLinks (If they accept you), CJ, ShareASale or any other partner or affiliate program where you get a percentage of the sale of the item you refer.  This is done by a tracking link being provided so if someone clicks on the link from your blog/site you make money off of the sale, you don't earn from clicks only if it leads to a sale.  Amazon and some programs leave a cookie for 24 hours in the users browser so that if they purchase any product after clicking your link (even if not the product you were directly showcasing) you get a percentage of the sales commission.  This is a good income earner for my site and YouTube channels as we link to Amazon affiliate linked products we review in or descriptions and on social media. You also can run blog posts, and leverage Amazon banner ads which lead to sales commission as well but they won't give you CPM impression earnings like AdSense will.  Depending on your niche, specialty and how you are targeting there is good money to be made being an Amazon affiliate, you can see a copy of their current 2018 fee structure below to see what kind of % commission you get from types of products.  I won't like in recent years the cut in commission for electronics, tech and gadgets has dramatically lowered our Amazon affiliate income being in the tech blogging niche.
Amazon Table 1 – Fixed Standard Program Fee Rates for Specific Product Categories
| Product Category | Fixed Standard Program Fee Rates |
| --- | --- |
| Amazon Fashion Women's, Men's & Kids Private Label, Luxury Beauty, Amazon Coins | 10.00% |
| Furniture, Home, Home Improvement, Lawn & Garden, Pets Products, Pantry | 8.00% |
| Apparel, Amazon Cloud Cam Devices, Amazon Element Smart TV (with Fire TV), Amazon Fire TV Devices, Amazon Echo Devices, Ring Devices, Watches, Jewelry, Luggage, Shoes, Handbags & Accessories | 7.00% |
| Headphones, Beauty, Musical Instruments, Business & Industrial Supplies | 6.00% |
| Outdoors, Tools | 5.50% |
| Digital Music, Grocery, Physical Music, Handmade, Digital Videos | 5.00% |
| Physical Books, Health & Personal Care, Sports, Kitchen, Automotive, Baby Products | 4.50% |
| Amazon Fire Tablet Devices, Dash Buttons, Amazon Kindle Devices | 4.00% |
| Amazon Fresh, Toys | 3.00% |
| PC, PC Components, DVD & Blu-Ray | 2.50% |
| Televisions, Digital Video Games | 2.00% |
| Physical Video Games & Video Game Consoles | 1.00% |
| Gift Cards; Wireless Service Plans; Alcoholic Beverages; Digital Kindle Products purchased as a subscription; Food prepared and delivered from a restaurant; Amazon Appstore, Prime Now, Amazon Pay Places, or Prime Wardrobe  Purchases | 0.00% |
| All Other Categories | 4.00% |
Note, you can clearly see the where the higher earnings potential is so remember if you haven't started a blog yet, better to choose and keep it to a targeted niche.
*Brand/Client Sponsorship – This generally is only an available option after your channels have reached a certain level of reputation, notice and views that brands are willing to work with you.  I would say if you can show a clear 10,000+ visits per day, or hundreds of engagement for Instagram posts, Facebook posts, thousands of views for a YouTube video then I would start reaching out to brands in your related niche directly and start looking for partnership. This can come in the form of simply receiving products/content in exchange for reviews or becoming an affiliate of specialized stores and brands directly.  An example of a brand sponsorship is we became a Netgear Brand Ambassador a few years back and continue to work closely with Netgear on proving reviews and tips on Netgear routers and devices.
Video Game Streamer
This is very specific for those who are looking to become the next Ninja or other major online streamer and dream of being able to make money online by just playing video games on Twitch, YouTube and whatnot.  There are some very important things to note here and that is that most people watch streamers not for the games, but for the streamer themselves.  Your personality, play style and engagement of the audience is a big factor, along with some luck and some marketing and putting yourself out there.  You need to have a very clean and consistent stream schedule that is clearly published so people know when to tune in, streaming isn't like uploading videos to YouTube you are an interactive online presence and you must be available and consistent in your schedule and engagement with the audience.  Once your each a certain criteria you can monetize your Twitch stream with ads, but you can also unlock people to subscribe and earn money every month by having subscribers who contribute to your success as a streamer.
Some people focus on a very specific game, others vary the game and make the stream about themselves.  Always make sure you have the best equipment such as microphone, headsets, and a way to keep your streamers engaged while streaming.  I consider this a very difficult niche to break into and make money online, but I see people do it and have a few friends on GamingTribe who stream and monetize their Twitch channels so it is very viable.
Patreon
If you are an artist or content creator, then Patreon is a very viable way to have fans donate and subscribe to your work and earn money from being able to continue to create content.  This could be creating illustrations, comic books, video games, or just about anything that provides value to people who want it and want more.  Examples include Trese Brothers on Patreon who make the game Star Traders: Frontiers which is on Steam, they provide artwork, content and even allow Patreon subscribers at certain levels access to early alpha and vote on what they implement in their games.  Another example is MorePurpleMoreBetter on Patreon who makes custom Dungeons and Dragons 5e Character sheets that have incredible quality and functionality and currently has around $5,000+ per month pledged from subscribers to continue his efforts to improve and make better MPMB's Character Record Sheets.  There are people who use Patreon to fund their passion for CGI animation, creating board games and card games, producing podcasts and so much more.
Online Casino and Mobile Casino Games
This article does not condone or endorse online gaming and it is not a method of making money online that pays off with hard work and actual earnings and growth based on the amount of effort, time, labor and potentially skill and marketing you put into it.  But people do play casino games online and win real money and they do this even though an Internet gaming company or online casino maybe illegal from their country by leveraging a VPN to make their Internet connection come from another geographic location online.  Several people in the United States for example will proxy through a VPN to access one of the best online casino's in Canada for example.  Now the key with online casino's is consider it like gaming, you are spending money for entertainment, go in with a budget, and if you lose it consider it like you went to the movies or spent it on a video game, you are paying for the entertainment of gambling.  If you happen to win money, quit while you are ahead and consider it a bonus, but be responsible and do not gamble more than you can afford to lose.
In Summary
These are only a handful of ways I can come up with, there are thousands of more ways to make money online including becoming a freelancer with ODesk or Freelancer.com if you have programming skills, to so many other ways.  Finally there is always creating your own eBook or books and self publishing on Amazon KDP or selling your own products/services as a way to earn income online as an entrepreneur.  Really the sky is the limit with the Internet, it does start with the foundation of a solid idea, a passion, a lot of research, marketing, promotion and building a fanbase and like it or not, there is a great deal of luck involved too, some people will just say "follow this plan" or "that plan" to get rich online, but most people achieve a certain level of success simply being at the right place at the right time and there is no way to replicate with a step by step process simply put.
Feel free to share your thoughts and any ideas, questions and I am more than happy to help you out if I can.
We are influencers and brand affiliates.  This post contains affiliate links, most which go to Amazon and are Geo-Affiliate links to nearest Amazon store.
I have been obsessed with computers, tech, gadgets and games since the early 1980's having grown up on the Commodore 64 and Amiga computers.
By day I work in the IT Security Industry and have been in IT for over 20 years. On my spare time I am a Vlogger, Blogger, Streamer, Gadget Reviewer, affiliate marketer, influencer and entertainer. I am also an avid movie fan, TV Show fan, Anime fan, video game fan and fan of trying anything and everything new.