We had just finished the review of the Sharkk Boombox Speaker system which is the most impressive Bluetooth speaker system pair we have reviewed here so far.  Now Sharkk and DragonBlogger wanted to give readers a chance to win a pair of these incredible Bluetooth Speakers.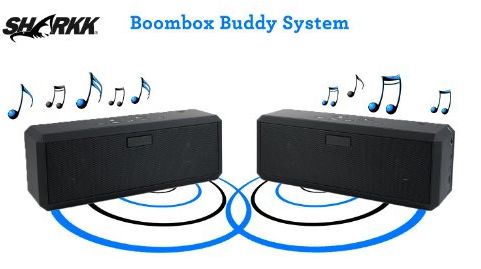 Remember with the Sharkk Boombox Buddy System you are getting 2 speakers that when paired give you Left and Right channels.  These speakers are powerful enough to fill your room or even provide enough sound for a backyard so that you can enjoy your Music, Movies and TV Shows with amazing sound from this much portability.  They also work as a speakerphone if you wanted to have an in room conference call and use them to talk as well.    They have 18 hours of play time with their 4400mAh high-capacity batteries and it comes with the cables and carrying equipment for both speakers.
Enter for your Chance to Win
Sharkk Boombox Buddy Speaker System Giveaway

Remember to thank our sponsoring brand Sharkk for partnering with us to offer this amazing giveaway!
And if you want to read the full review, you can read the full review of the Sharkk Boombox Buddy Speaker System here.