We have done multiple internal SSD reviews and even a dual interface SSD review, but we don't often get the chance to review a portable SSD. But thanks to our friends over at Silicon Power, today we will be looking at their Bolt B80 120GB Portable SSD.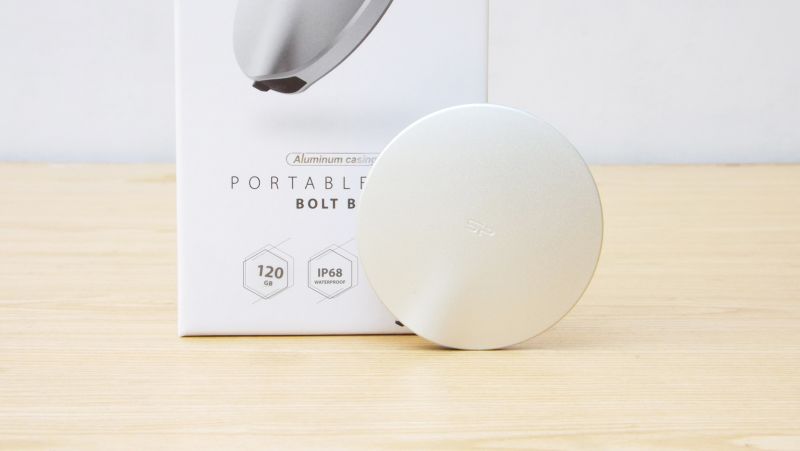 The Silicon Power Bolt B80, as mentioned above, is a portable SSD, and the very first one from Silicon Power at that. It features a circular UFO-inspired shape and an aluminum body with a silver matte finish. It is also IP68 rated and military grade shock resistant. And it is available in 120GB, 240GB and 480GB capacities.
Silicon Power might be a new name for our readers as this is the first time a Silicon Power product is featured on our website. But by no means are they new to the storage market. Silicon Power was founded back in 2003 and have a huge catalog of storage devices including internal SSDs, M.2 SSDs, Portable HDDs, USBs, RAMs and more.
Silicon Power Bolt B80 Unboxing:
Silicon Power Bolt B80 Closer Look:
I'm pretty sure you've seen what the Silicon Power Bolt B80 SSD looks like up close in the unboxing video. But let's check out some close-up pictures of the SSD and find out if we missed anything.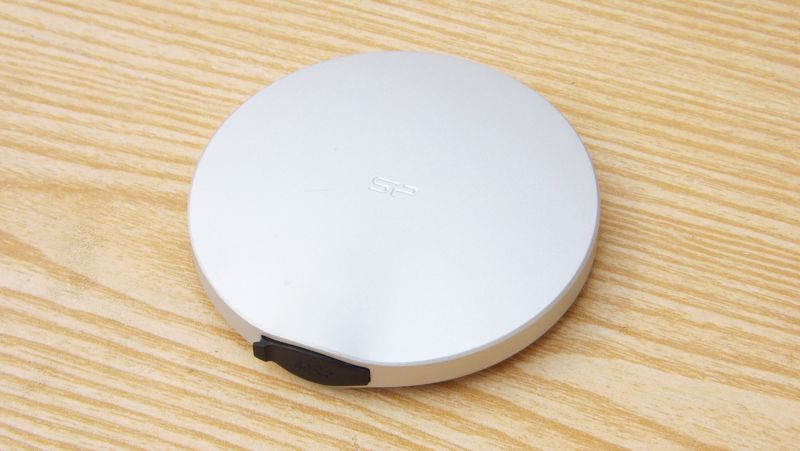 So the Silicon Power Bolt B80 SSD features a circular UFO inspired shape rather than the standard rectangular shape. It features a matte silver design. And there's an SP logo in the middle on the front. Pretty neat presentation in my opinion.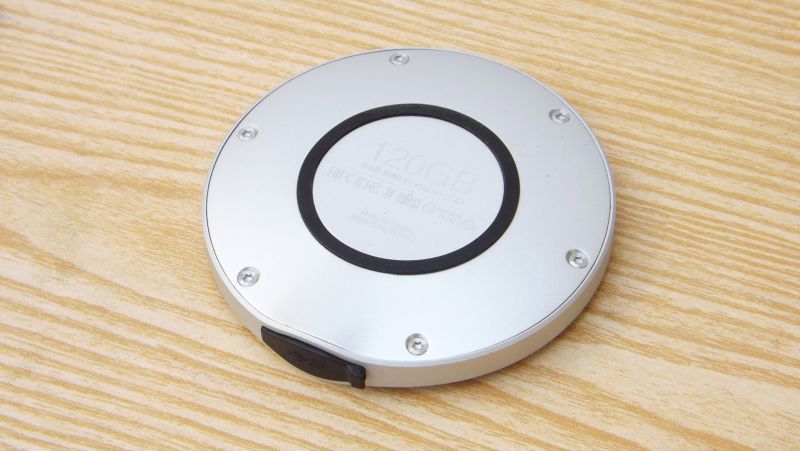 At the back, we have a rubber ring in the middle that acts like a foot. So in case if you have the SSD set up on a desk on its bottom, it won't move easily. Also, inside the rubber ring, we have some details mentioned like the model capacity, name, certifications, and country it's made in. And around the outer circle, we have 6x screws holding the SSD chassis together.
At one end of the SSD, we have a rubber cover hiding the USB Type-C port from dust and water.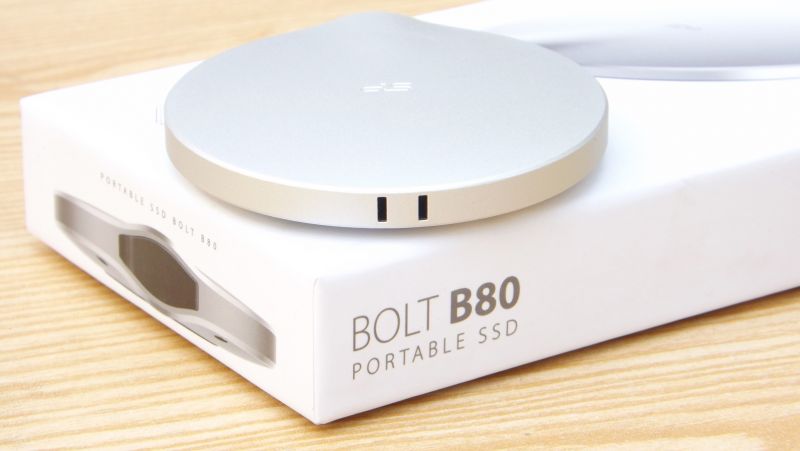 And at another end, we have two cuts on the chassis so you can attach a thread—–
We do get a USB Type-C to Type-A cable since most people are still using PCs that only have USB Type-A ports. So one end goes to the portable SSD and one end to the PC. The Cable is braided but only about 30cm in length. This might be a good or bad thing depending on use case. And it features a same body finish on the ends as that of the SSD.
Silicon Power Bolt B80 Specification:
| | |
| --- | --- |
| Cable | Type-C (B80) to Type-A (PC/NB) |
| Capacity | 120GB, 240GB, 480GB |
| Dimensions | 75.0 x 75.0 x 11.9mm |
| Weight | 53g |
| Material | Aluminum |
| Color | Silver |
| Interface | USB 3.1 Gen 2 / USB 3.1 Gen1 / USB 3.0, USB 2.0 compatible |
| Performance Read(max.) | 500MB/s |
| Performance Write(max.) | 450MB/s |
| Supported OS | Windows 10/8.1/8/7/Vista/XP, Mac OS 10.5.x or later, Linux 2.6.31 or later |
| Operating Temperature | 0℃-70℃ |
| Certification | CE/FCC/BSMI/Green dot/WEEE/RoHS/EAC/KCC/RCM |
| Warranty | 3 years |
Testing Rig:
Testing Methodology:
Our methodology for the Bolt B80 is pretty simple. You don't need to initialize the SSD like in most cases. It comes formatted, but in FAT32 format, so you might want to re-format it in NTFS.
Once we had formatted the SSD in NTFS, we tested the SSD speed with CrystalDiskMark 6.0 and AS SSD benchmarking tools. We ran the test multiple times and the numbers you'll see in the chart is the average value obtained after adding the values from all tests and dividing them by the number of test runs.
Other than the synthetic benchmarks, we also ran a real world test on the Silicon Power Bolt B80. This test includes a Seagate Barracuda 1TB 7200RPM HDD, ADATA XPG SX8000 256GB NVMe SSD and two sets of files. One set is a mixture of random small files with maximum size no more than 375MB. The total capacity of this set was 10.1GB with about 5109 files. The other set consisted of 6 large files with size no less than 1.5GB. This set had a size of 10.5GB.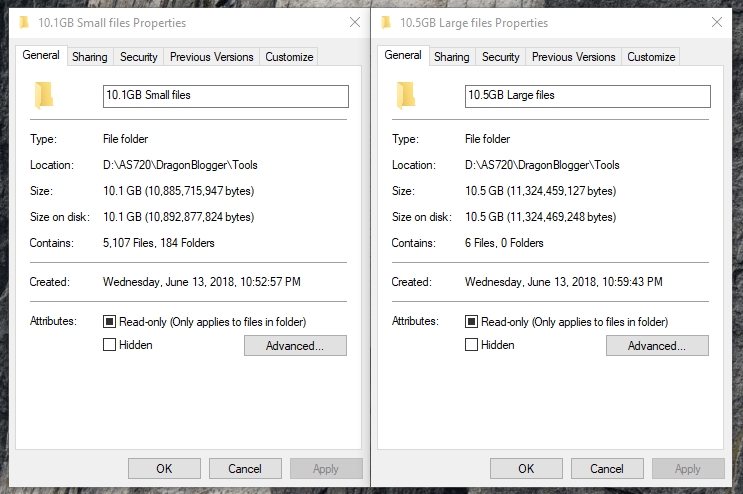 The test process included copying these files to the Bolt B80 from the XPG SX8000 256GB NVMe SSD and Seagate Barracuda 1TB HDD, and then from the portable SSD to the NVMe SSD and HDD. The time to copy the files was monitor via a physical stopwatch. The average speed was taken by dividing the folder size by time taken to copy the folder. Do note that this test is also using two other storage devices which can bottleneck the performance of the portable SSD. Hence we are also using an NVMe SSD to minimize the chances of that.
Silicon Power Bolt B80 Benchmarks:
So in AS SSD benchmark, the Silicon Power Bolt B80 was able to score 390.73 MB/s write and 480.36 MB/s sequential read speed. While the results in other tests also look good.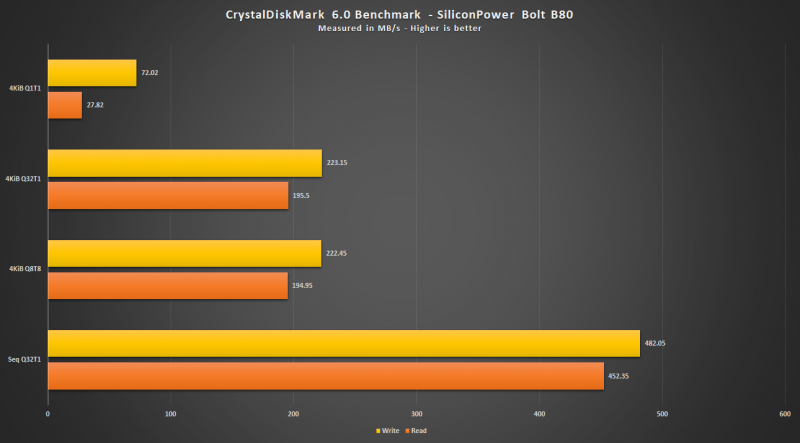 Whereas the CrystalDiskMark 6.0 benchmarking tool reports better sequential read/write speed at 452.35 MB/s and 482.05 MB/s respectively. So let's get a better picture of the speed without real-world test scenario.
So starting with the small files set, we were able to move 10.1GB of data from the HDD to Bolt B80 in 153 seconds and back in 126 seconds. This equates to 71.148MB/s and 86.394MB/s respectively. But when we threw the NVMe into the mix, our time decreased significantly. This time the data transferred from the NVMe to Bolt B80 in 58 seconds and back in 39 seconds. This equates to 119.623MB/s and 170.089MB/s respectively. What this tells us is that these are the average speed that you can expect when you're moving software or other smaller files to/from the Bolt B80 to the type of storage device.
Moving to larger files, we see some big improvements, especially when dealing with the NVMe SSD. We were able to move 6 files worth 10.5GB from the HDD to Bolt B80 in 95 seconds and back in 85 seconds. This equates to 119.204MB/s and 133.228MB/s respectively. And when moving the data to/from NVMe SSD, It took 58 seconds to move the data from the NVMe SSD to Bolt B80 and only 39 seconds to move it back. Which equates to 195.249 MB/s and 290.37 MB/s respectively. From this test, you can get a better idea of what speed you can expect when moving 720-1080P video clips or large data to the storage media type.
Conclusion:
The Bolt B80 is Silicon Power's first take on a portable SSD and they seem to have done well. They are by no means new to the storage device market and have a wide range of storage devices in their basket. So their years of experience must have helped out a lot in the designing of this product.
What makes Bolt B80 stand out from most of the other portable SSD is that it is IP68 rated. At only 53grams and 11.9mm thickness, it can take a beating from up to 1.22 meters high, is splash proof and also dust proof. This gives a little peace of mind carrying this SSD here and there frequently without much worry. Also, the design of the SSD is somewhat attractive and elegant. This looks like something you would want to have connected to your laptop in office (just painting a picture of what I mean).
When it comes to speed, we were able to cross 450MB/s in sequential read and 400MB/s in sequential write speed in both of our benchmarks. And when it comes to some real-world testing, we also managed to squeeze out 120-170 MB/s read/write speed in small file tests while 200-290MB/s in the large file set. So moving data quickly isn't an issue with the Silicon Power's Bolt B80.
But what about the price? Is it worth buying? Well, I wasn't able to find the product listed on either Amazon or Newegg, but I did find it listed on Amazon.co.uk for £82.48 which is equal to $108.78 more or less. In the USA, it should be around the same price. At this price point, you can easily find a 240-256GB SATA SSD and some other portable SSDs are also available under this price range. But those portable SSDs lack the IP68 rating and aren't military grade shock resistant. But even with those perks, the price point of Bolt B80 seems a little high.
No doubt, the Silicon Power Bolt B80 is a great performer and the IP68 rating and shock resistance are and will always be a welcome feature. But all those features don't come cheap I guess. At $108.78, I'd rather recommend looking at more options if you're not in the market for a portable SSD with an IP68 rating, or the best performance or just want to save some bucks but still want a Portable SSD. But if those are exactly the features you're in the market for, I guess the Silicon Power Bolt B80 is what you have in line. If you were able to find this on a sale somewhere, give it a go, you won't be disappointed.
So in the end, I would like to give the Silicon Power Bolt B80 our 9.0 Editor's Award.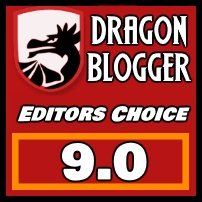 [P_REVIEW post_id=1078639 visual='full']
Hi, I'm Ahmed Kazim and I've been a gaming freak since like 7-8. I'm also a geek-o-nerd who keeps looking around for latest development in hardware/tech/gadget industries so expect some quick news from me. I'm also interested in anime (Japanese animation) and can't stand a day without music and gaming.