This week I ran across a streamer playing beautiful indie platformer Ori and the Blind Forest and I ran across his stream completely by accident while trying to sort out some issues with my Mixer account and my revoked stream key.  I spent some time watching him play and engage his audience and then decided I wanted to interview Hype from IsMeHype for my next streamer spotlight.   So without further distraction, here is my interview with IsMeHype.


Justin – Tell our readers about yourself and what you are all about!

Hype – Hey! My name's Brad but I go by Hype online. I currently live in the UK and my life pretty much revolves around video games. I am currently pursuing a career in community management within the gaming industry!
Justin – Oh nice, community management and congrats for pursing working in the game industry. When did you first realize you wanted to start streaming and when did you first start? (This can be in character)
Hype – I was still in college studying game design and I wanted to get a better understanding of gaming communities and community management. so I started streaming in 2017 and have kept on going because of the awesome people I have met along the way.
Justin – What streaming platforms do you go live on most often (Twitch/Mixer/YouTube…etc)?
Hype – I stream exclusively on Mixer! I started out on Twitch but after a year and a half I began to look into other options to show off my content. Mixer gave me a much better feel of community and more tools to connect with my viewers. everyone on Mixer has been super supportive since I made the switch and I want to provide the same experience for people new to the platform
Justin – Follow up question, what do you mean by more tools to connect with my viewers?  I am sure many of our Twitch readers will be curious to know.
Hype – Mixer's FTL Capability's allow my streams to have sub second delay to them so I can instantly respond to any viewers in the chat. to add to this, I can set up custom Mixplay buttons to give my community different and fun ways to interact with me an the streams.
Justin – What devices do you prefer to stream from? (Console, PC…etc)
Hype – I stream mainly PC games but I am always looking into ways to bring other platforms into the mix.
Justin – What is your preferred streaming hardware/PC/software setup (PC Specs)? (Webcam, Elgado Streamdeck, SLOBS/StreamElements…etc)
Hype– For streaming I use OBS Studio. as for my setup it's a little outdated these days and I will be looking to upgrade soon.
PC Specs:
CPU: Intel i7 6700k
GPU: NVIDIA GTX 1080 Founders edition
RAM: Asus 16Gb GDDR4
motherboard: Asus Z150-A
Keyboard: Corsair K55 RGB
Mouse: Corsair Harpoon RGB
Mic: RODE NT1-a
Justin – Not a bad setup, I am still streaming from a mobile 1060 GFX card laptop myself.  What is your short term goal < 3 months and long term goals with streaming?
Hype – My short term goal is to improve the overall quality of my streams by building a proper stream set and always change up my content. As far as long term goals go, I would love to become a Mixer partner and build a strong community of positive people who just want to hang out and have fun.
Streaming is also great experience for pursuing my career in community management. transitioning into the games industry is my main goal!
Justin – Yep, definitely learning how to manage a community on Discord, Mixer and from streams adds experience for sure.  Do you have any advice you give to other people wanting to get into streaming and entertainment?
Hype – Just have fun. don't focus on numbers and play what you like!
If you have consistency and a positive attitude it will be an enjoyable experience.
Get to know your fellow streamers! Network, and I don't mean go to their chat hoping to get something from them but create genuine friendships and get to know the person behind the screen.
Justin – Good advice about networking, it is about building friendships and what you can bring to others not just thinking about what others might be able to bring to you.  Where, When and What Can People Find You Streaming and What Can They Expect From Your Streams (types of games, unique entertainment style/games)?
Hype – You can find me over at mixer.com/IsMeHype every Wednesday-sunday usually starting at either 12PM or 8PM BST! I play all sorts of games but mainly focus on smaller indie titles. I have recently been playing The Sims 4 and attempting a 0 Death run for 'Ori and the Blind Forest.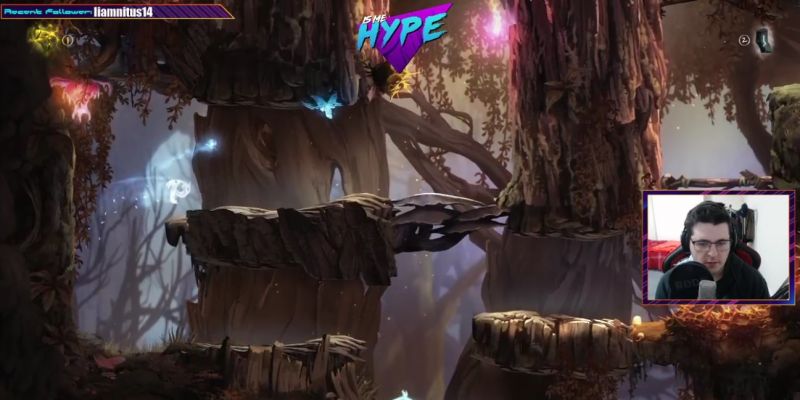 Justin – I noticed we tend to get more notice with indie titles that are less frequently streamed overall, sometimes you have to go outside the crowded games to get noticed.  Do You Want to Give Any Shoutouts or Promote Anything?
Hype – You can always follow me on twitter @IsMeHype and Instagram. And Shout out to my wonderful mods, Discord community and my girlfriend for keeping me motivated!
Justin – Thank you for taking the time to be interviewed, I look forward to running across you more on Mixer though I will admit most of my time is still spent on Twitch I am getting more and more curious about Mixer and starting to look at least doing a 12 streams a month on Mixer in the near future.  For everyone reading this, Mixer is rapidly growing and getting more and more talented streamers who are looking for a chance to stand out from the crowd. I have now personally run across 3 streamers who switched from Twitch to Mixer and it has some nice features that Twitch is trying to play catch up on even though Twitch is obviously still the chief streaming platform currently.