I was happy to have a chance to review Technshare which is a blog that is focused on providing you with blogging tips and information to help you make money online with your blogs.
With my own blog having a make money online category I am always looking for new tips, methods or other articles that cover items I haven't thought of or improve on the methods I use to make money from blogging.
Technshare is a multi author blog run by some of the best bloggers in the community including the site admin Devesh who at around 1/2 my age is already a success in his online and blogging ventures.  He is open, candid and has collaborated with some of the best bloggers I follow and in turn many of them have become regular authors on the Technshare blog.  Read more about the authors of Technshare and know that I recommend you follow all of these bloggers.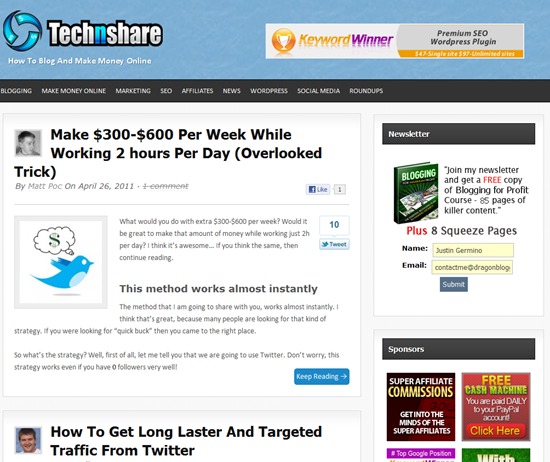 The blog itself has a clean attractive layout with the categories that matter to you most right at the top:  Blogging, Make Money Online, SEO, WordPress, Social Media…etc.
This is a blog you should be subscribing to and if you don't know about Blokube, this is an article directory and blog networking site Devesh also started up and is growing rapidly as a place to be a part of.
It is always good as a blogger to get perspective from other bloggers on how they make money online, what tips and tactics they use as well as make sure you know about the latest social media and WordPress tips.  Technshare is a site I recommend for keeping up with this information and is one I read myself via RSS.
-Justin Germino