We are influencers and brand affiliates.  This post contains affiliate links, most which go to Amazon and are Geo-Affiliate links to nearest Amazon store.
Whether you're running a streaming setup with a dedicated computer in addition to your gaming desktop, or you're just needing an easy way to switch inputs, HDMI switches are always a fantastic alternative to simply attempting to control everything via analog controls. These particular HDMI switches have the unique feature of allowing you to control both PCs with one set of keyboard and mouse. They're quite the powerhouse of technological innovation. These feature multiple ways to switch inputs, the front panels' input buttons, a remote control, and keyboard hotkeys! Let us get started with talking about them, and see if I can't elaborate a bit.
TESmart Dual HDMI 4×2 Dual Monitor KVM Switch Video Showcase
Featuring an HDMI and HDMI KVM Switch dual-port setup, this particular switch allows you to control your PCs with a single mouse, keyboard, and two monitors. It supports displaying one computer main desktop as well as an extended desktop (Each PC needs to make two video connections for dual monitor setups.). It's got two separate display modes, extended desktop (Mode 1), and split desktop (Mode 2), which allows you to view both desktops on a single monitor. The switch supports up to 3840*2160@60hz resolution on both monitors simultaneously. EDID emulation maintains a crystal clear display and keeps everything sharp. The keyboard and mouse pass-through is extremely extensive, covering many different brands including Corsair, amazon basics, and a large number of others (Compatibility Chart Available Here: https://www.tesmart.com ). It supports wireless and wired mice and keyboards, multimedia tools, and even mechanical tools. No delay, zero-latency keyboard and mouse switching! I'll also mention yet again that it has multiple methods for switching inputs, meaning you can stay as comfortable as you want while you work. It's compatible with most major OS including Windows, Linux, and Mac. The available inputs are HDMI, HDMI KVM, and USB. The product comes with an IRR remote, with no AAA batteries, unfortunately. 
HDMI+HDMI 2×2 Dual Monitor KVM Switch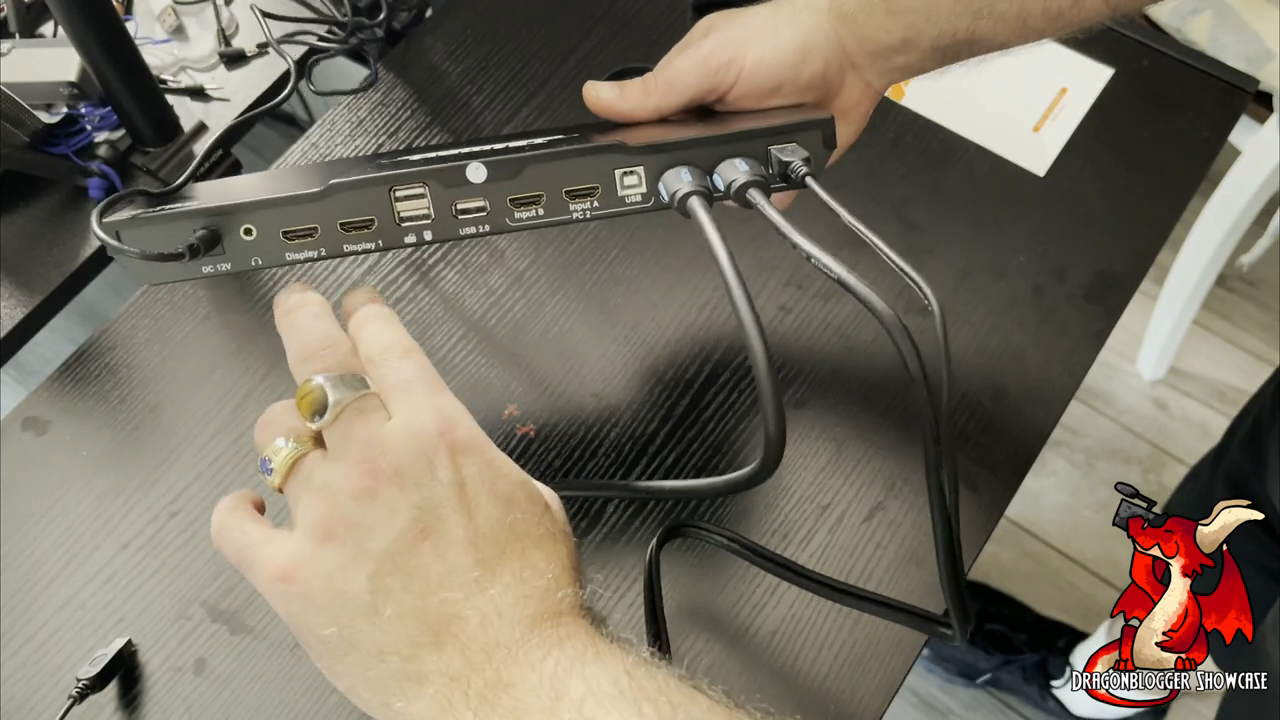 As with our previous product, this two-port dual monitor KVM switch allows you a large amount of versatility in integrating cross-platform computer equipment quickly, and easily. You can simultaneously output two HDMI ports of one PC to two HDMI monitors, or you can use the HDMI signals of two PCs to output to both displays at the same time. You can control the switch with the front panel buttons, the included IR remote control, and or keyboard hotkeys. It supports Unix /Windows /Debian /Ubuntu /Fedora /Mac OS X /Raspbian /Ubuntu for Raspberry Pi and other Linux-based systems, supports up to 3840*2160@60Hz resolution, and is compatible with a similar slew of brands as our last product. The primary use of both these products is to save space and tidy your desktop, instead of having to use a secondary set of mouse and keyboard plugins for a second PC, and both of them achieve this phenomenally well. It supports mechanical keyboard and mouse pairs, wireless keyboard and mouse pairs, standard keyboard, and mouse pairs, and even multimedia keyboard and mouse setups. Absolutely phenomenal passthrough capabilities on both.
Final Summary
We look at a lot of tech on this site, but these were somewhat new to me, though what an incredibly useful set of tools for ensuring your desk space isn't polluted by massive tangles of horrid looking wires. Not to mention optimizing your workflow, which is always extremely useful, especially given how we all tend to work from home more and more with the pandemic only sinking back into being prominent thanks to Omicron. A solid feature I didn't quite go into is that all of these support "hot plugging" which essentially means not having to switch off any connected device to switch inputs. This can be extremely useful if you're looking to swap ports, and frankly, I feel like it's an extremely undervalued feature in a lot of modern devices. The second switch also comes in multiple colors, and had many different options for various plugs! So it's multi-culture friendly. Both also use USB 2.0 plugs! So keep that in mind if you're using any other type. These are also compatible with as far back as Windows 7 but the drivers are quite slow, so be patient!
We are influencers and brand affiliates.  This post contains affiliate links, most which go to Amazon and are Geo-Affiliate links to nearest Amazon store.
I am just a 25 year old doofus who enjoys rpgs, sugar rushes, and passing out at odd hours.