Do you need a surveillance camera in your car to record thefts or accidents?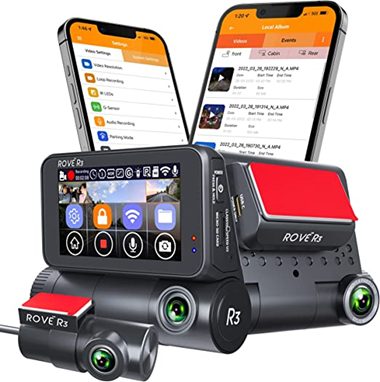 Dash cams are one of the best ways to get a recording in case an accident or theft occurs in your car. You can be left vulnerable if theft occurs without a surveillance camera in your car. The camera recordings serve as evidence to be delivered to the police and in this way be able to report the theft, so in case of a robbery, you will be able to identify the offender. Dash cams also serve as a defense in the event of a traffic accident, using the recording can get rid of some legal problems.
There are a lot of dash cams available in stores, so you'll likely find choosing from all of them difficult. You should keep in mind that the vast majority of cheap car cameras offer fake HD quality, so you often get a lousy recording, so it's important to choose a camera with the good recording quality. The Rove R3 seems to be one of the best options to ensure the safety of your car, it has a recording quality of up to 2K and interesting additional functions. If you are looking to protect your car you would surely like to know more about this product.
Features of the Rove R3 car dash cam
Protecting your car will be easy with the Rove R3 security camera. It's a high-quality camera, so the main feature is that you get a high-resolution recording, unlike most dash cams. This camera records the inside and outside of the car, so you can get a road recording at the same time as the inside of the car without using another camera. The recordings are surely the best feature of this camera, you get a recording quality of up to 2K, although in 1080p you will get better performance, because the memory consumption is lower, in addition, the quality is similar. This camera is capable of recording in total darkness, so you will also get a high-quality recording at night. Installing the camera is simple and it won't take you long to start getting your first recordings. You should note that you will need to use a micro-SD memory to be able to use this camera (you will need to purchase a micro-SD memory class 10 U3 separately). The camera screen is touched, allowing you to easily change the settings. To view the recordings you must download the Rove 2022 application available for mobile devices (iOS and Android). The advanced 5 GHz Wi-Fi technology takes little time to transfer the videos. You should keep in mind that to transfer files to your cell phone you must be at a maximum distance of 10 meters from the Rove R3.
Summary
If you need to ensure the safety of your car then the Rove R3 is what you need. It is a camera with a recording of high quality, so, you will get sharp recordings even during the night. The installation is easy and fast, therefore, it will not take you long to start obtaining recordings. Without a doubt an indispensable device to ensure the safety of your car.
You can buy this item here: Amazon.com: Rove R3 Dash Cam, 3" IPS Touch Screen, 3 Channel Dash Cam Front and Rear with Cabin, Built-in GPS, 5.0 GHz WiFi, 2K 1440P+1080P+1080P, 24-HR Parking Monitor, Supercapacitor, Supports up to 256GB Max : Electronics