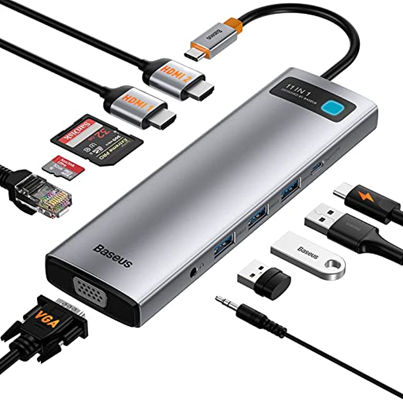 Need more ports to connect devices and peripherals on your MacBook Pro?
Laptops are one of the best options to work comfortably, but despite the advantages of using these computers, you should know that among some disadvantages of laptops is that the vast majority offer a limited number of ports, so if you need to connect many devices and peripherals to it this could be a problem. The good news is that the USB C docking station is the best solution to able to connect more devices to your computer, so if you have a MacBook Pro laptop, Surface Pro or even some mobile devices this will work perfectly.
The USB C docking station allows you to connect more devices (USB, HDMI, VGA, and more ports) externally, so this significantly increases the number of ports available. The Baseus 11-in-1 USB C docking station seems to be one of the best options to consider if you need to increase the number of ports on your laptop. With a total of 11 different ports, this will work well in the office or everyday tasks. Made with high-quality materials guarantees the safety of your devices. If you are looking for a USB C docking station with these features you would surely like to know more about this product.
Baseus 11-in-1 USB C Docking Station Feature
The Baseus 11-in-1 is an incredible docking station that will make it significantly easier for you to work, saving time and avoiding buying individual adapter cables. Simply connect the docking station via the USB C port and you can use it immediately. The main feature is that you can connect up to 11 devices or peripherals using only the USB C port on your laptop, so you get a lot of available ports. Included are 2 HDMI ports with 4K output, 3 USB 3.0 ports, SD/TF memory slots, an ethernet port, VGA output, and a 3.5 connector for connecting headphones. HDMI ports with 4K output allow you to connect external monitors with resolutions up to 4K. You can also connect an external monitor using the VGA port, but the maximum resolution will only be 1080P 60Hz. The USB 3.0 ports allow you to transfer data up to 10 times faster compared to a USB 2.0, it also allows you to charge the cell phone. The Ethernet port offers a speed of up to 1000 Mbps, so this ensures a fast and stable connection at all times. This USB C docking station is easy to carry, so this could fit in a small backpack without any hassle. Another feature is that it supports a lot of devices from Samsung, Google Pixel, Huawei, and more.
Summary
The Baseus 11-in-1 USB C Docking Station is one of the best options if you need to expand the number of ports available on your laptop. Whether you want to increase the number of USB ports, HDMI, or even need an extra VGA port this would work correctly. The Baseus 11-in-1 also works on mobile devices, although it is intended to be used primarily on laptops.
You can buy this item here: Amazon.com: Baseus USB C Docking Station, 11-in-1 Laptop Docking Station with 2 HDMI, VGA, 3 USB 3.0 Port, SD/TF Card Reader, LAN, 100W PD, 3.5mm AUX Port Compatible with MacBook, Surface Pro, Type-C Devices : Electronics
My name is Joel! I love to read, I go to university like most people my age.
In my free time I usually train boxing, I love music, I also know how to play the guitar and the harmonica.