We are influencers and brand affiliates.  This post contains affiliate links, most which go to Amazon and are Geo-Affiliate links to nearest Amazon store.
Trains, planes, delays, queues, "cosy" carriages, too-small seats… Whether you're travelling for business or pleasure, abroad or locally, chances are you're going to have to do a bit of standing (or sitting) around in the process. There's a lot of waiting involved no matter your destination, no matter your method. And waiting is boring.
Fear not! Smartphones come to the rescue – there is indeed an app for everything. Let the delays continue. Let the traffic pile up. So long as your phone has battery and the top five mobile games in the ether, there's nothing to worry about.
1. Fortnite
Chances are, you've heard of Fortnite. And for good reason! This game has been topping the charts since its inception: a run and gun, whack and smack battle royale with a unique crafting and construction system. Build your own fort, layer up defences, snipe, shoot, climb and parachute your way to victory. With a surprisingly deft control layout for mobile, you can play from anywhere with an internet connection, any time, with friends or without. Perfect for lounging about in airport shopping centres and short to medium train journeys.
2. The Mr Green App
Maybe you're not a fan of the same old thing, over and over. Maybe you like a little variety, a little spice. If so, the Mr Green App is the one for you: a hub of casino, card and slot games, with enough variety for a new experience every day of the week. Flit back and forth between Baccarat and sports betting, choose from over five hundred slots one morning and spin roulette the next. The Mr Green App is more an arcade hub of bets and wagers – if that sounds your kind of thing, then waste no time. It's perfect for anything from a two-minute taxi ride to a transatlantic flight.
3. Into the Dead 2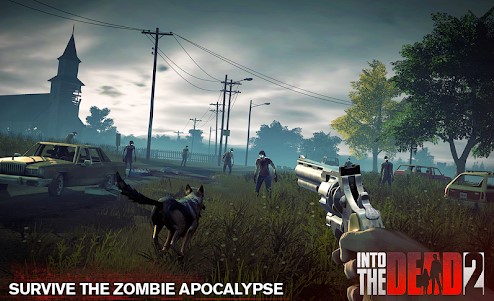 Into the Dead 2 is brain-numbingly good. Literally. The sequel to an already successful zombie shoot 'em up, you can experience the horrors of a post-apocalyptic zombie world (with lots of handy guns and bullets) from the comfort of your very own phone. Wade through waves of enemies, upgrade your gear and save your family. It's action-packed. It's easy to play. It's silly, explosive fun.
4. Minecraft – Pocket Edition
This one's for all the family. Minecraft – Pocket Edition takes the base game and shrinks it right down for everyone to enjoy. Its concept is simple: you mine, dig or chop, then get creating. What do you create? Whatever you like! A mansion house, an ocean castle, an underground battle base. The only limit is your imagination. If you're travelling with family, especially young children, we can't recommend Minecraft enough.
5. Lara Croft Go
And now for something completely different. Lara Croft Go rounds off our list as a turn-based puzzle adventure game. You, the player, control Lara Croft as a piece on a board, taking turns against enemies and obstacles as you try to navigate your way to victory. Manipulate the environment, beat the clock and snatch away the treasure. Lara Croft Go is a simultaneous brain teaser and a bit of thematic fun. Great for when you want to lose yourself in a challenge.
Travelling is never easy, and probably never will be, but technology can make the whole process a whole lot more enjoyable!
We are influencers and brand affiliates.  This post contains affiliate links, most which go to Amazon and are Geo-Affiliate links to nearest Amazon store.
I am interested in all things technology, especially automation, robotics and tech that helps change how society will live in the future.