Today on the test bench, we have the Water 3.0 Ultimate all-in-one CPU cooler from Thermaltake. The Water 3.0 Ultimate features a 360mm Radiator and 3x 120mm White color PWM fans. Thermaltake also has smaller models of the Water 3.0 that feature a 240mm and 120mm Radiator. And Not only that, once they unveiled their RGB fans, the Water 3.0 now also comes with their Ring Plus RGB fans. So, moving ahead of the physical appearance, let's dive deeper into the review.
Thermaltake Water 3.0 Ultimate Unboxing:
You can see the complete unboxing of the Thermaltake Water 3.0 Ultimate in the following video:
Check out some unboxing pictures in below:

Thermaltake Water 3.0 Ultimate Specification:
Compatibility
Intel LGA 2011-3/2011/1366/1156/1155/1151/1150
AMD AM4/FM2/FM1/AM3+/AM3/AM2+/AM2
Water Block
Material : Copper
Pump
Motor speed : 3600+-150 RPM
Rated Voltage : 12V
Rated Current : 325 mA
Fan
Dimension : 120 x 120 x 25mm
Speed : 1000~2000RPM
Noise Level : 20 dBA
Rated Voltage : 12V
Rated Current : 0.3 A
Max. Air Flow : 99 CFM
Connector : 4 Pin
Radiator
Dimension : 393x 120 x 27 mm
Material : Aluminum
Tube
Length : 326 mm
Material : Rubber
Weight
1.32 kg
Assembly and Installation Video:
The assembly of the Water 3.0 Ultimate on a scale of 1 to 10 concerning easiness, I'd say it was 8. The instruction was clear, and you don't you need too many tools for the mount, just a Phillips head screwdriver is enough. The only step where you may face some trouble is installing the baseplate on the CPU cooler. You need to press the backplate against the motherboard or otherwise while aligning the thumbscrews on the baseplate, the backplate might come off.
Check out the Assembly and installation video below.
Test System:
Motherboard: Asus z170P
Processor: Intel I5 6600K 4.5GHZ OC
RAM: Apacer Panther Rage 16GB 2400MHz C16
SSD1: Apacer AS720 240GB
SSD2: PNY Optima 120GB
SSD3: Kingston SSDnow V300 120GB
HDD: Seagate Barracuda 1TB 7200RPM 
GPU: MSI R9 280X 3G
CPU Cooler: Thermaltake Water 3.0 ultimate
Thermal Compound: Noctua NT-H1
PSU: Chieftec Nitro 1200W 85+ bronze
Chassis: Thermaltake Core P3
Methodology:
So, the Thermaltake Water 3.0 was tested in two configurations. One where the chipset was on it's default rating of 3.5ghz and 3.9ghz turbo. And the second configuration included the I5 6600K overclocked to 4.5ghz with 1.344 Vcore voltage.
The fan speeds were left on default/standard curve in the bios. In each configuration, two readings were noted, one when the system was left idle for 10 minutes and another one when the system was under 100% load for 30 minutes, so the heat builds up.
Prime95 Small FFTs was running for 30 minutes to build up the heat and Realtemp, and HWmonitor were used to notice the temperature across the cores. What you see in the charts below is the average temperature of the four cores.
A room temperature of 28 degrees was maintained during the test period, and Noctua NT-H1 thermal compound was used with each cooler.
Thermal Performance: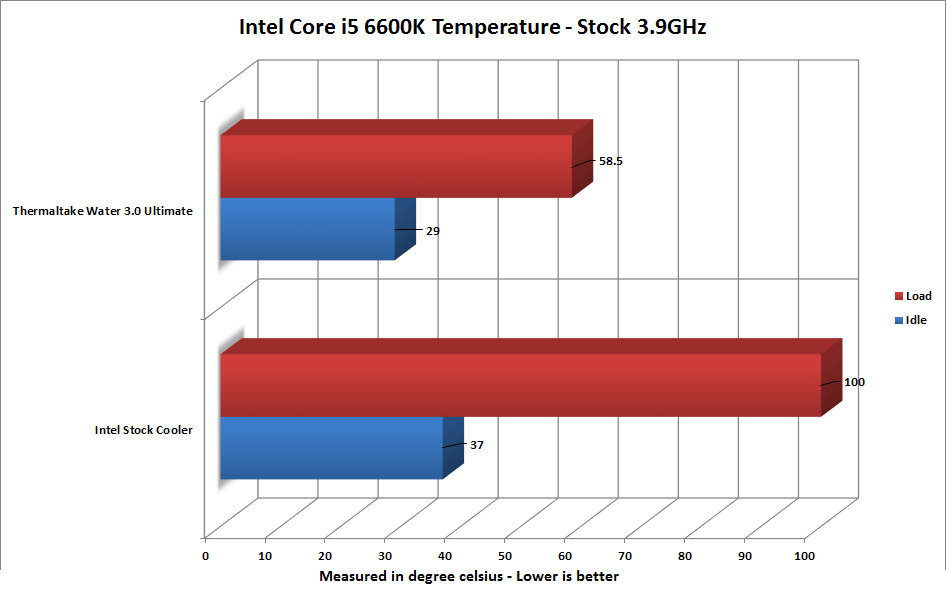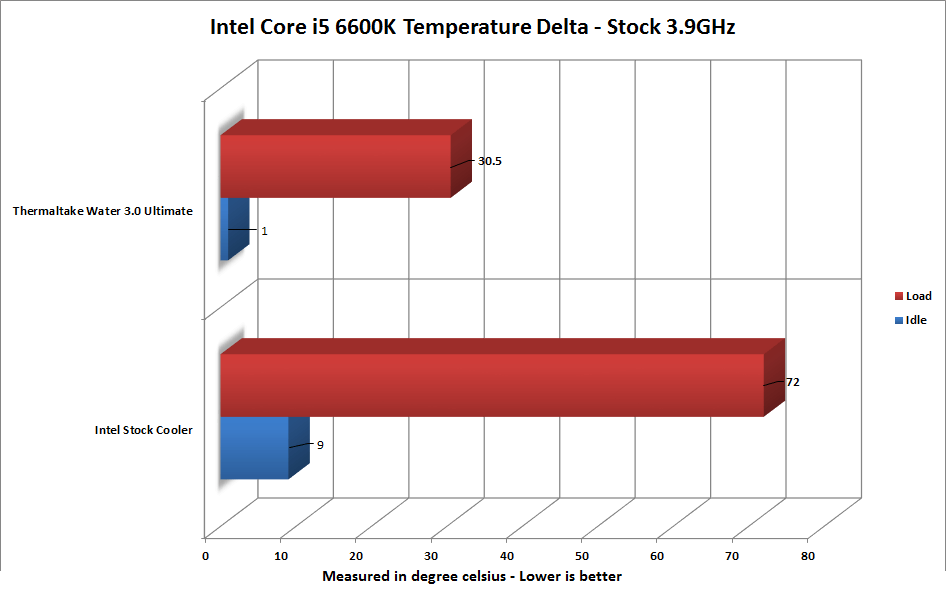 From the chart, we can see that Thermaltake Water 3.0 ultimate performance 8C better than the Intel stock cooler on the i5 6600K on idle. But when it comes to 100% load via Prime95 torture test, it's better to stay away from an Intel stock CPU cooler as it reached beyond the 100C barrier that one should never cross. But our Water 3.0 Ultimate was able to maintain a temperature of 58.5C which seems way better than having a stock cooler on the chip.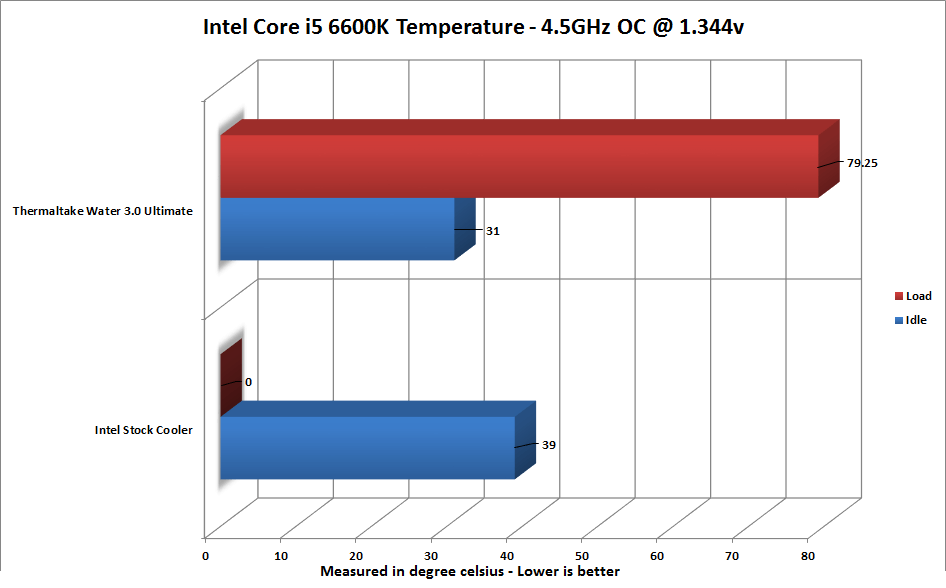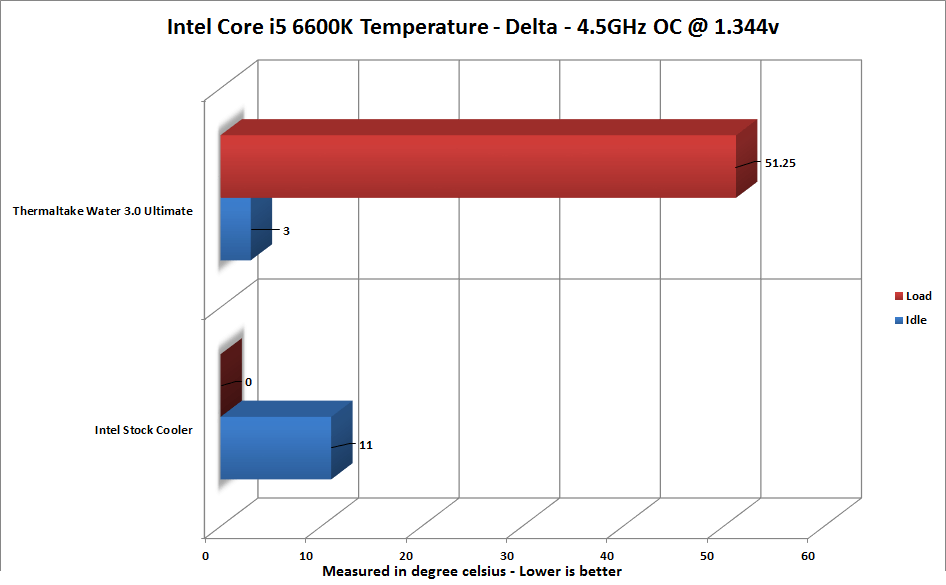 When it comes to the overclocked i5 6600K at 4.5ghz with a Vcore voltage of 1.344v, we see a rise of 2C in the idle temperature on both Intel stock cooler and Water 3.0 Ultimate. And of course, since the Intel stock cooler had already reached the 100C barrier on the stock speed of i5 6600K, we didn't even attempt to run the torture test on that poor little guy. Whereas with the increase in Vcore voltage, we also saw an increase of 21.75C on the Water 3.0 Ultimate on load, reaching 79.25C. At 79.25C, we can say that the Thermaltake Water 3.0 Ultimate did a good job of keeping the chip below the danger zone which I believe is above 85C even if by a few degrees Celsius. And to begin with, the high temperature is due to the amount of high Vcore voltage provided to the chip. We can say that my chip isn't the best one out there, which requires so much Vcore voltage for a stable overclock 4.5GHz. I might as well go a notch down in next CPU cooler reviews, but I wanted to see the max performance I can gain from the Water 3.0 Ultimate. And with this AIO, I was able to push my i5 6600K to 4.5GHz.
Though do keep in mind, your result may differ from mine, because we most probably are not going to use the same chip and chassis. And even if the CPU was same, thermal performance vary from CPU to CPU. So If I were able to get a better i5 6600K which didn't require such a high Vcore voltage, we would've been looking at much better temperature readings right now.
Acoustic Performance:
We won't be including an acoustic performance chart in the review as that test requires an isolated setup which cannot be achieved at home. However, when the system was not under too much load, you can barely hear the sound from the 3x fans on the radiator, but when it goes on full speed, they're clearly noticeable even from a 2-meter distance.
Conclusion:
The Thermaltake Water 3.0 Ultimate seems to be a good performer and also adds aesthetic value to your setup. The white and black theme of the cooler might not be perfect for everyone, but it fits comfortably with any themed system.
When it comes down to thermal performance, we saw some great difference between the stock temperature when compared against the Intel stock cooler. Well, that is hardly a comparison, to be honest, but we had to mention that so you get to know what kind of performance you're missing by using the stock cooler. When it comes down to thermal performance once the CPU was overclocked, we saw a max temperature of 79.25C which at first looks high. But when we look at the Vcore voltage supplied to the CPU, it starts looking better. I've seen the same chip running at 4.5GHz under 1.3GHz, so mine's not the best chip out there, neither I'm using an enthusiast level motherboard for overclocking. And for that reason, I would say Thermaltake Water 3.0 Ultimate did a good job at keeping the i5 6600k under 80C as we would be looking at better thermal performance with lower Vcore voltage. And personally, I'm satisfied with the thermal performance. Also keep in mind, that in real world scenarios, you might not even reach these temperatures acquired through torture tests.
So if you're looking to run your CPU on default speed or have it overclocked mildly, then the Thermaltake Water 3.0 Ultimate is a great choice. Though if you're looking to play with some high voltages, and good a cool enough room, then Water 3.0 ultimate is also a good choice for you.
The Thermaltake Water 3.0 Ultimate is available on the market for $119.99 and for a 360mm AIO and the performance it demonstrates, it seems like a great deal to me. In the end, I would like to rate the Thermaltake Water 3.0 Ultimate a 4.5/5 star and give it our 4.5 recommended award.
Buy Thermaltake Water 3.0 Ultimate 360mm: http://amzn.to/2bJ89rk
Buy Thermaltake Water 3.0 Extreme S 240mm: http://amzn.to/2c26WN8
Buy Thermaltake Water 3.0 Performer C 120mm: http://amzn.to/2cGklta
Buy Water 3.0 Ultimate RGB:  http://amzn.to/2ccNYxE
Hi, I'm Ahmed Kazim and I've been a gaming freak since like 7-8. I'm also a geek-o-nerd who keeps looking around for latest development in hardware/tech/gadget industries so expect some quick news from me. I'm also interested in anime (Japanese animation) and can't stand a day without music and gaming.