In today's times, video editing has become an essential skill, especially for marketing purposes. To help both novice and experienced users make video ads as well as edit them, several softwares and online portals are available for free.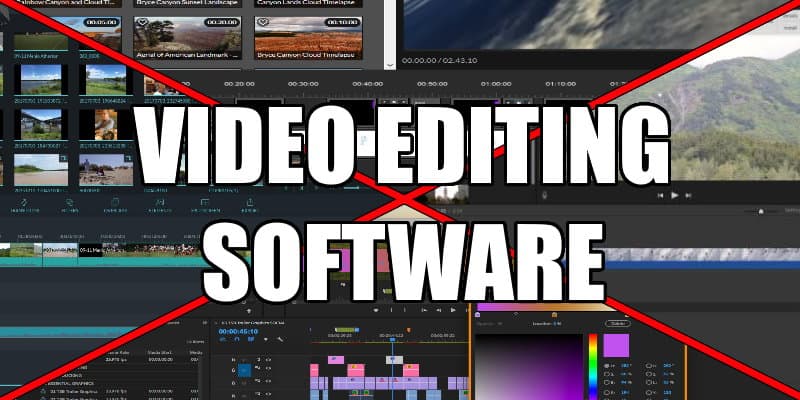 Here is a list of twenty-five free-to-use video editing software:
1. Lapse It: Over the past few years, time-lapse videos have become a trend on various social media platforms. Lapse It is a specialized software that allows users to create professional time-lapse videos as well as edit them using a variety of tools.
2. Magisto: Magisto is a free video editor that allows users to create and alter videos on multiple platforms. Magisto is available on Android, iOS as well as desktop platforms. Video and audio can be inputted in a variety of formats and then edited.
3. Horizon: Horizon is a relatively new video editing app. It offers new features such as customized zoom and real-time filters in the video. You can add a slow-motion effect, even if the frame rate is low.
4. Splice: Splice is a video editing software meant primarily for iOS users. It provides full video editing capabilities on iPhones as well as iPads. It has been made specifically for GoPro videos and offers all video editing functions available on desktop.
5. Freemake Video Converter: Freemake is a gold standard in video conversion. However,  few people know of its role as a video editor. A video, before or after conversion, can be edited using a variety of tools available in the software.
6. Loopster: The primary feature of Loopster is that it provides on-the-go video editing capabilities on multiple devices. It also allows many users to work on a single project.
7. Machete: Machete is a video player and editor that allows users to remove unneeded parts of a video, edit metadata as well as remove and edit audio. Video fragments can be edited using copying, pasting and editing tools available locally within the software.
8. Kapwing: Kapwing is another new video editing software that combines an intuitive user interface with premiere video editing tools. Videos can be shared directly to multiple social media platforms. Also, various templates are available to model videos according to the requirements of each platform.
9. VideoPad Video Editor: VideoPad is an old and very popular name in the world of free video editing software. It allows you to edit video and audio files in almost all video formats, as well as convert them swiftly to the format of your choice.
10. WeVideo: The main feature of WeVideo is that it is among the few free video editing software that has green screen capabilities. It also has a large library of stock images, videos and audio files that can be used in your project without royalty.
11. Media Composer: Media Composer is a new and continuously updated video editing software. It allows users to convert tracks to 7.2 surround sound, as well as create and edit videos in 16K and even 3D. It has several advanced videos and audio editing tools as well, for professional users.
12. Adobe Premiere Clip: Adobe Premiere Clip is the free mobile device counterpart of the Adobe Premiere series of video editing software. You can edit videos using simple tools on your mobile or tablet.
13. Media 100: Media 100 is a free video editing software for users of all levels of experience. It supports all video resolutions. Moreover, it contains a plethora of video editing tools that can be understood and utilized by novice and experienced users alike.
14. HitFilm Express: The main feature of HitFilm Express is that it includes virtual effects (VFX) in the list of features that it provides, that too completely free of charge. It also provides the much-used picture in picture effect and allows users to save their video in UHD.
15. Shotcut Video Editor: Shotcut video editor offers a vast array of video, audio and images through its video library. Its main features are the large variety of audio editing capabilities it offers, which are not available in many free editors.
16. Clipchamp: Clipchamp is an easy-to-use video editing software. It provides simple video editing tools for new and learning editors.
17. Avidemux: Avidemux is an easy software that allows users of Windows, Mac and even Linux to edit videos using simple tools and an intuitive UI. It is a great Youtube outro maker for newcomers. 

18. Filmora: Filmora is another top-rated free video editing software. Its main feature is the wide variety of transitions and animations provided by it. Also, it has an easy-to-use user interface.
19. DaVinci Resolve: DaVinci Resolve is a specialized video editing software for pro users. Many different users can work on a project at the same time using this software.
20. VSDC Free Video Editor: The primary feature of VSDC Free Video Editor is that it allows users to create text overlay, slideshows and chart arrays.
21. Blender: Blender is an open-source animation software that allows users to create 3D content for free. It is among the most used software by beginner animation students.
22. Lightworks: Lightworks contains a large library of royalty-free content that allows users to create creative videos. It also has a vast array of animations and effects.
23. Openshots: Openshots is a global video editing software available in more than 70 languages. It allows editing for a large number of video and audio formats.
24. Windows Movie Maker: This is a classic movie editing software that combines an intuitive UI with simple video editing tools, and is ideal for beginners.
25. iMovie: This is the standard video editing software for Apple devices. It offers advanced video editing tools and is among the most used software by professionals.
Video marketing is an essential component of a brand's marketing strategy. Use this free and easy-to-use software to make fantastic audio-visual content. Try an intro maker free download to begin editing your videos today!