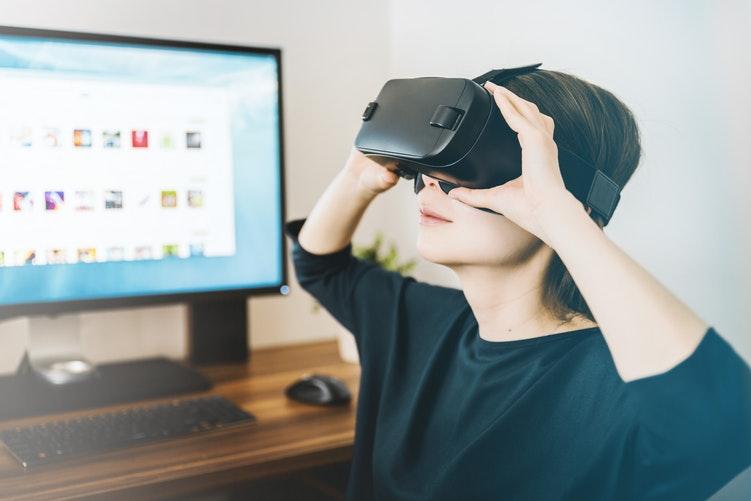 Virtual reality is an innovative technology which completely changed the gameplay and gaming experience. All you need to teleport in another reality is a VR headset and controllers.
Here are top 5 games on PC in VR you will definitely enjoy to play.
Amazing Frog?
Amazing Frog is an amazing open world VR game compatible with Oculus VR headset. Is a mixture of action, simulator and indie game. Welcome to Swindon, an imaginative town where you control a funny frog on his captivating journey to the moon. In this open world game, you can set your own challenges.
Although the game lacks detailed graphics, the gameplay is accessible, and it'll take you a couple of minutes to get used to it. Players can also choose from a variety of costumes and become James Bond or Captain America. You can also find an Amazing Frog Review on GamesMojo.com. Opt for it if you are a fan of sandbox titles, crazy frogs and co-op games.
Robo Recall
The owners of Oculus Rift and Oculus Touch will definitely like this action with robots.
The developers describe Robo Recall as a new level of dynamics and interactivity in games with virtual reality. It offers spectacular fights of robots on sunny streets with skyscrapers and business centers with revolvers and shotguns.
The game is based on Unreal Engine 4. Users will see the detailed beautiful views and landscapes, high buildings and hordes of enemies. This is a real virtual reality where you can look at everything around and perform a variety of actions with two hands equipped with controllers. The gameplay is interesting and diverse. Virtual reality shooters position themselves as a one-time attraction. Although players will probably want to come back again to try a new version of crafting weapons, an unusual technique or set a new record. On the whole, Robo Recall is a colorful, dynamic game that is worth your attention.
House of the Dying Sun
House of the Dying Sun is an indie space PC game where you have to become an imperial killer. You track down opponents, wipe them off and run away before the enemy flagship attacks you. The good killer soundtrack included. By the way, this game is great both for VR and a standard screen. Several missions are performed very quickly.
Unlike other space shooters, House of the Dying Sun has a fleet. Here you can manage not only your ship but a whole fleet as well. You can stop the game at any time and go into a tactical mode giving orders to ships or switching between them. Another interesting feature is the ability to drift turning the side of the ship. It will allow experienced players to perform impressive maneuvers. However, the game lacks interesting narrative and various levels. Players will need a mouse, keyboard, standard controller and Flight Stick. The game works best on HTC Vive or Oculus Rift.
Arizona Sunshine
Arizona Sunshine VR is one of the most anticipated games among all the shooters for Oculus Rift and HTC Vive. The game was developed as a post-apocalyptic zombie shooter. The main task of the developers was to surprise players with the mechanics of the game. Here users will see huge desert expanses, deep caves with lots of secrets, and canyons. The hero will be able to move around these areas without any limits. The control system includes a large number of actions that allow players to shoot more than 20 types of weapons, touch and pick up different objects, and also arrange traps for zombies.
The gameplay is catchy and realistic. To find new ammunition, you need to search for defeated enemies, abandoned cars and places. The high level of interaction with objects is one of the main advantages of the game.
Users will need a gaming rod to navigate through the expanses of the state, i.e. in order to get to the required place, the player must aim the sight there and press a key on the controller. Zombies look really scary, and it's not easy to kill them. It's a multiplayer game, so don't hesitate to invite your friends.
Thumper
Thumper is a gloomy musical game that will take you into an abstract world full of creepy images and heavy rhythms. You will have to control a huge beetle that slides along the silver road to meet with evil. You will face defensive systems of lasers, huge spikes, energy barriers, and walls. With each new world, the game becomes more difficult because of new traps, combinations, and curves of the track.
Bosses will make your life even harder. They may appear at the beginning of the episode or at the end of the level. You need to accumulate energy inside the beetle, which is released by a powerful impulse that destroys evil. This is accompanied by beautiful effects that make these confrontations unforgettable.
The only disadvantage is that Thumper is very sensitive to input lag because of the high speed of the gameplay.
On the whole, Thumper is a really challenging game that stands out from other musical projects with an unexpected concept and choice of setting.
No matter what kind of games you prefer, VR is a new level in the game industry. Just take your headset and enjoy the new world.
I am interested in all things technology, especially automation, robotics and tech that helps change how society will live in the future.