We are influencers and brand affiliates.  This post contains affiliate links, most which go to Amazon and are Geo-Affiliate links to nearest Amazon store.
If you've ever sprung a flat on the road the biggest hassle post-patching can be finding somewhere to get air back into your tire again. Thankfully for you, I've got quite the offer that'll ensure you never have to deal with that issue again. It's also good for motorcycle flats, airing up bike tires, balls, anything that requires inflation, you name it. A good air compressor can be a massive boon to any expedition you may have planned, and Travlog has your back with an affordable, but state of the art portable air compressor that'll knock the wind INTO you. Pun most certainly intended. From camping trips, to road trips, places to air up your transportation or entertainment can be scarce, or worse yet, cost a ridiculous amount for one single inflation. Heck, where I live most state parks charge you a dollar fifty to use an air compressor, which if you're planning on going tubing can be a huge pain. So without further ado, lets get in to the ins and outs of Travlogs fine compressor, and why you should buy this fantastic product.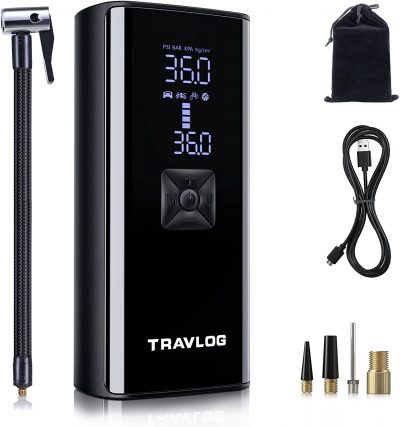 Features
Travlog comes in strong with a fast inflation design that tops the market in portable air compressor technology. It provides a 20L/min airflow, and a max 150PSI pressure, ensuring whatever you're trying to inflate is up to a working standard as quickly as possible. It also has an auto shut-off design, letting you have a quick and safe inflating experience. No more overfilled rafts popping because you were distracted by a family member on those upcoming camping trips. On top of its powerful inflation, the compressor also has four presets for cars, motorcycle tires, bikes, and balls, with default pressures for all all the listed items. Just remember that to keep your pump working properly the continuous inflation time shouldn't be too long. Let your pump rest for 2-5 minutes after 10 minutes of working.
Travlogs pump runs off a rechargeable 8000mAh Lithium Ion battery, which will allow you to inflate four car tires, or eight motorcycle tires, up to forty two bike tires, or thirty eight basketballs after a full charge. Alongside that, there's an integrated 5v/1A USB output that can be used in an emergency as a power bank for charging mobile phones or digital designs, and it's built in fan ensures good heat dissipation. All these features are controlled via a digital LCD display that shows the current real time pressure value and the preset you selected at all times. It's clear, and intuitive, with multiple display options including PSI, BAR, KPA, and Kg/CM squared. It's simple to use, and it even features a built in LED flashlight, for operating at night. Talk about convenience bundled into a small package.
All this comes bundled into a compact design that's simple to take with you wherever. It measures out at a measly 6.1*2.7*1.97in and weights a pound and a half. It's cordless design ensures that on a full charge, you'll be covered no matter where you roam, and it has multiple valve adapters for whatever you may need to inflate. All of this with an 18-month quality assurance and sixty day money back guarantee. All questions about the pump can be directed to Travlog and they'll answer them in a professional and courteous manner via their Amazon store page here!
See Nate's Video Showcase of the Travlog Tire Inflater and Power Bank
Final Thoughts
Considering springs coming up, with summer soon to follow, this is a must for the coming months. You don't really wanna have to march all the way to your local corner store just to inflate your kids bike tires do you, and what about all the stuff to inflate for camping trips, and basically anything involving the outdoors for that matter. We rely on inflation for the vast majority of our wilderness comfort and entertainment, be it inflatable chairs, rafts, bike tires, balls, and Travlogs pump is a ton of quality wrapped in an affordable one time investment. Between the auto-shut off ensuring you don't end up having to spend more money replacing a ball, or worse yet, a car tire, the comfortable LED display which by the way, is extremely easy to read as you can see in the shot above, the built in flashlight, and the many included valve adapters, this is a fantastic product given the price point, and I hope you'll consider it before you set out on your next adventure. Thanks for reading, and I wish you luck and a good deal on your next shopping venture.
We are influencers and brand affiliates.  This post contains affiliate links, most which go to Amazon and are Geo-Affiliate links to nearest Amazon store.
I am just a 25 year old doofus who enjoys rpgs, sugar rushes, and passing out at odd hours.