Laser Projectors are an upgrade to the standard projector, allowing for higher resolution, and clearer picture. In quite a few cases this also allows you to get a larger scale for a closer feeling to that visit to the movies you were looking to avoid. For the home improvement enthusiast building a home theater, this is the apex of projector systems, and finding something with this much power while keeping a high degree of value in its make and design is no simple task. This can be true of all things with such a high price point, but I think I can offer some insight into this in the form of the WEMAX Nova.
WEMAX delivers a powerful 4k projection experience bundled in a projector that won't take up much space and supports everything your family may want to use to keep themselves entertained, from apps to gaming and more. From crystal clear pictures in all your favorite films to the most pulse-pounding moments in gaming, the Nova projector system has everything you need for a solid night of entertainment, popcorn not included, unfortunately. Making a purchase this large should be an educated, informed choice, so let's talk about the WEMAX Nova for a bit.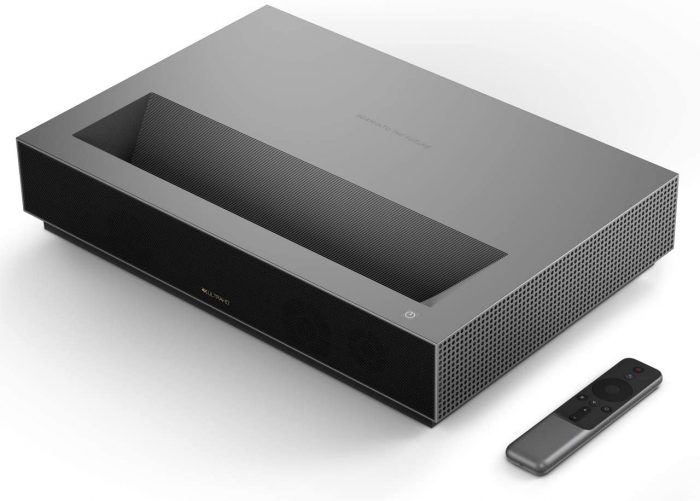 Features
What can WEMAXs Nova Short Throw Projector do for you? Well for one, it projects in proper 4K UHD, at a clear and bright 2100 ANSI lumens, offering four times the resolution of full HD or 1080p. The Nova is built with some of the highest grade industry-leading patented ALPD 3.0 and TI DLP technology. ALPD lets light be used more efficiently for finer detail across the entire spectrum of color, as well as more vibrant hues for the most stunning resolution. Short throw projectors are also better for your eyes, diffusing light without losing picture quality.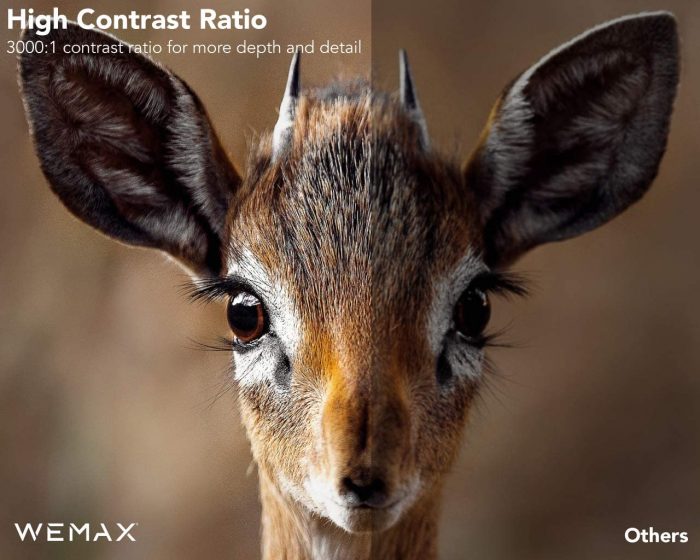 Aside from a crystal clear picture, the Nova also has a max projector scale of one hundred and fifty inches, and four different sizes to choose from, starting at eighty inches, one hundred inches, one hundred and twenty, and the aforementioned one fifty. The eight-point keystone correction dials in image quality, allowing you to make micro-adjustments for the ideal home theater experience.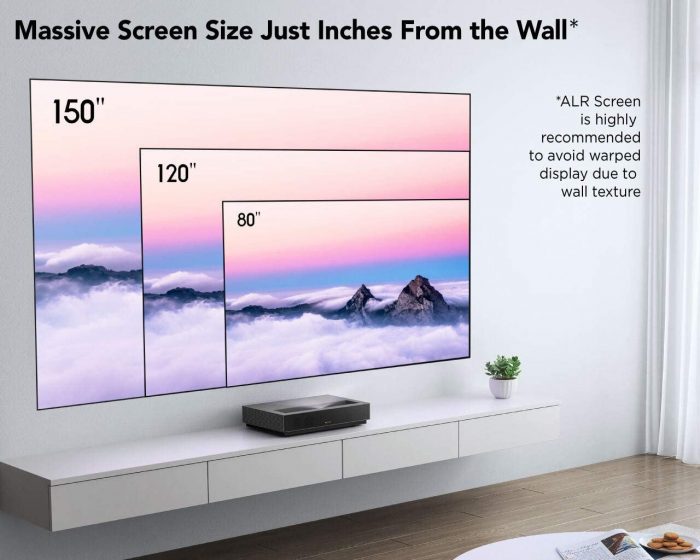 A good cinema experience isn't just about pictures however, the sound is an important factor, and the Nova laser projector offers powerful 30W DTS HD speakers by Dolby Audio. This built-in stereo provides crystal audio tuned to accentuate your home theater experience. Don't fret if you already own a fantastic sound system you'd prefer to use though, the Nova can be connected via HDMI to allow you to use all your favorite audio hardware to your heart's content.
Have I mentioned this is a smart projector? The Nova comes pre-loaded with thousands of your favorite apps, all at your fingertips thanks to Android TV. You can stream your favorite shows from Netflix, Hulu, HBO Max, Showtime, Disney+, and many, many more. The built-in remote has an easy-to-use voice command option, so you don't even have to fiddle with your remote for long to start your TV watching experience. Going back to Netflix for a moment, it is supported but will require a firestick or similar streaming device.
It's also compatible with many of your favorite streaming devices, allowing your Bluetooth to open up a world of possibilities. Anything from your iPhone or Android smartphone, to your iPad or laptop, can be cast to mirror the screen directly to your projector. On top of this, the Nova has multiple HDMI ports allowing you to connect all your devices, soundbar, and more flawlessly via HDMI for an easy, stress-free experience.
Unboxing and Overview Video of WEMAX Nova Short Throw Laser projector
Final Thoughts
In a world where we consistently need to distract ourselves from the impending doom we feel we face daily, entertainment is becoming more and more important. Providing yourself with a top-of-the-line entertainment experience is paramount to keeping yourself destressed, and generally ensuring you're ready to face the next morning with your head held high. What do I have to say about the WEMAX Nova in regards to this? This is the APEX home theater experience that would finish any den, home cinema, or even a nice outdoor gazebo with theater built-in. Imagine yourself with a glass of iced tea, kicked back as you watch your favorite sport, or clutching a controller as you score that perfect one versus five on your new home theater system. Those feelings and many more can be yours, and all you have to do is consider the Nova. Thank you for reading, shop wisely, and have a fantastic rest of your day.
I am just a 25 year old doofus who enjoys rpgs, sugar rushes, and passing out at odd hours.