We are influencers and brand affiliates.  This post contains affiliate links, most which go to Amazon and are Geo-Affiliate links to nearest Amazon store.
The most important part of any PC setup that isn't internal hardware for your tower has gotta be a fantastic monitor. You can have the nicest keyboard and mouse, all the comforts in the form of cushions for your rump, wrist, and elbows you want, and it'd all be spoiled if you didn't have a nice screen to top it all off. I've tried a ton of monitors in my day, and curved ones have quite frankly been my favorite simply for the level of immersion they offer your PC setup. It's hard not to get drawn in to whatever you're doing when it wraps around your field of view after all. I also value a monitors weight as a personal preference due to how much I tend to move my setup around and adjust my monitors for a better view. The most important factor however is durability, as a good monitor should be an investment, not a short term purchase. That being said, Sceptre has a lovely product on offer for us today and I'd love to tell you why you should own this quality monitor, so without further ado, lets get started.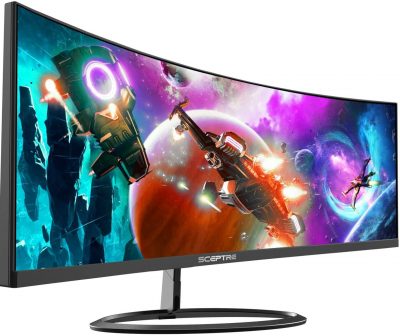 Features
As mentioned in our title, Sceptres curved monitor measures out at thirty inches. What I didn't mention is that it's a 21:9 LED monitor with a max resolution of 2560x1080p. That's ultrawide full HD for any wonderful person reading this that doesn't wanna hear all the JARGON. It has a refresh rate of 85 Hz which is the current industry standard for most monitors. It uses an anti-glare screen with a hard coating, so positioning it near open windows won't hamper your experience, but lets get into the luxury features because this monitor is absolutely packed with them, and frankly along with the quality design, they make this monitors price point.
It uses an edgeless design to completely immerse you in all your favorite games, movies, and entertainment in general. This design also just flat out looks great, and makes for some of the best background setups you could ask for quite frankly. Pick yourself up wallpaper engine from steam and suddenly your desk isn't just your workspace, it's a conversation topic when anyone enters your room due to how cool you've managed to make it. It also features two custom monitor presets for both FPS games and RTS games, which is a nice touch on their part if you're the sort who likes to tweak how your monitor looks for just about any situation.
Another important feature is the inclusion of blue light shift technology. This emerging feature in a growing number of monitors reduces your screens blue light output, protecting your eyes from strain which can reduce headaches, fatigue, and even sleeplessness if you spend extended periods on your PC. This is fantastic for late night gaming sessions, and as someone who uses a pair of blue light blocking reading glasses, I can attest to how big of an impact something like this can have on your overall well being.
Lets talk inputs! Your Sceptre monitor comes with a DP port, two HDMI ports, and an audio out port. All of your visual ports are graded at 85hz, and the audio port supports any standard headphone plugged straight into it. Sceptre also touts a 1ms moving picture response time on its monitor. This means ghosting and blurring are reduced, so you can react to changes in a games flow in a much faster manner than with your average monitor. This is especially important for FPS games. I myself enjoy Valorant and know very well what being slow in that game gets you. The display can be tilted up to ten degrees backward, and three forward, letting you adjust your viewing space as you prefer. If you can't find a way to adjust it that you like, it's also VESA wall mount compatible, giving you a seriously amazing setup that also eliminates a ton of cable clutter.
Final Thoughts
In terms of monitors, Sceptre has a pretty fantastic one for us. It's got all the features you'd expect from any monitor as well as quite a few you wouldn't such as the blue light shift feature. It's also currently on sale as of the writing of this article, so if you're quick you can even snatch it up for a nice discount. I hope you'll give this product a bit of consideration, and I wish you a fantastic deal in your next shopping venture. Thank you for reading, and have a wonderful rest of your day.
Get Sceptres Monitor on Amazon by Clicking Here!
We are influencers and brand affiliates.  This post contains affiliate links, most which go to Amazon and are Geo-Affiliate links to nearest Amazon store.
I am just a 25 year old doofus who enjoys rpgs, sugar rushes, and passing out at odd hours.