We are influencers and brand affiliates.  This post contains affiliate links, most which go to Amazon and are Geo-Affiliate links to nearest Amazon store.
A good 3D printer is a versatile tool intended to open many doors to creativity, as well as serve considerably more useful functions like everything from minor car part repair, to printing entire medical prosthesis for sufferers of major traumatic events. Finding a solid one with a good design for an affordable price on the commercial market isn't easy, which can leave you with anything from wasted resin to a small house fire with the cheapest designs. Thankfully you're here, and I can tell you about a fantastic product available over at GeekBuying that'll hopefully allow you to make an educated and smart choice for a 3D printer. Enter the Artillery Sidewinder X2, a fantastic printer featuring a number of useful quality of life features other printers lack, and if you stick around till the end of this article I'll have a fantastic coupon waiting for you as well as a link for you to pick up this top notch 3D printer. Without any further ado, lets get started with discussing this lovely item.
High quality features such as heated glass beds, dual filament support, touch screen interfaces, and even something like build volume, or printing space, can be an overlooked reason to invest in a particular 3D printer. We've featured a number of 3D printers and I'm proud to say that the Artillery Sidewinder X2 can stand among them as a fantastic product.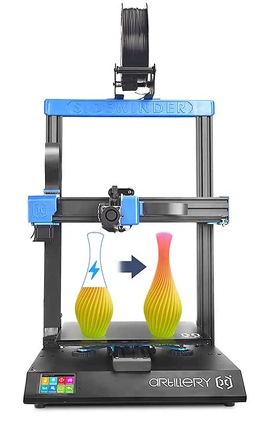 Features
Coming ninety five percent pre-assembled and taking a total of three minutes to finish assembly, the Sidewinder X2 is practically ready right from the box. If you purchase this as a gift for a loved one who's not the most tech savvy, assembly should be easy to guide them through. Regardless of whether you're new to using a 3D printer or an expert, not having to fiddle with complex assembly with your freshly bought printer is an excellent touch on their part in customer service. The 0.4mm direct drive extruder prints incredibly quickly, getting your print out in a flash.
The biggest upgrade from the X1 is the auto bed leveling. This automatically calculates the position of the bed in comparison to the extruder, and adjusts everything you need accordingly. Nozzle placement moves into the proper position, and you're able to print. This is an absolutely massive upgrade that eliminates a considerable amount of the hassle with adjusting your own bed before the printing process begins, and prevents imprecise adjustments resulting in bad prints and wasted printing material, an absolutely genius innovation. It also features a massive print space of 300x300x400mm, handling some of the larger end prints in terms of commercial 3d printers.
Worried about the space you 3D print things in being noisy? The X2 uses an ultra-quiet stepper driver to deliver some of the most lacking in sound printing available in an FDM printer. It also has all of the print safety functions you've come to expect from other modern 3D Printers including: Resume Printing, for continuing where you left off in the event of a power failure or other mishap, filament run-out detection and recovery, and power loss detection and recovery. It also features a tempered glass hotbed, which ensures a smooth print that adheres well to its rapid heating surface. The heating process is so rapid, it actually reaches 110 degrees Celsius in exactly two minutes.
The X2 uses a synchronized dual z-axis system with a patented coupler, and as mentioned above, one of the nicest luxury features a good printer can have is a touch screen, which the X2 is fitted with! Control your printing process with all the hassle of using your smartphone, which is to say, none.
Final Thoughts
The slogan they chose for the X2, featured on its product page, is "Out of the ordinary, simple, but Extraordinary.". This is a fantastic description of the X2, an extremely affordable upgrade to the X1 featuring some of the finest safety features, and a huge upgrade for it's price point. Speaking of its price point, it's currently on sale, and I have quite the deal for you. If you head below, and copy the coupon code, then head on over to our friends over at geekbuying, you can pick yours up today at a massive discount. Better hurry though, as this offer expires on the 28th, that's only 10 days as of the writing of this article. Thanks for reading, and I wish you luck and a good deal on your next shopping venture.
Don't forget your coupon!
Coupon Code: NNNSALEX2
Expiration Date: 2022-03-28
We are influencers and brand affiliates.  This post contains affiliate links, most which go to Amazon and are Geo-Affiliate links to nearest Amazon store.
I am just a 25 year old doofus who enjoys rpgs, sugar rushes, and passing out at odd hours.