The final season of True Blood has started. It will be interesting to see everything unfold this season but will be sad see it all come to an end.  The episode starts with a brief recap for people like me who have so many different shows on the go I didn't have time to rewatch last season.  Reminder this post will contain spoilers of episode 1.
At the end of last season, Sookie has chosen be with werewolf Alcide.  Bill killed the governor of Louisiana.   Sam became mayor of Bon Temps and threw a vampire/human support system in an effort to protect his citizens, only for it to be interrupted by a pack of Hep V-infected vamps.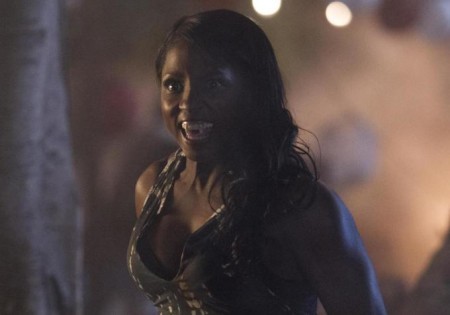 We start this season right in the middle of the fight between infected vamps and the citizens of Bon Temps with the healthy vampires helping the humans.  A few of the infected vamps kidnapped Arlene, Holly, and Sam's pregnant wife, Nicole and ran off through the woods.  After a couple minutes of fighting and a lot of blood, the infected that are still alive take off and the fight is over. Sookie  can hear Lettie Mae crying and walks over to where she is. Lettie Mae is covered in blood and wailing that the vampires killed her daughter Tara. Her death happens off screen, so makes me wonder if she is actually dead.  The whole death scene seemed very anti-climactic and after a brief moment of sadness for one of the major characters being killed off we are back in the restaurant where Sookie becomes overwhelmed with hearing everyone's thoughts of them blaming her for everything that is happening and she leaves and walks off alone. 
 Pam is searching the globe for Eric (who nakedly burst into flames at the end of last season).  She is in Morocco and engaged in a rad vampire version of Russian roulette involving wooden bullets and they point the loaded gun at their hearts. Pam and her opponent exchange a few words about religion and feeling alive, when her opponent pulls the gun and explodes. Pam then is given some information on where to go next to find Eric.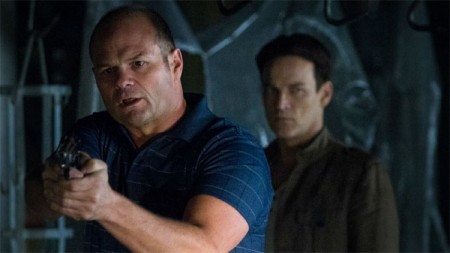 While Jessica is watching over Adilyn (Andy's daughter), Bill and Andy Bellefleur are out searching for the ones that were kidnapped at the beginning.  They are searching though abandoned buildings that can provide a sun free spot for vamps to camp in. They come across a warehouse that they can tell has been a campsite. They walked into a fridge area to find a few dead bodies hanging that have been used as feeding stations for the vamps. This is a bit too much for Andy ( I'm guessing the smell would be horrible) and he throws up and Bill looks away.  As they start to leave they run into a few vigilantes.Vince, who lost the mayoral election to Sam and is the head of the human vigilante group has it in for Bill.  Andy convinces them to let him do it but instead lets Bill live and chases the vigilantes away. 
Jessica's new beau James has been assigned to Lafayette. James gives a bit of his back story of  his draft-dodging past and also implies that he swings both ways and there's a whiff of sexual tension between him and Lafayette.  Poor Jessica just has no luck when it comes to love. Hasn't Jessica suffered enough, show? She is by far my favorite. I love how we have got to watch her grow though the seasons.
Jessica begins to bond with Adilyn.  While protecting her during the night, Jessica gives her a heart felt apology for what happened last season and killing her sisters. They also have a chat about boys. There is an infected vamp standing outside the edge of the property who wants Adilyn and Jessica stand firmly to protect her. The sun is starting to come up and Adilyn doesn't want anything bad to happen to Jessica, she invites her into the house to hide in the attic. Jessica makes it into the house, her face is steaming from being a bit burnt from the rising sun. The infected vamp them catches fire and is burning outside the front door.
Jason who has had enough with his blue balls, tells Violet they are going to have sex. She lets on this is what she wants and they do it on the hood of the car out in public where anyone can see.
Arlene, Holly, and Nicole all wind up prisoners in the basement of Fangtasia.  They are all chained up and Deputy Kevin Ellis is there as well. A vamp comes down to chose who he is going to feed from. He grabs Deputy Ellis and kills him in front of the others.
The next morning while everyone is at church, Sookie shows up to join everyone.  She sits behind Lettie Mae and reaches out to her to show her condolences. Lettie Mae gives Sookie a mouthful of how this is all her fault. Sookie stands and starts to leave while she can again hear everyones thoughts of how this is all her fault. She stops at the door and addresses the congregation how she understands that everyone is blaming her and that she can hear all their thoughts. She tells how she loves her town and the people in it and would like the chance to help cause no one knows vampires better than she does.
Overall, a pretty good first episode. I hope we get to see eric in the next episode. He is also my favourite. What did you like best about the episode?
Pictures are from imdb.com
I am a stay at home mom of 3 crazy kids. I love Game of Thrones, Harry Potter, Lord of the rings, marvel movies etc..