A midst all of these mouse reviews I have been doing lately I just got a great opportunity from even greater people over at Tt eSPORTS, part of Thermaltake. Not that there is anything wrong with mice, but a change is good every now and then.
The keyboard I will be showing you today is the Challenger Illuminated by Tt eSPORTS and I will say this keyboard has everything I want and then throws some more in there just to make sure. A keyboard like this would easily cost over $100 but this beast of a keyboard will only cost you $59.99, maybe cheaper at times from Amazon.
Check out my unboxing of this gem of a keyboard.
As you can see in the video, I am really impressed with the level of detail and quality Thermaltake has placed on this keyboard. One thing I did forget to mention during the unboxing is that the texture on the keyboard feels as if it had a rubber coating, you can tell it is not rubber but it feels great.
Here is everything included in the package. A keyboard of course, red WASD keys as well as red arrow keys kept in a little cloth bag as to not lose these keys, keeping this a true gaming keyboard. To replace those keys, they included a key extractor with pegs that you push over the key and wrap around them to relatively easily pull them out. It also brings stickers, a manual with a warranty packet and a drivers CD. To keep us gamers comfortable after hours of gaming, they include a fan that plugs into the keyboard blowing over your fingers to keep your fingers and hands cool over the WASD keys or the 10key and/or the arrow keys, they thought of everything.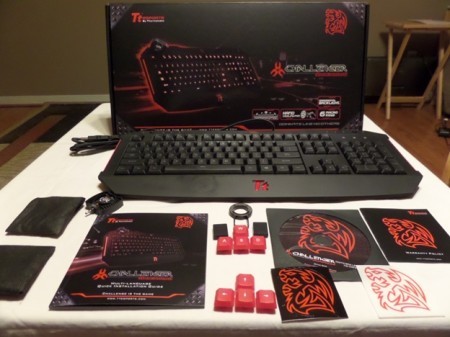 And this is everything close up within the baggies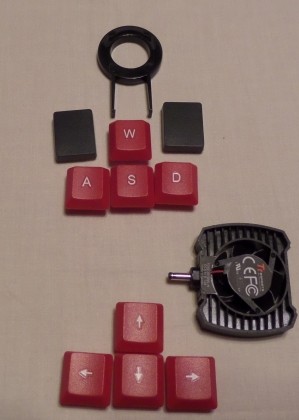 Here is also a picture to show you how beautifully braided this cable is and how thick as well. This is a picture of the cable next to the end of a pen, a standard ball point pen you can buy just about anywhere. The braiding was very tight and the cable, nice and thick.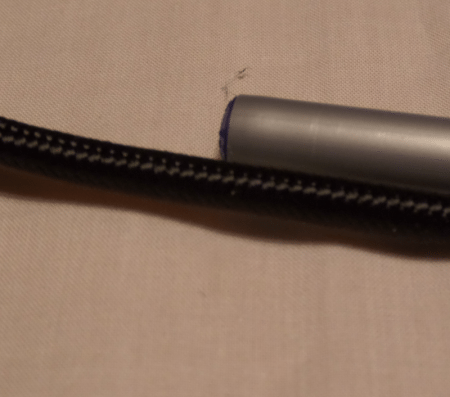 Here is what she looks like with the lights off in the room and the lights bright on the keyboard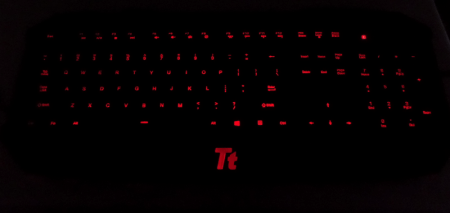 Check out this video showing you how to use the key extractor tool and how the keyboard looks in the dark. Before you watch though, please notice the picture above, this shows how the keyboard looks illuminated with all of the black keys. The video below shows you what it looks illuminated after I have changed the keys.
You also have the ability to create many macros, with many selections for said Macro's. Here is what the program looks like. When you click on one of the T keys to create a profile, then click on the first of the keys that starts the macro on the pictured keyboard, which will activate the drop down menu, then make your selection. Afterwards you can make all of your customization's from there. You can save 3 different profiles; from each of those 3 profiles you can have 6 sets of Macro's.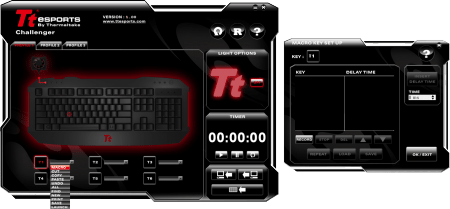 Now for the section of the review you will not find anywhere else, the spill test. This was a complete accident as I was writing the beginning portion of this article last night. I had to grab something over my keyboard and as I was puling that a cable became entangled but I kept pulling, the extra tug caused half a cup of water to splash into my keyboard. I KNOW!!!!
I quickly unplugged the keyboard from the back of my computer and tilted the keyboard at a 90 degree angle to let the excess spill out, then upside down still tilted to the side to let some more drip out then rushed to the bathroom for the hair dryer. I took the hair dryer to the keyboard on hot for 5 minutes then cool for 3 minutes and hot again for 2 and prayed as I slowly walked back to my computer to test her. What a tragic accident to happen during a review, how would I explain my incompetence to my buddies at ThermalTake, would I get a new keyboard to finish this review or get shut out?
I cowered closer to my USB port and plugged it in correctly the first time, thanks to the Tt markings on the connector. As I opened my eyes the red lit keys greeted me, but that is not a test. I reopened this document diligently continued to complete this article and every single key worked, they all worked. This is attributed to 2 things, quick thinking on my part but mostly due to ThermalTakes quality product, I can't say I would have had the same out come with some of my older keyboards, half a cup of water.
With that said, I can't just finish off the article saying that it worked and not show you or myself why it worked, so I took some more pictures and did some thinking. Check them out.
For this task, I chose the correct weapon, the key extractor of power provided by Thermaltake. I locked this little guy on some keys and cleared the area so I can see how water did not ruin this bad boy.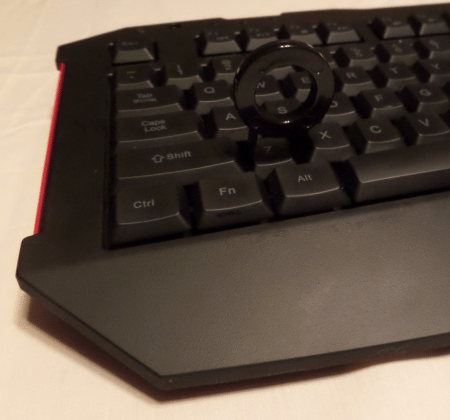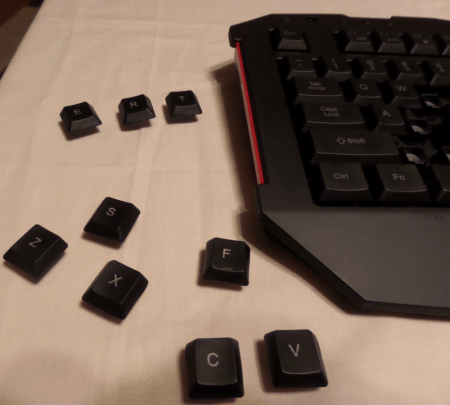 What a D, this letter kicked all of these guys out, no letters remained in its radius. What a mighty D.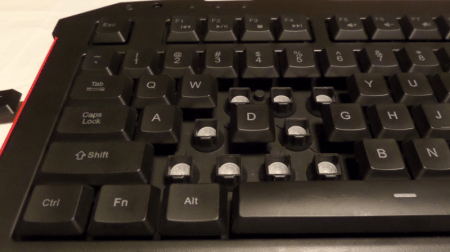 So, what is so magical about this, let's take a closer look.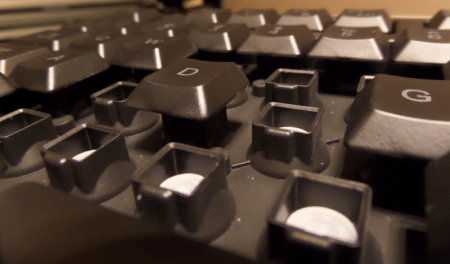 So here is a bit of the keyboards secret. Under the keys there is no exposed PCB. To add to that and also to amplify the light, from the base of the keyboard comes an open ended cube. This open ended cube shields outside light (and liquids) from blocking the light from emitting from the keys. This opened ended cube elevates high enough so that even if there was a significant build up of liquid none could enter, simply brilliant but wait, there's more.
To further capture the light and I am sure aiding in keeping the keyboard dry, the keys themselves have a method of directing the light up to the cleared letter and blocking outside pollutants such as dust and liquid.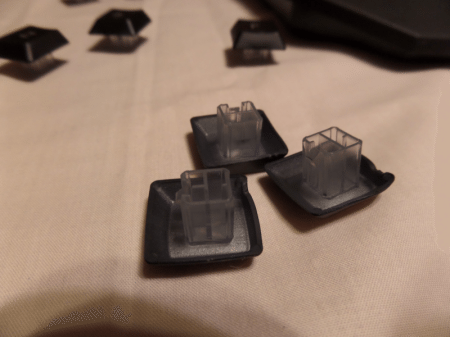 So what did you guys think of this review, detailed enough? I wanted to bring you everything, and mistakenly I brought you more than I though I would and should, but it helped me make up my decision about this keyboard, I love it.